WASHINGTON -- Beijing is "unlawfully" claiming sovereignty or some form of exclusive jurisdiction over most of the South China Sea, and is giving Chinese names to places across Asia as a way to build a legal case for those claims.
China claims almost all of the South China Sea, through which trillions of dollars in trade passes annually, with competing claims from Brunei, Malaysia, the Philippines, Taiwan and Vietnam.
China has no basis under international law for claims that have put Beijing on a collision course with its littoral neighbours, the US Department of State's Bureau of Oceans and International Environmental and Scientific Affairs said in a 47-page research paper released January 12.
"These claims gravely undermine the rule of law in the oceans and numerous universally recognised provisions of international law reflected in the Convention," it said, referring to a 1982 United Nations (UN) treaty on the law of the sea ratified by China.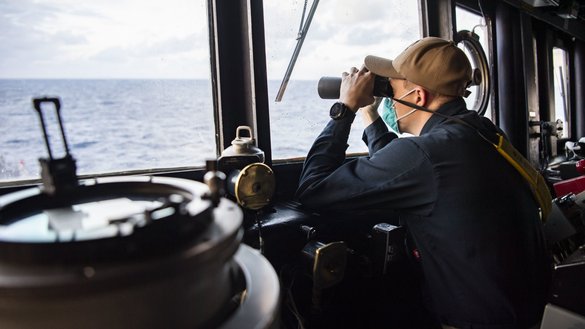 Releasing the study, a State Department statement called again on Beijing "to cease its unlawful and coercive activities in the South China Sea".
China hit back, claiming the report "distorts international law and misleads the public".
The paper takes issue with the so-called "nine-dash line" that forms the basis for much of Beijing's stance, and the geographic justifications for China's claims, saying that more than 100 features Beijing highlights in the South China Sea are submerged by water during high tide and therefore are "beyond the lawful limits of any state's territorial sea".
Beijing cites such geographic features to claim four "island groups", which the State Department study said did not meet criteria for baselines under the 1982 UN Convention.
In total, the islands of the South China Sea have a land area of only about 15 sq km and many are situated far from any mainland littoral state. Beijing claims sovereignty over all of them, but each island or island group has at least one other claimant.
An international waterway
The large, semi-enclosed South China Sea is surrounded by Brunei, China, Indonesia, Malaysia, the Philippines, Singapore, Taiwan and Vietnam.
Led by the United States, multiple Western navies conduct "freedom of navigation operations" -- known in military circles as FONOPs -- to assert the idea that the South China Sea is an international waterway.
In the first declared FONOP of the year, a US warship sailed through the South China Sea on Thursday (January 20), sparking a warning from China's military.
The USS Benfold "asserted navigational rights and freedoms in the vicinity of the Paracel Islands, consistent with international law", according to the US Navy.
The Southern Theatre Command of the People's Liberation Army (PLA) said the US ship had "illegally" entered what Beijing regards as its waters.
The Chinese military has become more aggressive in recent years, making incursions into the territory of other sovereign nations in a trend that is alarming neighbouring countries and concerned members of the international community.
In 2020, Chinese President Xi Jinping issued sharp warnings to potential "invaders", boasting of Beijing's military resolve to protect the "new China" against all aggressors.
In one notable recent speech on October 23, Xi said war must be fought to deter invasion and that violence must be met by violence.
That aggression -- as well as softer efforts to shape the narrative on China's territorial claims -- has reached hard-to-ignore levels.
Democratic and self-ruled Taiwan lives under the constant threat of invasion by authoritarian China, which views the island as its own territory and has vowed to seize it one day -- by force if necessary.
Taiwan has had its own government since 1949.
Chinese aggression has extended to India as well.
In June 2020, Chinese and Indian soldiers engaged in violent hand-to-hand fighting in the Ladakh region that left 20 Indian troops dead. The Chinese regime acknowledged suffering casualties but has not revealed any figures.
In Central Asia, Beijing has been floating the idea of the return of "its" territories in order to gauge the reaction of the local population in what observers say is a direct threat to the region's sovereignty.
Changing maps
Meanwhile, Beijing has been using new names and other map coding to support its territorial claims, not only in the South China Sea but also in the East China Sea and parts of a mountain range it contests with India.
On December 29, the Chinese Ministry of Civil Affairs announced it had used Chinese characters to "standardise" 15 place names in the Indian-controlled state of Arunachal Pradesh in the country's northeast, the Chinese state-operated Global Times reported.
China renamed six other places in the same region five years ago.
The 15 names fit into a "national effort to standardise the management of place names" including some that "have existed for hundreds of years", Lian Xiangmin, a Chinese analyst with the China Tibetology Research Centre in Beijing, told the Global Times.
Chinese leaders have another motive -- to remind their own citizens of their claims and to keep pressure on their opponents in disputes around Asia.
Beijing has also renamed the Spratly Islands and Paracel Islands in the South China Sea, based on what it says are centuries of fishing patterns.
In the East China Sea -- which is shared among China, Japan, Taiwan and South Korea -- Beijing renamed the uninhabited Japanese-held Senkaku Islands as "Diaoyu" in the late 1950s. Both Tokyo and Taipei dispute Beijing's claim.
Beijing is playing a long game, analysts say. Eventually China can use the names to seek advantage in territorial disputes, even if such disputes do not arise for decades.
"They may agree to freeze the status quo right now," said Alan Chong, associate professor at the Singapore-based S. Rajaratnam School of International Studies.
"But 50 years from now they might suddenly decide, 'all right, let's go to a court and win it peacefully', and then they'll start pointing to the fact that they've got maps and other documents revealing that a Chinese name was given to this territory 50 years ago," he told Voice of America.
"In the legal argument, you have to substantiate that you administer a place and part of that is, you name it," said Alexander Vuving, professor at the Daniel K. Inouye Asia-Pacific Centre for Security Studies in Hawaii.