PINGTUNG, Taiwan -- Fighter jets practised landing on a highway in southern Taiwan last week as part of an annual live-fire military exercise that simulates defending the island against an invasion by China.
Taiwan lives under constant threat of invasion by Beijing, which claims the island as part of its territory and has vowed to one day seize it, by force if necessary.
Military tensions have risen to their highest in decades under President Xi Jinping with China now routinely sending fighter jets and nuclear capable bombers into Taiwan's air defence zone and state media regularly publicising invasion drills.
Various Taiwanese fighter jets as well as an early warning aircraft practised taking off and landing on a provincial highway in Pingtung county last Wednesday (September 15).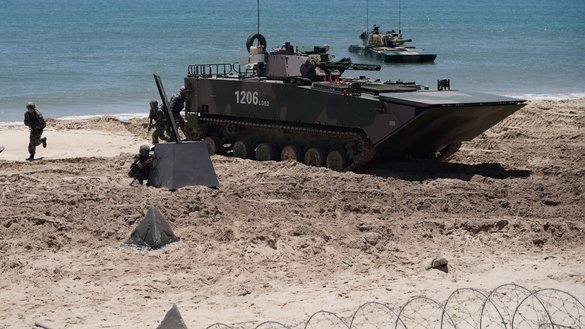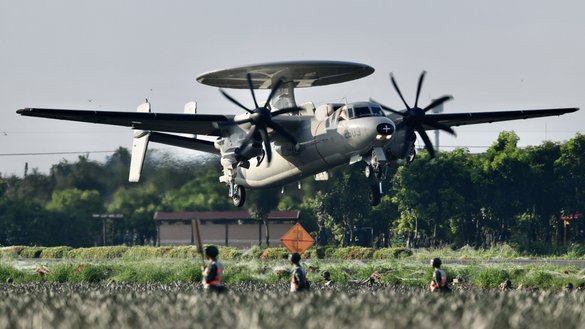 The drill, which was watched by President Tsai Ing-wen, is supposed to hone Taiwanese pilot skills if the island's airstrips are wiped out.
An invasion of Taiwan would be a hugely costly and difficult endeavour, but Beijing has increasingly closed the military gap in recent years, and Xi has made no secret of his desire to take the island.
Senior US generals have publicly warned that China could potentially carry off an invasion.
Last year Chinese jets and bombers made a record 380 incursions into Taiwan's air defence identification zone (ADIZ).
The number of incursions for the first eight months of this year has already exceeded 400.
In June, 28 Chinese jets breached Taiwan's ADIZ in the largest single-day incursion. That came shortly after G7 leaders issued a landmark statement urging peace in the Taiwan Strait.
The previous biggest incursion -- 25 jets -- was in April after US Secretary of State Antony Blinken warned China not to attempt to change the status quo of Taiwan.
Solving disputes by force
Analysts in neighbouring Central Asian states are watching the situation in Taiwan for its implications across the region.
"If China seizes Taiwan, it will have irreversible consequences for global security," said Talgat Ismagambetov, lead researcher at the Institute for Philosophy, Political Science and Religion Studies in Almaty.
"In this case Beijing will not feel any limitations on itself in the eastern part of the Pacific and will try to solve future territorial questions not through negotiations but by force, relying on its own claims and its right to self-determination."
"China has territorial disputes with Japan, South Korea, Vietnam, Malaysia and the Philippines, which Beijing might want to settle by military means," he said.
"The United States has to restrain China, which has become a new hegemonic power in the Asian Pacific region," Ismagambetov added.
China is striving for global domination, said Edil Osmonbetov, of Bishkek, a specialist in international affairs and conflict.
"Having the second largest economy in the world, China wants the biggest," he said. "This desire gained strength during the pandemic because China made a lot of money selling medical products and COVID-19 vaccines."
Osmonbetov called China's aggression toward Taiwan "a test of Chinese strength and potential".
"China wants to understand if it can cross a red line," he said.
Sovereign threats
Ongoing claims by media outlets controlled by the Chinese Communist Party that Central Asian countries seek to "return" to China is another example of Beijing testing the willingness of regional leaders to defend their sovereignty.
In spring 2020, when Kazakhstan and Kyrgyzstan were in strict quarantine over the coronavirus outbreak, Chinese websites posted provocative statements about the two countries that provoked a furor.
In April, the Kazakh Foreign Ministry summoned the Chinese ambassador after an article titled "Why Kazakhstan is eager to return to China" was published on the privately owned Chinese website Sohu.com.
The same month, the website Toutiao.com published an article with the headline "Why did Kyrgyzstan not return to its homeland after gaining independence?".
Kyrgyzstan was part of China for thousands of years until tsarist Russia in 1846 took a total of 510,000 sq. km from China, including present-day Kyrgyzstan, the article states.
Although "regions and countries separated from their homeland eventually yearn and return," when Kyrgyzstan gained independence in 1991, it did not, mainly because of Russia's continued influence, said the author.
The article sparked outrage in Kyrgyz society, which criticised the publication as inflammatory.
"Beijing is becoming a threat not only to Kyrgyzstan's territorial integrity but also to its sovereignty. This is an alarming sign," said Mars Abayev, a Bishkek-based correspondent for the news website Orbita.kg.
By making these claims, Beijing is floating the idea of the return of "its" territories in order to study Central Asian countries' reaction, he said.
In July 2020, Chinese media published an article with the inflammatory title "Tajikistan initiated the transfer of its lands to China, and the lost Pamir Mountains have been returned to their true owner".
The publication spoke of the transfer of 1,158 sq. km of Tajik territory to China in 2011, which angered many Tajiks at that time.
Tajikistan ceded those lands to China to pay off some of its debt.
The Xinjiang issue
More recently, Kazakhstan demonstrated its willingness to stand up to its behemoth neighbour.
Since the beginning of this year, Kazakhs have protested daily outside the Chinese consulate in Almaty, demanding that Beijing release relatives and friends detained as part of China's repression of Muslims in Xinjiang.
Kazakh authorities last October granted refugee status to four ethnic Kazakhs who fled Xinjiang to escape the Chinese government's repression.
Nur-Sultan's granting of refugee status to ethnic Kazakhs from China recognises Beijing's violation of human rights in Xinjiang, activists say.
Beijing has imprisoned more than one million Uighurs and other Turkic Muslims -- including ethnic Kazakhs -- in as many as 400 facilities that include "political education" camps, pretrial detention centres and prisons as part of its crackdown on Muslims in Xinjiang.
Millions more live under tight supervision and control.
Beijing initially denied the existence of these institutions in Xinjiang but later sought to justify them, calling them "re-education" camps designed to stamp out terrorism and improve employment opportunities.
However, independent investigations and interviews with former inmates indicate physical and psychological torture, brainwashing, systematic rape, forced sterilisation, sexual abuse and other horrors.
[Kanat Altynbayev from Almaty contributed to this report.]