ISLAMABAD -- Officials say the appointment of religious scholar Hafiz Muhammad Tahir Mehmood Ashrafi as special envoy will help the government maintain interfaith and intersect harmony in the country and keep good relations with Middle Eastern countries.
Ashrafi was appointed as special representative to Prime Minister Imran Khan on Religious Harmony and the Middle East on October 22.
Ashrafi, a long-time advocate for interfaith harmony and a staunch opponent of extremism, is chairman of the Pakistan Ulema Council (PUC), a national-level body comprised of religious scholars working on peace and interfaith harmony.
He was a member of the Council of Islamic Ideology, an Islamabad-based governmental organisation that advises parliament whether a certain law is repugnant to Islam, from 2012-2015.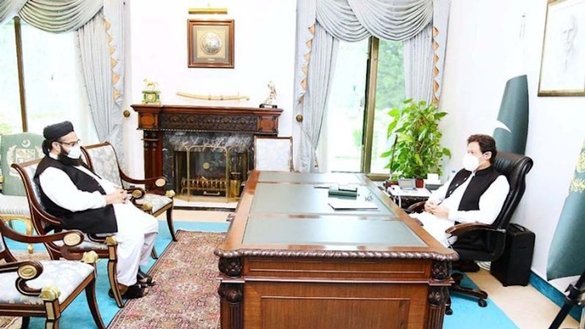 Before that, Ashrafi served as an honorary adviser to the Home Department of the Punjab government on religious and sectarian harmony from 2000 to 2007.
Fighting extremism
In 2019, the Organisation of Islamic Co-operation (OIC), a global Islamic body headquartered in Jeddah, conferred an award to Ashrafi for his efforts to counter terrorism, extremism and sectarian violence in Pakistan and the Muslim world.
Ashrafi and the PUC in July 2014 were among the first in Pakistan to describe the "Islamic State of Iraq and Syria" (ISIS) as a terrorist outfit.
That same year, Ashrafi gathered the country's leading religious scholars to condemn ISIS's atrocities in Middle Eastern countries.
"Islam and Muslims cannot support the killing of innocent people and destruction of their properties at the hands of the ISIS," he said in a statement at the time.
He urged those living in Islamic countries to "not co-operate with any violent group whose teachings or actions are against the teachings of Islam and Prophet Mohammad (PBUH)".
In another statement issued in 2015, Ashrafi blamed "heinous atrocities" committed by the regime of Syrian President Bashar al-Assad and sectarian discrimination in Iraq for creating an environment that allowed ISIS to flourish.
Last year, Ashrafi organised the Paigham-e-Islam conference in Islamabad, bringing together Pakistani and international religious scholars to devise a joint strategy against extremism and violence.
Ashrafi has regularly condemned attacks by Iran-backed Houthis in Yemen.
Promoting polio vaccination
Amid opposition in July to the construction of the first Hindu temple in Islamabad, Ashrafi and the PUC extended support and said that opponents of the temple's construction were incorrectly interpreting Sharia.
Construction is continuing.
"To have their own place of worship and to offer a life as per their faith and tradition are the rights given to all non-Muslims in the Constitution and as well as in Sharia," Ashrafi said in an interview at the time.
In February, Ashrafi, along with other scholars belonging to the PUC, Darul Ifta Pakistan, Wafaq-ul-Masajid and Madaris-e-Pakistan, as well as leading ulema and mashaikh, jointly issued a statement declaring polio vaccination drops halal and safe.
"Such efforts of religious scholars, including Ashrafi, help the authorities in rejecting claims by Taliban militants and fear-mongers that polio vaccination is unsafe for children," said Shakil Ali, a polio vaccinator in Karachi.
Allama Muhammad Ahsan Siddiqi, a Karachi-based religious scholar who heads the Interfaith Commission for Peace and Harmony (ICPH), applauded Khan for appointing Ashrafi as his special assistant.
"Ashrafi's working relationship with religious groups and civil society outfits will help the government curb sectarian conflict and promote harmony among various sects and faiths," Siddiqi said.
Ashrafi enjoys great respect in Middle Eastern countries and his appointment will help the government maintain good relations with Arab countries, particularly Saudi Arabia, he added.