KHAR -- The reopening of Fazal Shaheed Stadium Bajaur in Khar, closed for 12 years to sports events because of insurgency in the area, is winning praise from residents of the tribal district.
Authorities shut down the stadium after the military began operations in August 2008 to clear Tehreek-e-Taliban Pakistan (TTP) militants, and they stored artillery equipment there for use against the insurgents.
Now that security has been assured and troops have routed the terrorist group from Bajaur, sports activities have resumed.
Two local cricket teams -- the Bajaur Scouts Eleven and the Bajaur Youth Eleven -- held an exhibition match in the stadium on September 6.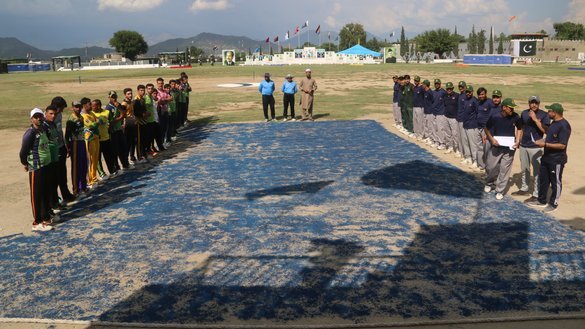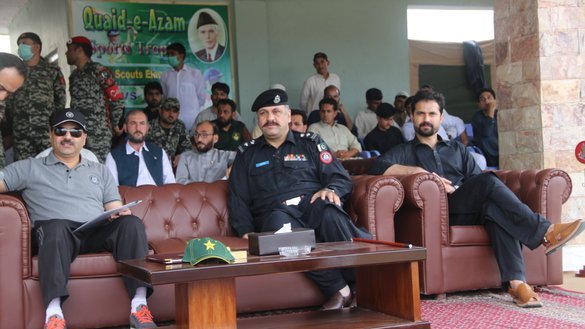 "This is one of the oldest stadiums in Bajaur, and it hosted many provincial-level events in the past, including IGFC [Inspector General Frontier Corps] cricket tournaments for all the merged districts in 2005 and 2007," Fazal Akbar Khilji, district sports manager of Bajaur, said on October 15.
"The reopening of the stadium will help us to organise more events," he said.
"I played several matches in this stadium, and I am happy that sports are resuming," he added.
Bringing locals together
Abdur Rahman, a former player and captain of the Bajaur Scouts cricket team and a retired member of the Frontier Corps (FC), recalled the days of watching one of the area's most famous players perform in the stadium.
"The Bajaur Scouts' all-rounder, the late Rahat [Shaheed], was one of the most popular [cricket] players when sporting events were held here before 2008, and he received many 'man of the match' and other awards," he said.
Rahat, an FC member, was killed on October 10, 2009, in Bajaur in battle with TTP militants, Rahman said.
The resumption of sports activities at the stadium is a reminder of the sacrifices of local soldiers who were killed during the war on terror, he added.
"I remained a player on the Bajaur Scouts team from 1995 to 2007, but I left cricket because of threats from militants and as sports activities were halted at the stadium," he said.
"This was the only venue for our sports activities, but because of threats by militants and then military operations, it was closed," Rahman said.
Other local athletes and sports fans welcomed the reopening of the stadium.
"This is good step to a peaceful and prosperous Bajaur, and the reopening of this stadium will bring people together," said Izhar Ul Haq, captain of the Bajaur Youth Eleven cricket team.
"It was one of my dreams to play in this stadium. I played my last match here in 2006; now I'm happy I was able to play here again in the match on September 6," he said.
"We are living in a peaceful environment now because of the sacrifices made by security forces, tribal elders and civilians during war on terror," said Malik Zahir, a local tribal elder.
"The TTP not only destroyed our businesses and our normal lives; it destroyed our sports," he said.