BAJAUR -- Security forces in Bajaur District have returned control over schools and health facilities to local civilian authorities following a decade-long effort to ensure stability and peace.
Educational institutions again under civil control last month include the local university, a girls' primary school and a boys' middle school, Hamidullah Jan, assistant education officer for Bajaur, told Pakistan Forward March 5.
The schools and other institutions had been under the control of the Pakistani military since August 2008, when security forces began operations to expel Taliban militants who had taken control of the area and were using it as a hub for violent activities in Pakistan and neighbouring Afghanistan.
After the restoration of peace, security personnel handed the facilities over in February, Jan said, adding that they were made functional in March.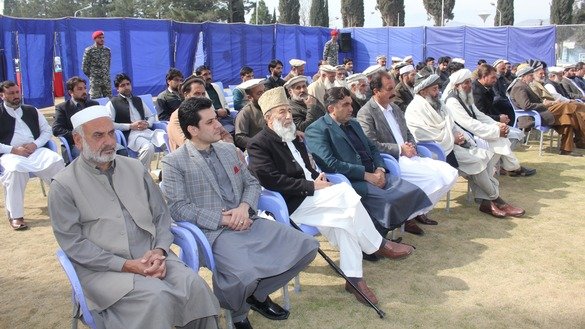 The military also relinquished Bajaur healthcare institutions to local civilian control.
Civilians regained control of two Basic Health Units again last November, Dr. Abdur Rahman, an official in Bajaur's Health Department, told Pakistan Forward. "The activities of the Health Department are in full swing in these units."
Reduction in security checkpoints
Security forces in February announced a reduction in checkpoints in Bajaur District.
"After the restoration of complete peace, we have eliminated 12 check-posts in 2018 and will close down more in 2019", Pakistani army Sector Commander North Brig. Naeem Akbar Raja told a council of elders and youth in Khar on February 10.
Many remaining check-posts will now be jointly handled with the Levies Force, he added.
Raja declared an end to the Pehra system, an armed neighbourhood watch that was imposed on local residents living in sensitive areas of Bajaur to protect them from militants.
Authorities will spend Rs. 500 million ($3.6 million) to repair buildings damaged during the military operations, he added.
Locals welcome move
Bajaur residents and civilian officials welcomed the decision to restore control of local institutions to civil authorities, as well as the decrease in the number of checkpoints.
"We are grateful to the security forces and local elders of Bajaur for bringing peace back to Bajaur, which became possible only because of their sacrifices," Syed Akunzada Chattan, a former member of the National Assembly and senior leader of Pakistan Peoples Party Bajaur, told Pakistan Forward.
"Peace has returned to Bajaur," he said.
Inhabitants of the region are rejoicing in the restoration of peace, said Bilal Yasir, a Mamond resident who works at the Bajaur Press Club in Khar.
"The peaceful environment in Bajaur has finally made our dream come true, and we are feeling safe," he said. "Earlier, it wasn't possible to move freely at night because of threats from militants, but now we are gathering until late hours."