PESHAWAR -- "Pakistan wins today," read a placard held by a female spectator during the final match of the Pakistan Super League (PSL) in Lahore Sunday (March 5).
That summed up the mood during the highly anticipated match between Peshawar Zalmi and Quetta Gladiators, held in Lahore, took place amidst strict security measures.
Gaddafi Stadium was packed and tickets were sold out, officials said.
Ecstatic cricket fans watched nationwide as Peshawar Zalmi thrashed the Quetta team by 58 runs.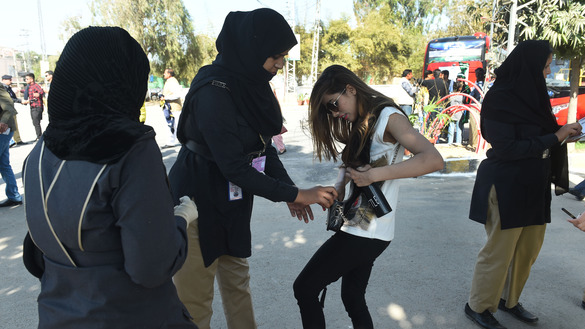 One gathering in Peshawar numbered about 5,000: fans, including young men and women, who gathered at the Hayatabad sports complex, according to Senior Superintendent of Police Operations for Peshawar Sajjad Khan.
"When I was approached by the sports authorities, I promised adequate security," he told Pakistan Forward.
"The mood was joyous," he said, adding that Peshawar Zalmi fans celebrated their victory with fireworks and dancing to the beat of dhol drums.
"People were celebrating the return of cricket and the victory of peace."
Strict security measures
Extraordinary security arrangements were made for the PSL final in Lahore. The rest of the PSL matches took place in the United Arab Emirates.
More than 10,000 security personnel were deployed, including Punjab police and the para-military Rangers, Punjab Chief Minister Shahbaz Sharif told reporters.
To protect the Lahore stadium, authorities closed it to the public at least three days before the match, ESPN reported.
Spectators had to pass through three security checks. All had to walk in. No non-governmental vehicles were permitted within 1km of the stadium.
Authorities closed surrounding roads and equipped the stadium with scanners, facial-recognition closed-circuit TVs and police control centres.
To guard against the worst, they built a 25-bed hospital within an adjoining field hockey stadium, local media reported.
Chief of Army Staff Gen. Qamar Javed Bajwa pledged his forces' complete support in securing the event.
Security forces carried out search-and-strike operations in the vicinity of the stadium for almost a week, local media reported. They also swept the stadium and its routes with sniffer dogs and bomb detectors ahead of the event.
The National Database and Registration Authority placed four mobile teams around the stadium to check spectators' computerised national identity cards (CNICs) as part of security measures, The Nation reported.
The Pakistan Cricket Board (PCB) provided a bullet-proof bus to carry players to the stadium and back to their hotels, according to the report.
The massive security effort was meant to dispel memories of the March 2009 terrorist attack on the Sri Lankan cricket team in Lahore. The attack wounded at least six Sri Lankans and killed eight Pakistanis.
The PSL final was the biggest cricket event in Lahore since that tragic day.
PSL final brings excitement, pride
Spectators and officials were excited to see top cricketers playing in Pakistan once again and praised police for safeguarding the event.
Pakistan has "become stronger, safer and more stable, creating an environment conducive to national aspirations", Prime Minister Mian Muhammad Nawaz Sharif said in a statement. "Cricket is very close to the hearts of all of us."
"This is the first step in putting Pakistan back on the map within the sporting arena and a positive sign for the future to come," he said.
Holding the PSL final in Pakistan conveyed to terrorists that they have been defeated, former Peshawar club cricketer Safeer Ahmad told Pakistan Forward.
"We want international cricket to fully return to Pakistan and Peshawar," he told Pakistan Forward.
"PSL final finished in Lahore now enjoy freedom from fear of terrorism," Hamid Mir, a Geo News TV anchor, tweeted. "Salute to our police and security forces for their hard work."
"The police did a great job as all the senior officers remained on roads to ensure security to thousands of Peshawarites who celebrated the win of Peshawar Zalmi [...] until 2 am," Adnan Tariq, a sports journalist from Peshawar, told Pakistan Forward.
"Seeing the stadium fill up fills my heart with pride," tweeted Shehbaz Sharif. "Lahoris & all Pakistanis hit the terror out of arena. This is what I call brave people."
Khyber Pakhtunkhwa (KP) Chief Minister Pervez Khattak invited Peshawar Zalmi to the city to celebrate its win.
'More than a game'
"To me, its more than a game [of cricket]," Peshawar Zalmi captain Darren Sammy said after receiving the PSL trophy, dressed in the traditional Pashtun turban.
"It is amazing day as I felt I brought a lot of smiles on faces of Lahore and Peshawar tonight," he said.
Javed Afridi, owner of the Peshawar Zalmi team, dedicated the victory to his father and the students of the Army Public School (APS) in Peshawar, the site of a Tehreek-e-Taliban Pakistan (TTP) terrorist attack in 2014 that killed 141 people, mostly schoolchildren.
"As promised, I will bring the trophy to APS," he said.
Holding the long-planned final PSL match in Lahore was uncertain less than a month ago, when a Taliban-claimed suicide bombing February 13 killed 15 people.
At that time, PSL Chairman Najam Sethi expressed concerns that foreign cricketers would be unwilling to come to Lahore for the final.
"We have to show terrorists that we are not scared and we have to show we can do it because it is very important for us", he said according to ESPN.
Since the 2009 attack on the Sri Lankan team, foreign cricketers had refused to play in Pakistan, with only rare exceptions like a match with Zimbabwe in Lahore in 2015.
After the PSL final match, Sethi expressed his gratitude on Twitter: "Lahoris! Pakistanis! Thank you for believing in PSL and Pakistan. Together we shall overcome!"