PESHAWAR -- Pakistani police officers who lost their lives fighting terrorism were honored throughout the country on Martyrs Day, Tuesday (August 4).
"The day started with a salute at the graves of police officers who were killed in suicide attacks, bomb blasts, rocket attacks and targeted killings," said District Police Officer (DPO) Mardan Zahid Ullah Jan.
A recitation of the Koran was held in almost all cities in a call for peace in the country and for the eternal peace of the souls of the fallen heroes, he said.
Officials avoided organising large gatherings because of COVID-19 protocols.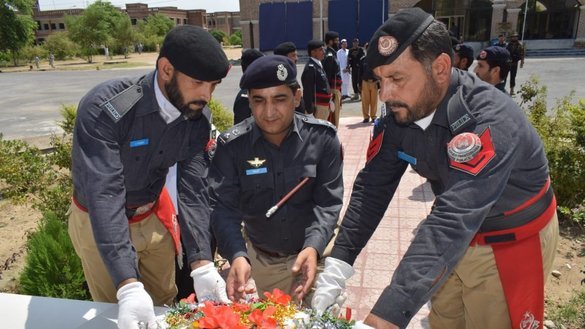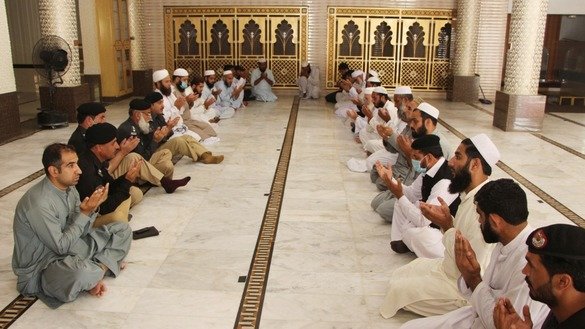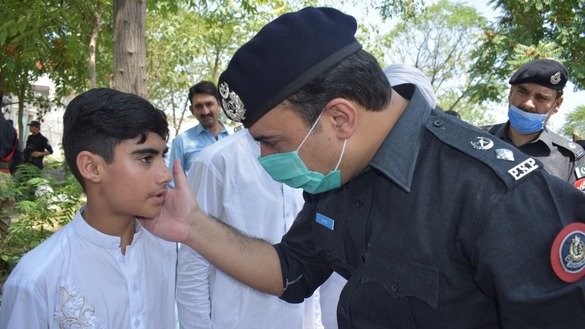 "I, along with other officials, presented a salute at the grave of Sajid Khan Mohmand Shaheed, who was martyred in a suicide attack in Qilla Abdullah, Balochistan, in July 2017," said Waqar Ahmad, the superintendent of police for rural Peshawar.
All over the province, large portraits of and banners honouring martyred policemen were displayed in connection with Martyrs Day, he added.
KP first observed the tribute to fallen police officers in 2015 on the anniversary of the death of Safwat Ghayyur.
Ghayur, one of Pakistan's most decorated policemen, was killed in a suicide bombing just outside his office in Peshawar on August 4, 2010.
Sacrifices for peace
Now, the entire country observes Martyrs Day.
Inspector General of Police Khyber Pakhtunkhwa (KP) Sanaullah Abbasi and Capital City Police Officer Mohammad Ali Gandapur presented a tribute at the grave of Ghayur to mark this year's observance.
"Peace has been restored in the country because of the sacrifices of policemen and personnel of other forces in the last few years," Chief Minister KP Mahmood Khan said at the tribute.
The KP government is doing its best to take care of the families of fallen heroes as well as those who have been seriously injured while performing their duties, he said.
"The bravery of the police force in the country, especially in KP, is unmatched, and we are proud of it," said Khan.
Since 1970, more than 1,800 KP Police officers have lost their lives in suicide attacks, bombings, targeted killings and other encounters with terrorists and criminals.
Police in Punjab and other provinces also presented salutes at the graves of officers who sacrificed their lives.
"We held Quran Khwani [a recitation of the Koran] and presented a salute at the graves of our martyrs as we can't forget the supreme sacrifice they offered for their country," said Sohail Habib Tajik, a regional police officer in Rawalpindi.
First line of defence
The Pakistan Army also paid tribute on Martyrs Day to personnel who were killed fighting terrorism.
"In the line of duty, they have been the first responders to every cry for help and answered every call with purpose and pride," tweeted Maj. Gen. Babar Iftikhar, a spokesman for the army.
Pakistan is fortunate to have security forces that are brave enough to commit the ultimate sacrifice for peace, said Zafarullah Khan of Peshawar, a senior security analyst and a former inspector general of police.
"There were days when terrorist incidents would happen almost daily, but the sacrifices of our policemen and soldiers have restored peace," he said.
"Police officers and soldiers are the unsung heroes who have sacrificed themselves in the first line of defence in war against terrorism, tweeted former Punjab chief minister and senior political leader Shahbaz Sharif.
"On Police Martyrs Day, we pay rich homage to Shuhada for their bravery and courage in the line of duty," he said.
"The nation is eternally indebted to them."