PESHAWAR -- Khyber Pakhtunkhwa (KP) Friday (August 4) paid tribute to policemen who have sacrificed their lives for the restoration of peace in the country.
Police Martyrs Day is observed on the death anniversary of Additional Inspector General of Police and Frontier Constabulary Commandant Safwat Ghayyur, the senior most police officer killed in the province. Ghayyur was assassinated August 4, 2010, in a Tehreek-e-Taliban Pakistan (TTP) suicide attack in Peshawar.
This year's commemoration started with senior and junior police officers saluting the graves of the fallen heroes.
"Capital City Police Officer (CCPO) [Mohammad Tahir] presented a salute at the grave of Safwat Ghayyur while I presented a salute at the burial place of Sajid Khan Mohmand early in the morning," Senior Superintendent of Police (SSP) Peshawar Sajjad Khan told Pakistan Forward.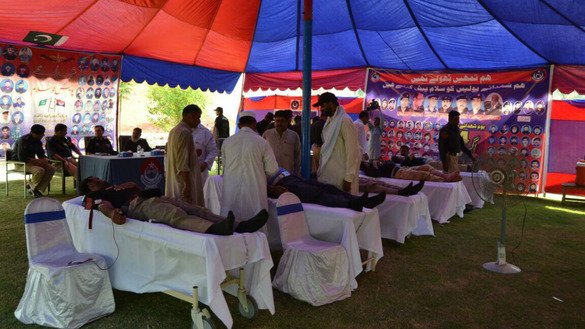 Sajid Khan Mohmand was district police officer (DPO) of Qilla Abdullah in Balochistan. He was killed in a suicide attack in Chaman July 10.
"Salutes were offered at the graves of other officers all over Khyber Pakhtunkhwa to pay them tribute for offering the supreme sacrifice," Khan said.
Police sacrifices 'shall not go to waste'
A grand function was held at Nishtar Hall in Peshawar, where senior police officers, political leaders and others paid tributes.
Pakistani Chief of Army Staff Gen. Qamar Javed Bajwa saluted police and military martyrs in a statement posted on Twitter. "Our sacrifices shall not go waste," he said.
Police and other law enforcement agencies have rendered supreme sacrifices against terrorists to restore peace in Pakistan, said KP Chief Minister Pervez Khattak.
"It is because of the sacrifices of the KP Police and security forces that peace has been greatly restored to the province," he said at a gathering on the occasion of Police Martyrs Day.
KP Governor Iqbal Zafar Jhagra also praised the police and security forces for their sacrifices and efforts towards the restoration of peace.
Police Martyrs Week
KP Police began observing Martyrs Week Monday by holding a series of events including walks, entertainment functions for the families of fallen policemen, candlelight vigils, recitation of the Koran and blood donation drives.
"We held a blood donation camp in Dera Ismail Khan on July 31 in connection with Martyrs Week in which a large number of policemen and others donated blood," Dera Ismail Khan Deputy Inspector General (DIG) of Police Fida Hassan Shah told Pakistan Forward.
The police academy in Hangu organised a walk as well as a speech competition in connection with Martyrs Week, during which DIG Kohat Awal Khan met with 260 police trainees.
"They were either sons or brothers of fallen policemen who were recruited by the provincial government as part of the martyrs' package for any policeman killed in the line of duty," Fasih Uddin, commandant of the Hangu academy, told Pakistan Forward.
Female relatives are also eligible for such positions, but so far none has applied.
Police officials observed a day with the children and other family members of fallen police at Chacha Younas Park in Peshawar and in Regi and Hayatabad during Martyrs Week.
CCPO Tahir, SSP Sajjad Khan and other senior police officers along with their families spent time with the children of martyrs.
Peshawar police have rendered more sacrifices than those in any other district and are committed to doing more for the restoration of peace in the country, said Tahir.
"Those who sacrificed their lives are legends, and our desire is to follow into their footsteps," he told Pakistan Forward, adding that the sacrifices of officers who died with their boots on cannot be forgotten.
"Peshawar police held blood donation camps, organised walks and candlelight vigils and also spent time with the families of martyrs," he said.
Usman Khan, a former nazim of Hayatabad, lauded the police for their role in the restoration of peace.
"Those who sacrificed lives and others who are protecting us are our heroes," said Khan while addressing a function in Hayatabad.
Increase in police martyrs' compensation
On Thursday, the KP government announced a significant increase in the compensation package for the families of policemen killed in the line of duty.
"The overall martyrs' package has been almost doubled," KP Inspector General of Police (IGP) Salahuddin Khan Mehsud told Pakistan Forward.
"We have worked with the government for a long time to increase the package as other provinces had already increased it," said Mehsud, adding that it was finally approved August 3.
KP Police have played a key role in the war against terrorism and sacrificed more than any other civilian force, he said. Despite their valour, the compensation package has been far lower than in other provinces.
Now, under the newly approved package, the family of a constable, head constable, assistant sub inspector, sub inspector or inspector will get a compensation package of Rs. 10 million ($94,900).
The family of a deputy superintendent of police or assistant superintendent of police will receive Rs. 15 million ($142,350).
The package for the family of a SSP, Senior SSP, DIG and above grew to Rs. 20 million ($189,800).
"We have sacrificed officers down from constable up to the rank of additional IGP," Mehsud said. "They are our heroes, and we are remembering them today."
KP Police have lost 1,644 officers since 1970, according to police records.
Of these, 1,261 policemen were martyred in KP in suicide bombings, improvised explosive device blasts, ambushes and encounters with terrorists and hardened criminals since 2006.