PESHAWAR -- The Khyber Pakhtunkhwa (KP) government has launched a new programme aimed at equipping women with advanced digital skills.
The "Women Empowerment through Digital Skills" initiative was inaugurated July 10 during a ceremony in Peshawar.
The programme itself is a part of the "Digital Jobs" initiative, a KP Information Technology Board (KPITB) project that is funded by the Multi-Donor Trust Fund and administered by the World Bank, said Muhammad Bilal, a project manager of the initiative in KP.
"The two-week training project aims to train 3,000 women across the seven divisions of KP, including newly merged districts, on employable digital skills to ensure women's inclusion in the digital economy," Bilal said.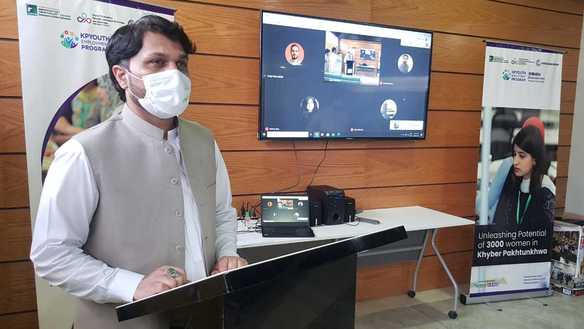 "The initiative provides a chance for females to create a space for themselves in the cyber world and also connects them with employment opportunities through freelancing," he said.
The first 500 individuals will be trained online, with the remainder trained in person over the next seven months, he added.
In a digital age, it is critical that populations have the skills to match industry requirements, but today the genders share those skills unevenly, said Shoaib Yousafzai, KP Youth Employment Programme (KPYEP) project manager.
Planners selected and designed the programme courses to help participants learn more about industry-related skills, the ecosystem and career opportunities, he said.
Such trainings will help participants build confidence, learn industry requirements and ultimately have better positioning to explore and enter a career in the information technology (IT) sector, said Yousafzai.
The new programme is a good opportunity for the women of KP, who can enhance their skills and utilise them in the IT sector, Ziaullah Bangash, an adviser on science, technology and IT to KP Chief Minister Mahmood Khan, said at the inauguration.
Prime Minister Imran Khan and Mahmood Khan both have a vision of providing equal opportunities to men and women, he said.
The initiative engages youth in obtaining market-relevant skills and helping them build a better career opportunity, he added.
"Keeping youth engaged in healthy activities will help fight extremism and terrorism in the country," Bangash said, while urging other departments to launch similar efforts to eradicate terrorism.
"We will continue to empower our youth and enable them to participate in the development of our nation, and this will be a big 'no' to militancy and terrorism," he said.
A breakthrough for women
The "Women Empowerment through Digital Skills" is a remarkable initiative by KPITB, said Amina Durrani, programme director at the KP Commission on the Status of Women.
Nationwide, only 24% of IT workers are female, she added.
"This initiative will provide a breakthrough in this digital era," she said.
"We cannot afford to abandon the youth of our conflict-affected province. By equipping them with digital skills, we are bringing them into the mainstream, where they can be of value to our society and influence others in following their footsteps as well," Durrani said.
Digital skills are undeniably important in this new digital world, said Numrah Javed, a recent graduate of the Shaheed Benazir Bhutto Women University in Peshawar.
More employers worldwide are hiring talent based on skills rather than on degrees, she noted, adding that new graduates often lack skills required on the job market.
Programmes like "Women Empowerment through Digital Skills" play a vital role in developing skills and can lead women to a prosperous career, Javed said.
"Young women need to develop digital skills. KPITB has provided us a platform that will not only help us develop skill but also ways to monetise these skills. I urge young women to register for the trainings and find their true potential," she said.
The KP government is determined to create as many jobs and skill development opportunities as possible for the youth of the province, said KPITB Managing Director Dr. Shahbaz Khan.
With the recent project, KPITB has committed to unleashing the potential of women in KP by equipping them with in-demand digital skills so they can build a better future for themselves and benefit from more opportunities in the digital world, he added.
Khan encouraged women to come forward and contribute to the economy, adding that through this programme, different jobs and opportunities will emerge for women across KP.