PESHAWAR -- While the coronavirus lockdown in Pakistan has resulted in higher unemployment, youth in Khyber Pakhtunkhwa (KP) are utilising digital skills gained from government training programmes to find internet-based freelance work.
Such work and steady income are useful in preventing the economic despair that militant recruiters have been known to exploit.
Pakistan, like many countries, has taken steps including a partial lockdown to prevent the spread of COVID-19 and protect its citizens.
For many workers, the situation means a loss of income. However, for some skillful KP youth, the lockdown is proving to be a surmountable obstacle as they find work via the internet as freelancers.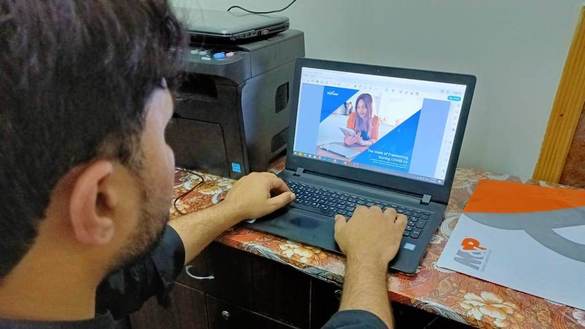 "I am a graphic designer, and the lockdown hasn't affected my work," said Philmoon Amjad, 24, who has been working on a freelance basis as both a graphic designer and web developer since 2017.
He clients include international software companies based in the United States, the United Kingdom and Canada. After completing his bachelor's degree in computer science, Amjad attended a three-month-long digital-skills programme offered by the KP Information Technology Board (KPITB).
The training programme helped him enhance his skills, he said.
"KPITB provided me a chance to polish my abilities and start freelancing. Freelancing is a tension-free occupation that I would recommend to young graduates as a career," he added. Amjad earns an average of $700 (Rs. 114,310) per month.
No degree needed for gig economy
Attaullah, a college graduate who has been working in the information-technology sector and goes by one name, has been working as a freelancer ever since his office closed because of the lockdown.
His skills have allowed him time to develop many mobile apps for clients and to earn a good income.
"Freelancing does not require you to have a degree. If you are enthusiastic and ambitious, you can get some training, even from YouTube, and start freelancing," he said.
KPITB's flagship programme, the KP Youth Employment Programme (KPYEP), seeks to empower youth with digital skills and connect them with employment opportunities of the future, said Shoaib Yousafzai, KPYEP project manager.
Phase one of KPYEP began in 2016, and the programme has produced more than 2,100 freelancers, of whom 30% have reported generating income of $40,000 (Rs.6.5 million) a year or more through gig work, according to Yousafzai.
In phase two of the programme, the focus is more toward producing more a digitally skilled workforce, and more than 8,500 youth have received training, with 39% of respondents reporting they have started generating income.
About 43% of this income-generating group of youths are freelancers, Yousafzai said.
"In order to equip the youth of [KP] with high-demand and advanced digital skills, KPITB in June 2019 partnered up with the United Nations Development Programme (UNDP) to train 1,200 youth from the province," he added. To date, more than 900 youth have received training.
Keeping youth motivated
The so-called gig economy has been growing globally and Pakistan ranked fourth among all countries, according to a survey reported by The News International.
The survey measured growth in income between the second quarter of 2018 and the second quarter of 2019.
"It is the right time for our youth to learn new skills, dive into gig work and utilise their abilities in the right direction," said Dr. Shahbaz Khan, the managing director of KPITB.
The majority of youth prefer freelancing to full-time employment because of the flexibility and independence it provides, he said.
At the same time, by tapping the internet to earn an income, youth are less likely to fall prey to extremists seeking to influence vulnerable populations.
Since educational institutions are closed and youth are restricted to their homes during the lockdown, most of those with computer access are spending considerable time on the internet, potentially exposing themselves to militant recruiters, said Dr. Muhammad Zia-ul-Haq, the director general of the Islamic Research Institute in Islamabad.
However, with programmes that focus on improving digital skills among young people, society can better equip them for a bright future, Haq said.
He lauded KPYEP's initiative in helping combat the ability of extremists to target idle youth.
"An empty mind is the residence of evil. We have to engage our youth and provide them opportunities for employment; otherwise, militants and other groups will attract and use them for their motives," he said.