KARACHI -- Security forces in Sindh have arrested two suspected militants linked to Lashkar-e-Jhangvi (LeJ) in the latest crackdown on the militant group.
The provincial Counter Terrorism Department (CTD) and Sindh Rangers in a joint operation in Karachi on April 17 arrested the suspects for their alleged involvement in attacks on security personnel and political and sectarian targeted killings.
Security forces recovered a cache of arms and ammunition during the arrest.
"The raid was carried out on a tip-off, and the arrested have been identified as Samiullah, alias Arshad, and Muhammad Jaffer, alias Barkat," said a Sindh Rangers spokesman.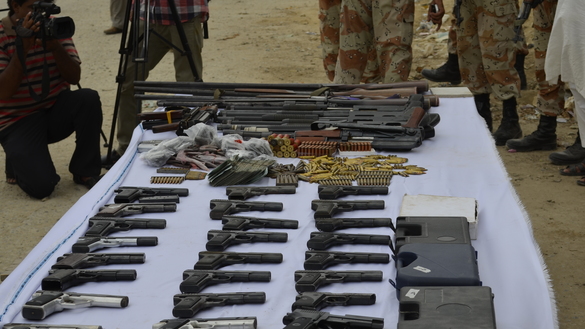 "They were involved in attacks on the Pakistan Army, Navy, Rangers and police," he added.
Two associates of the suspects, "Atta ur Rehman alias Naeem Bukhari (the leader of the banned outfit) and Sabir Munna alias Bhai Jan, who headed the group's targeted-killing wing, were arrested earlier," he said.
All were listed on a most-wanted-terrorists' list, each with a Rs. 5 million ($31,250) reward for information leading to their capture.
Jaffer has confessed to killing 13 policemen and committing seven murders fueled by sectarian and ethnic differences on Munna's orders.
He also told law enforcement personnel of his involvement in the targeted killings of members of the Ahmadi sect, the murder of Awami National Party (ANP) activist Syed Lal Darwesh in 2013 and other offences, including robberies.
For his part, Samiullah confessed to multiple crimes, including the targeted killing of four Rangers in Baldia Town in 2015, police personnel and ANP leaders Dr. Ziauddin and Haji Saifullah Afridi in 2014 and 2015 as well as the murder of Pakistan Navy officer Syed Jaffar Raza in 2015.
Wanted terrorists
Both suspects were among the most dangerous terrorists wanted by Karachi police "as they were involved in the sinister and bold killings of about a dozen policemen, many Rangers, a naval officer and scores of prominent civilians," said Dr. Jamil Ahmed, Additional Inspector General of Police (AIGP) CTD Sindh.
"Their apprehension will help reduce police assassinations in the metropolis and seriously dent the capacity of terror organisations to create chaos and mayhem in Karachi," he said.
Efforts will continue to arrest remaining active terrorists to ensure peace in the province in general and the city in particular, said Ahmed. "The terrorist network has been seriously weakened by these and other arrests."
"Tracking down wanted terrorists will prove successful in Pakistan's war on terror," said Brig. Hamid Usman, a security analyst based in Karachi. "A continuous crackdown has greatly weakened proscribed militant outfits involved in sectarian attacks."
"The intelligence-based operations of security forces around the country and Operation Zarb-e-Azb in North Waziristan Agency have proved fatal for the notorious militant groups," he added.
Such joint operations send a strong message to the world and militants that security forces are eliminating terrorists and have zero tolerance for militancy, he said.