KARACHI -- Police in Karachi are continuing to fight militancy and maintain peace in the city, targeting insurgents involved in the slaying of security personnel.
In the first six months of 2019, 10 policemen have been killed while performing their duties throughout the city.
In the most recent case, two policemen were killed on June 17 before dawn in the Orangi Town neighbourhood. No group claimed responsibility.
On July 3, Karachi police arrested two militants, including a woman, linked with the banned Lashkar-e-Jhangvi (LeJ) group, which has previously assassinated police personnel in the city. The pair is accused of killing the police officers in Orangi Town.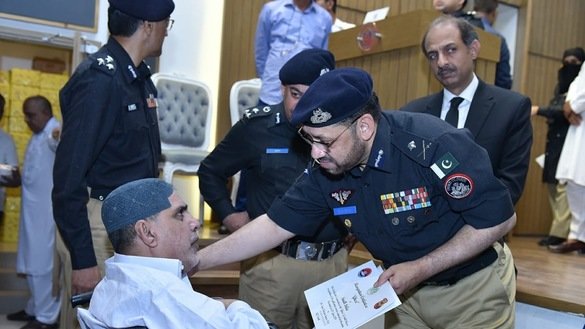 Police carried out a joint raid with a civilian intelligence agency to arrest the suspects, recovering two pistols and two grenades.
Those arrested are linked to an LeJ faction led by Sheikh Mumtaz, also known as Firaun, and are involved in police slayings, especially in Karachi West District, said Amir Farooqi, the police chief of Karachi's eastern region.
Farooqi also identified two prison escapees, LeJ members Mumtaz (not Sheikh Mumtaz) and Ahmed Khan, alias Munna, as "involved in the slayings of the policemen" in Orangi Town.
The latest incident comes after Karachi police in June killed three terrorists, including the al-Qaeda in the Indian Subcontinent (AQIS) chief for Sindh Province, in a shootout.
The terrorists masterminded the slaying of several police personnel in neighbouring Hyderabad District, said police.
Targeting policemen
Banned militant groups, including LeJ, AQIS, the "Islamic State of Iraq and Syria" (ISIS) and Tehreek-e-Taliban Pakistan (TTP), have long targeted Pakistani police and other law enforcement personnel, especially in Karachi.
Militants have attacked roadside police officers and carried out grenade attacks on police vans or officers' residences while they are not on duty, said Raja Umar Khatab, a senior counter-terrorism police officer in Karachi.
Before the launch of a major crackdown in September 2013 in Karachi, District West in particular was dangerous for police.
The situation was at its worst in 2013, when 166 police officers were killed in the city, mainly at the hands of the TTP.
At the time, the TTP had a hit list that included police officers involved in the arrests and deaths of a number of militants, including its key commanders in Karachi.
For example, Chaudhry Aslam, a senior counter-terrorism police officer in Karachi known for his efforts against the TTP, was killed in a bombing in 2014. He had survived a number of previous attempts on his life.
The killings of police officers coincide with an increase in action against banned militant outfits, according to Khatab.
"They [militants] are targeting police to bring down the morale of the police and to terrorise the police, and therefore they come on motorcycles in Karachi and run away after attacking two or three policemen," Khatab said in a separate interview.
Countering militancy
Despite the danger to law enforcement personnel, Karachi police remain dedicated to cracking down on militant networks in the city.
The number of police officers killed has decreased from 166 in 2013 to eight in 2018.
In 2017, Karachi's Counter-Terrorism Department destroyed Ansarul Shariah Pakistan (ASP), a militant group involved in a number of killing of police personnel in 2017, by arresting its key leaders.
Meanwhile, in March 2018, the Sindh government increased financial compensation for the families of slain police officers from Rs. 5 million to Rs. 10 million ($32,000 to $64,000).
"The aim was to recognise the sacrifices of the police force, which together with the paramilitary Rangers, has helped improve law and order in Sindh, especially in Karachi," said a Home Department Sindh official who was not authorised to speak to the media.
"We know it is dangerous to work as a policeman, but we are ready... to save the city from anti-peace elements," said Abdullah Shah, a police officer working in Banaras.
The cold-blooded murders of police officers will not shatter their determination, he said.