KARACHI -- The recent arrest of top Tehreek-e-Taliban Pakistan (TTP) commander in Karachi has been deemed a "great blow" to the terrorist group's ongoing activities.
Jan Alam was residing in a rented house in Frontier Colony, a Pashtun neighbourhood, and was planning to carry out terror activities in the city when he was arrested on June 3, said Malik Altaf, the senior officer of Sindh Police's Counter Terrorism Department (CTD) who led the raid.
"Because of Alam's involvement in heinous crimes, particularly masterminding the killing of key counter-terrorism police officers in Karachi, law enforcement agencies had been chasing him for the past several years," Altaf said.
"His arrest is a great blow to the TTP, which is already weakened after the killings and arrests of most of its leaders and internal fissures," he said.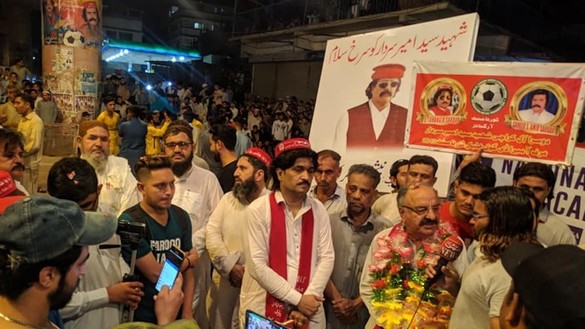 Alam told interrogators that he was appointed as the TTP's commander for Karachi by then-TTP chief Mullah Fazlullah after the 2018 killing of Sher Bahadur, Alam's predecessor.
Fazlullah himself was killed in an air strike in Afghanistan the same year.
"During his stay in Afghanistan, where most of the TTP leaders and commanders are hiding to avoid arrest in Pakistan, Alam received training in preparing pressure-cooker bombs, tennis-ball bombs and motorcycle-strapped improvised explosive devices," according to a CTD report of the interrogation.
Alam's arrest was part of a crackdown in the city on the TTP and other militant outfits, including the Khorasan branch of the "Islamic State of Iraq and Syria" (ISIS-K) and al-Qaeda in the Indian Subcontinent (AQIS).
Karachi Police's Special Investigation Unit (SIU) and federal intelligence agencies earlier carried out a joint raid on April 19 in the Gulistan-e-Johar neighbourhood, arresting four suspected AQIS militants.
Paramilitary Rangers and the CTD on April 17 also arrested two men suspected of being members of Lashkar-e-Jhangvi (LeJ) in raids in District West of Karachi.
In January, the paramilitary Rangers and the CTD arrested in the Orangi Town area two most-wanted TTP militant suspects who had been evading law enforcement agencies for the past nine years.
Attacks on police officers, political figures
Alam was involved in a number of terror activities mainly in District West of Karachi, a region that was a stronghold of the TTP until the launch of a security operation in September 2013.
He masterminded the killing of two key counter-terror police officers, Shafiq Tanoli and Bahauddin Babar, among other police personnel, according to the CTD's report.
Tanoli, who escaped several suicide and gun attacks, was killed in a suicide bombing in April 2014 in the Old Sabzi Mandi area. Babar was killed in the Metrovelle area in December 2013.
Alam's arrest was part of the CTD's mission to solve cases related to terrorism and killings of police officers in the past, particularly in 2013 and 2014, according to officials.
In 2013 and 2014, 173 and 143 police personnel were killed, respectively, mainly in District West and at the hands of TTP militants, according to police statistics.
In November 2018, Sindh Police formed a dedicated force to counter targeted killings of law enforcement personnel and political and religious figures in Karachi.
Alam was also involved in deadly attacks on a number of leaders of the Awami National Party (ANP) in District West.
According to the CTD report, he masterminded several attacks on Bashir Jan, the then-provincial secretary-general of the ANP, particularly during the 2013 general polls. Jan survived them all.
Alam was responsible for the death of Amir Sardar, the ANP's District West president, in August 2012, the CTD report said.
Alam's arrest will help law enforcement agencies not only in maintaining peace in the area but also shatter the terror outfit's efforts to regroup in the city, said Mujahid Khan, an ANP worker who was injured in a TTP attack in 2013.
"Since September 2013, when law enforcement agencies started their crackdown on militant outfits, the TTP has started losing strength as most of its leaders and members in Karachi were killed or arrested," Khan said.