KARACHI -- Jamaat-e-Islami Pakistan (JI) is finding new ways to promote interfaith harmony amid the coronavirus crisis.
As part of the effort, the Al-Khidmat Foundation (AKF), a charity arm of the party, has been helping disinfect mosques, churches, temples and gurdwaras throughout the country.
Since Wednesday (April 1), AKF volunteers have been visiting religious buildings and spraying them with with chemical disinfectants, said Zahid Askari, the spokesperson for JI Karachi.
The move came after JI chief Siraj ul Haq issued a video message directing his party's volunteers and youth activists to look after religious minorities and transgender persons badly affected by a lockdown imposed by the government to limit the spread of coronavirus.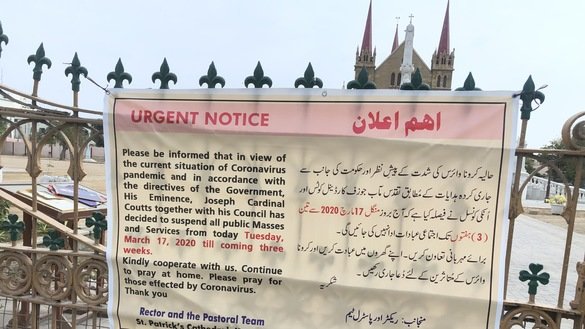 Volunteers also distributed food to poor families in non-Muslim communities affected by the lockdown, he said.
In Karachi and Peshawar, the country's two major cities, AKH volunteers disinfected the premises of seven churches, five temples and two gurdwaras, according to the JI, with plans for the effort to take part in other cities.
Rajesh Kumar, a Hindu resident of the Clifton neighbourhood of Karachi, said he is happy that the temple where he and his family worship was disinfected by AKH members.
"Crisis provides opportunity. The coronavirus spread has provided a great opportunity to bring the members of various faiths together to promote interfaith harmony and jointly fight the pandemic," said Kumar, a paramedic.
The spraying of religious minorities' places of worship to disinfect them of the coronavirus will further strengthen interfaith harmony in the country, said Sardar Ramesh Singh, a leader of the Pakistan Sikh Council, an independent Sikh rights body.
The effort comes as "terror outfits that are misusing the name of Islam have been carrying out cowardly attacks on our worship places", said Singh, mentioning a March 25 attack on a gurdwara in Kabul, Afghanistan, where more than 100 Sikhs had gathered for morning prayers.
The "Islamic State of Iraq and Syria" (ISIS) claimed responsibility for the massacre, which killed at least 25 people.
Interfaith harmony
Militant groups, including ISIS and Tehreek-e-Taliban Pakistan (TTP), have a history of targeting religious minorities in Pakistan and Afghanistan.
However, Pakistani authorities, civil society groups, and individuals have launched a number of initiatives to promote interfaith harmony.
Despite continuing tensions between the governments of Pakistan and India, both countries last November agreed to open the Kartarpur Corridor to Sikh pilgrims from India. The move enabled the pilgrims to visit a Punjab Province holy site that was established in 1522 by Sikh faith founder Guru Nanak Dev.
Last September, hundreds of Muslim residents rallied in support of the Hindu community after a temple in Ghotki District, Sindh Province, was ransacked by a mob after rumours that a Hindu school principal from the area had insulted Islam.
Muslim religious leaders spent a night with local Hindu representatives at the vandalised temple, distancing themselves from the rioting.
For their part, Sikhs and other minority religious groups during the Islamic holy month of Ramadan often serve iftar to fasting Muslims, a gesture reflecting interfaith harmony in Pakistan.
Last year, a Sikh grocer in Khyber District, Khyber Pakhtunkhwa, gained applause after he cut the prices of commodities and foods for Muslims during Ramadan.