KARACHI -- Police in Sindh are cracking down on members of a mob that ransacked a Hindu temple as Pakistani Muslims show solidarity with the minority community.
A mob took to the streets in Ghotki -- a town around 500km north of Karachi -- on Sunday (September 15) and vandalised the Sacho Satram Das temple and several stores after rumours that a Hindu school principal from the area had insulted Islam.
Farrukh Ali, a senior superintendent of police in Ghotki, told AFP Monday (September 16) that authorities were conducting raids to arrest the rioters, adding local Islamic clerics were supportive of the action.
Ghotki police have arrested several suspects in connection with three separate incidents -- vandalising the temple, damaging public property and blocking a highway as part of the riot.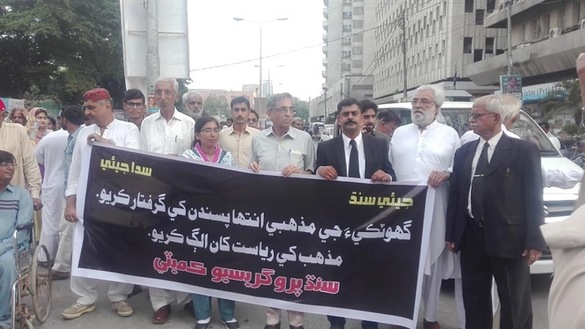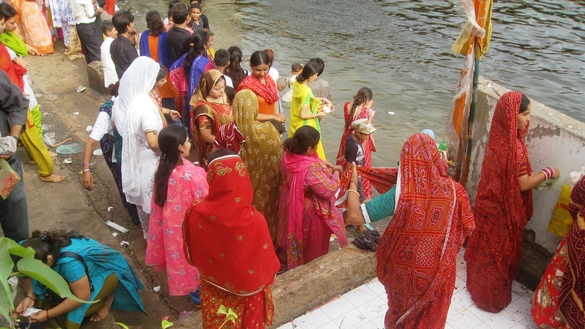 "Dozen of suspects have been arrested in an ongoing crackdown on rioters, and police are making raids to nab remaining suspects. No one involved in the rioting will be spared," a Sindh police spokesman said. The exact number is unknown at the moment as police are still investigating whether the arrested suspects were involved in the mob violence, he added.
A thorough investigation is coming, said Sindh Information Minister Saeed Ghani.
Ghani, while saying he appreciated the role of religious scholars who made it clear that those who attacked the temple had nothing to do with religion, said the government would take action against those responsible.
"A number of suspects have been arrested, and action will be taken against them according to law," Ghani said in an interview.
On September 17, political parties and civil society organisations held protests across the province, including Karachi, to show solidarity with the Hindu community and to condemn the Ghotki incident.
Pakistan in recent years has been working to stand against religious bigotry that often flares up into extremism or terrorism.
Extremists in Pakistan sometimes use the blasphemy laws as pretext for targeting minorities.
In 2011, the only Christian in the country's cabinet, Minister for Minorities Affairs Shahbaz Bhatti, was assassinated in Islamabad. He had opposed the blasphemy laws. Nobody was ever convicted in his murder.
That same year, Punjab Governor Salman Taseer was killed by his own bodyguard in Islamabad because Taseer had expressed support for Christian woman Asia Bibi, who faced the death penalty after a dubious conviction for blasphemy. Authorities hanged the bodyguard in 2016. Bibi, after years on death row, resettled in Canada in 2019.
Inter-faith solidarity
Hundreds of civil society activists and members of Islamist parties jointly held a peace rally on Sunday in Ghotki to show solidarity with members of the Hindu community, carrying white flags and placards inscribed with pro-peace slogans.
Muslim religious leaders also spent the night with local Hindu representatives at the temple that was attacked, distancing themselves from the rioting.
Allama Rashid Soomro, a provincial leader of the Jamiat Ulema-e-Islam (Fazl) (JUI-F) Islamist party, in a video message instructed his supporters not to take the law into their hands.
"Islam doesn't allow anyone to damage property and harm persons belonging to minority groups," he said, while appealing to his supporters to support the district administration.
Provincial ministers Saeed Ghani and Nasir Hussain Shah also travelled to Ghotki to meet leaders of the Hindu community in the temple.
The local Hindu community has been forced to remain indoors because of the riots, said Rauf Paras Dayo, the organiser of the rally.
"The main purpose of the rally was to show the Hindu community that the majority of Muslim residents are with them and that there is no support for rioters who use the name of religious for violence," said Dayo, who is also a leader of Rawadari Tehreek, a civil society group formed to promote inter-religious tolerance.
Incidents of intolerance
Even unproven allegations of insulting Islam can lead to lynchings and other murders in Pakistan.
On May 27, a Hindu veterinarian in Mirpur Khas District, Sindh Province, was charged with blaspheming Islam after allegedly selling medicine wrapped in paper inscribed with Islamic religious text. As word spread about the incident, riots broke out in the district and a mob set fire to the animal doctor's shop and attacked a police station.
"The non-Muslim communities feel insecure now, especially after a rise in incidents of mob violence," said William Sadiq, a Christian activist in Karachi.
"In such a fearful atmosphere, activities of groups promoting inter-faith harmony are appreciated. They will change the situation of fear," Sadiq said, adding that he is optimistic that the situation will improve.
Some anti-peace elements want to disturb religious harmony in Sindh Province through such incidents, said Khael Das Kohistani, a Hindu member of the National Assembly.
"Anti-social elements fanning hatred and violence should be stopped and punished," Kohistani said in an interview.
"There is a need to form district-level peace committees in which representatives from all religious groups should be included so they can control the situation if there is any religious issue," he said.