PESHAWAR -- The State Bank of Pakistan (SBP) has launched a new effort aimed at informing the public to prevent money laundering, terrorism financing and other illicit activities.
The SBP in February began using messages on automated teller machines (ATMs) throughout the country to raise awareness. ATM cards are the most popular way nationwide to make withdrawals from banks, with 21.3 million cards throughout the country and a user base of 8.5 million customers.
A message saying "Be Safe from Money Laundering and Terrorism Financing" now pops up on the screen of ATMs when a customer makes a withdrawal or conducts a transfer.
The message also reminds users that the sale, purchase and transfer of foreign currency through hawala and hundi are illegal.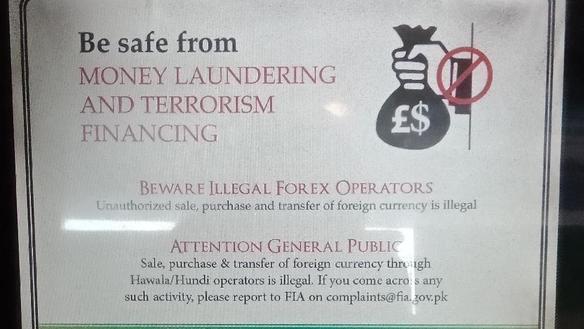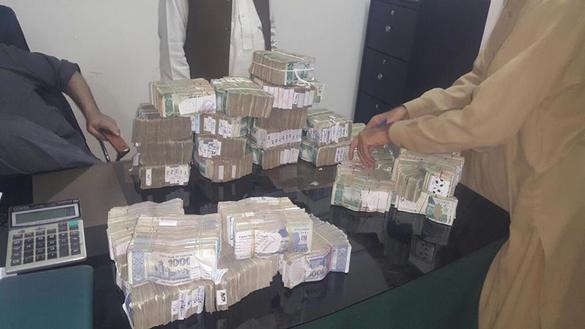 "If you come across any such activity, please report to the FIA (Federal Investigation Agency) at email address [email protected]," it says.
The message is being displayed in Urdu as well as English.
"This is part of a continuous exercise being carried out by State Bank of Pakistan from time to time to raise awareness of the general public" on legal and illegal financial transactions, said Abid Qamar, a spokesman for the SBP.
In many incidents, criminals entangle innocent depositors by misusing their accounts, he said.
This message also serves as a warning to depositors about the legal action they may face if they break laws forbidding the illegal transfer of money, Abid said.
It is also necessary to have the public take all precautions in handling bank accounts and transferring money because any laxity or mistake in this regard could create a lot of problems for them, he said.
Curbing terror financing
Building the capacity of bank officers and raising awareness among the general public are a must for curbing the menace of illegal money transactions and of terrorism financing, which constitute the backbone of terrorists, said Syed Akhtar Ali Shah, former home secretary Khyber Pakhtunkhwa.
The majority of bank account holders are not aware of safety measures and such messages are helpful in educating the general public, he said.
Pakistan is taking a number of measures to satisfy the conditions of the Financial Action Task Force (FATF), but without educating the public, it cannot achieve this goal, Shah said, referring to the global anti-money-laundering watchdog based in Paris that is considering blacklisting Pakistan for failing to curb terror financing.
"Apart from the SBP, all departments of Pakistan are playing their role very effectively for blocking terrorists and their financial supply chain," said Atif Haleem, a businessman and president of the Small Traders of Peshawar City.
Pakistan has suffered greatly from terrorism and militancy in the country, which has affected the whole nation, including the business community, Atif said.
The measures taken by the SBP are the need of the hour because many times criminals have misused innocent depositors' accounts or documents, such as their CNICs (Computerised National Identity Cards), according to Atif.
Public education is required to eradicate this menace and the business community appreciates the measures taken by the SBP and other commercial banks for blocking terrorism financing and money laundering, Atif added.
He also expressed appreciation for the FIA's work in blocking illegal money transaction channels that terrorist groups use.
"It is a good initiative taken by the SBP and serves in educating and reminding the public to use its accounts cautiously," said Muhammad Sohaib, a civil servant and resident of Peshawar city.
When he read the message while withdrawing cash from an ATM, he realised how important it is to co-operate with the concerned departments regarding illegal money transfers, he said.