PESHAWAR -- The Pakistani government needs to broaden its efforts in raising awareness of child abuse as well as enforce stricter laws, children's advocates say.
The Ministry of Human Rights launched an awareness campaign against child abuse in February using commercials on TV and radio and in newspapers, as well as seminars.
Abused and neglected children have a higher susceptibility to recruiters from extremist groups and violent criminal gangs, among other possible negative outcomes of the ill treatment, say many observers.
"The TV commercials by the government to create awareness among children and parents are a very good initiative; however, the scope should be broadened to involve all stakeholders from the grass roots to the policy-making level," Arshad Mahmood, a Peshawar children's-rights activist, told Pakistan Forward.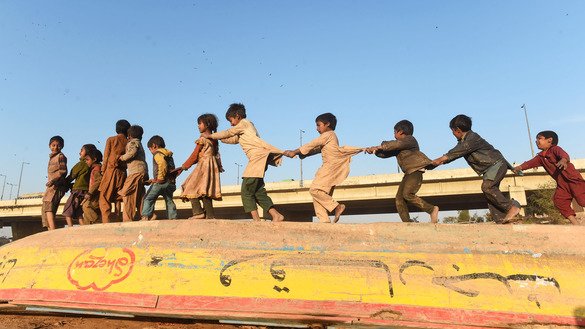 Mahmood has recommended to the government a national campaign called "Pakistanis against Child Abuse" (PACA), a joint campaign of civil society organisations and the Ministry of Human Rights.
The campaign "should also involve provincial bodies including the KP [Khyber Pakhtunkhwa] Child Protection and Welfare Commission, the Sindh Child Protection Authority, the Punjab Child Protection and Welfare Bureau and Balochistan Child Protection Commission," Mahmood said.
"This should help strengthen the child protection system across the country," he said.
The current campaign, which airs only in Urdu on radio and television, should use all national and regional languages, he added.
'Cruel numbers'
In the first half of 2018, 2,322 child abuse cases were reported in newspapers from throughout Pakistan in the first half of 2018, Sahil, a Pakistani children's-rights organisation, said in a report titled "Cruel Numbers".
For all of 2018, Sahil found 3,832 cases, compared to 3,445 in 2017. Fifty-five percent of the victims were girls.
In most sexual assault cases involving minors, law enforcement officials say the victims knew the majority of the accused.
The latest government effort came after protesters in the Ishkoman Valley, Gilgit-Baltistan, February 16 demanded the arrest of 14-year-old Didar Hussain's abusers and killers.
Didar, a seventh-grade pupil, was abducted, assaulted and killed and his body thrown in a river days earlier. Police arrested eight suspects in connection with the case, but the demonstrators claimed the main suspect was still at large.
The case is one of several reported recently in which children were molested and killed.
In February 2018, a court sentenced Mohammad Imran to death for the rape and murder of Zainab Fatima Ameen and seven other girls in Kasur, Punjab Province.
He was executed last October.
The high-profile case triggered widespread protests demanding that the government and society play a larger role in stopping the menace.
Stronger laws
Citizens need to be aware that child abuse can hit close to home, said Human Rights Minister Shireen Mazari.
"Child abuse can happen at home, and a child can be victimised by close relatives and neighbours," she said in Islamabad during the launch of the government campaign in February.
Children should know how to stop someone from any improper touching and alert nearby adults if it happens, she added.
The Ministry of Human Rights has established a help line -- 1099 -- for the reporting of human rights abuses including child abuse. The government is also establishing a Child Protection Commission, she added.
While the awareness campaign is an significant step, "stronger" measures are needed to shield minors from abuse, said Imran Takkar, a children's-rights activist based in Peshawar.
"A stronger child protection system is needed under the KP Child Protection and Welfare Act 2010 in KP and other laws elsewhere in Pakistan," he told Pakistan Forward.
"The systems of prevention and response are both very important and can be established under the law in the provinces," Takkar said.
Community elders, local representatives and imam-khatibs can play a vital role in raising awareness on how to protect children from abuse, he added.
All parents must help spread awareness and push for harsher punishments for child abusers, said Alamzeb Khan, an employee at a private firm in Peshawar and a father of four.
"I have told all my children not to allow any unfriendly touching by anyone in the family, on the street or anywhere else," he told Pakistan Forward.
He has circulated the Ministry of Human Rights' message to all his friends so that they can teach their children how to stop someone who is doing something improper to them, he said.
"Parents and teachers must educate their children, while the government should create awareness as well as introduce strict laws for the guilty," Khan said.