QUETTA -- At least 20 people were killed and 48 wounded Friday (April 12) by a powerful suicide blast apparently targeting the Shia Hazara ethnic minority at a crowded fruit market in Quetta, officials said.
Body parts littered the scene, and injured survivors screamed for help as black smoke cloaked the market after the explosion.
A faction of Tehreek-e-Taliban Pakistan (TTP) claimed responsibility.
The group said it collaborated with Lashkar-e-Jhangvi (LeJ), which has been behind numerous attacks on Shia Muslims in Pakistan. LeJ gave no immediate confirmation.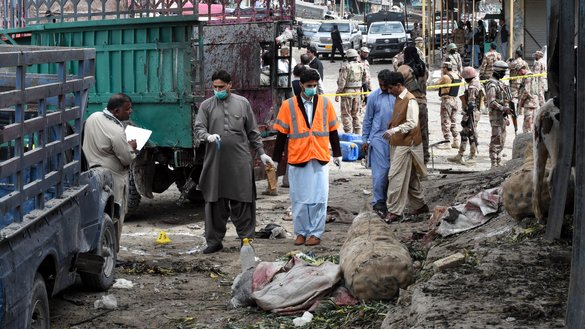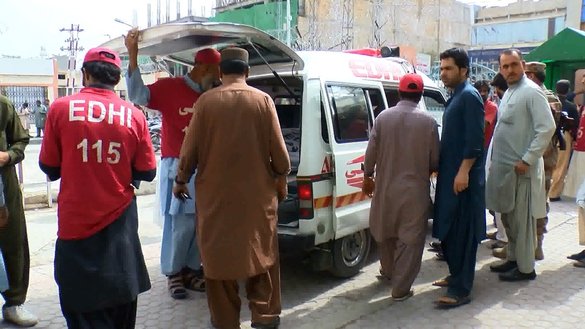 Balochistan Home Minister Ziaullah Langove provided the death toll and confirmed it was a suicide blast, adding that two of the dead were children.
Eight Hazara were among the victims, said Provincial Police Chief Mohsin Hassan Butt.
Denunciations
Officials swiftly denounced the massacre.
"Deeply saddened & have strongly condemned the terrorist attack in Hazarganji market area of Quetta targeting our innocent people," tweeted Prime Minister Imran Khan. "I have asked for an immediate inquiry & increased security for the ppl."
"I want to assure our masses that those involved in this cowardly attack will never succeed in their designs," Langove told Pakistan Forward.
"A special investigative team ... will issue a comprehensive report to the provincial government in 24 hours," he added.
"We strongly condemn this cowardly and callous attack," Balochistan Health Minister Naseebullah Marri told Pakistan Forward. "Militants are trying to smash the peace to foil foreign investment in the province."
"Justice will be delivered," he vowed.
Vulnerable minority
The Hazara are a vulnerable target for Sunni militants, who consider them heretics. Hazara make up about 500,000 of the city's 2.3 million residents.
Because they suffer frequent targeting, they are forced to live in two protected enclaves in the city. The police give them a daily escort to the market to stock up on supplies.
The blast targeted the Hazarganji neighbourhood of Quetta, said senior police official Abdul Razzaq Cheema.
The bomb detonated near a site where produce was being loaded for distribution around the market.
"I was loading a small truck, and I heard a huge bang, and it seemed as if the earth beneath me had shaken and I fell down," said Irfan Khan, a labourer, from his hospital bed.
"The atmosphere was filled with black smoke, and I couldn't see anything," he said. "I could hear people screaming for help, and I was also screaming for help."
The air was "filled with the stinging smell of burnt human flesh", he said.
Responding to calls for more protection
The blast was a "painful reminder" of the many attacks suffered by the Hazara community in Quetta over the years, said Amnesty International in a statement.
In Balochistan, authorities are responding.
"Security in the rest of the province has gone on high alert," senior Quetta-based security official Nabeel Yousaf told Pakistan Forward. "Additional troops have been deployed in all sensitive areas of Balochistan."
"Today a high-level law-and-order meeting took place at the Balochistan chief minister [Jam Kamal]'s secretariat," he said, adding that the participants "reviewed the entire security situation of the province".
Kamal ordered security agencies to conduct a targeted strike against banned militant groups hiding out in the province, Pakistan Forward learned at a press briefing in Quetta.
Authorities are revising security arrangements in Quetta and the Safe City Project, which Quetta began implementing in early 2018, will be the foundation of better security in the city, said provincial ministers at the same briefing.