PESHAWAR -- As in other parts of the country and across the Muslim world, residents in Peshawar have begun preparations to celebrate Eid ul Adha, which is set to fall on Wednesday (August 22) in Pakistan.
Residents flocked to animal markets to purchase cows, buffaloes, goats, rams, lambs, sheep and other animals to slaughter as sacrifices for the holiday.
"I am enthusiastic to slaughter animals in the fulfillment of our religious duty. I have bought my goat for Rs. 20,000 ($200) and am waiting for the first day of Eid ul Adha to slaughter it," Azizur Rehman, a resident of Peshawar, told Pakistan Forward.
Eid ul Adha gives Muslims an opportunity to distribute sacrificial meat among the poor and to win the blessings of Allah, according to Rehman.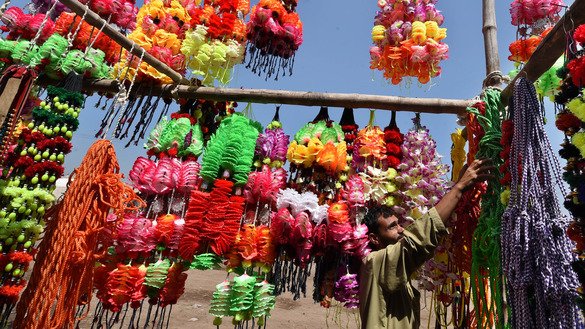 Mushtaq Ahmed, another resident of Peshawar, also said he was happy to celebrate the holiday.
"Not only will we be distributing meat on the first day of Eid ul Adha, but also we will be inviting the poor for a meal at night," he said.
"On Eid, the people go and receive guests to congratulate each other, and I have several homes to visit," he added.
[Ashfaq Yusufzai from Peshawar contributed to this report.]