PESHAWAR -- Security across Pakistan has gone on high alert as preparations reached a final stage for the annual festival of Eid ul Adha. The holiday will be celebrated Saturday (September 2).
"Patrolling has been increased while police officers have orders to enhance security at crowded trade centres, cattle markets and places of worship ahead of and on the day of Eid," Peshawar Capital City Police Officer Mohammad Tahir told Pakistan Forward.
Tahir said he personally reviewed the security measures at a number of busy trade centres in the city, including Qissa Khwani, Khyber Bazaar, Hashtnagri, Karimpura, and Ramdas, where hundreds of thousands of residents are busy buying and selling merchandise in the run-up to Eid.
Police have set up check-points at various entry points into Peshawar, he added.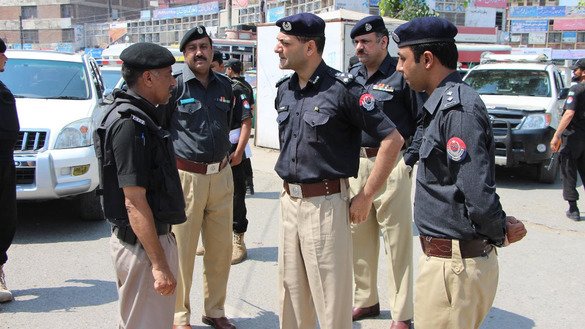 "Policemen deployed at check-points have been directed to remain alert and properly check cars and motorbikes," Fida Hassan Shah, the regional police officer in Dera Ismail Khan, told Pakistan Forward. "Police all over the Dera Ismail Khan region are ready to handle any untoward situation."
Khyber Pakhtunkhwa (KP) Inspector General of Police (IGP) Salahuddin Khan Mehsud also visited Dera Ismail Khan August 29 to chair security meetings.
"Security in Dera Ismail Khan and other areas of the province is being tightened to ensure peace," Mehsud told the media after the visit.
Enhanced measures across Pakistan
Security has also been upgraded in Balochistan, Punjab and Sindh provinces as well as in the Federally Administered Tribal Areas (FATA) and the capital, Islamabad.
At meetings in all districts in Pakistan, security officials reviewed the situation in their areas ahead of Eid.
As many as 2,500 police officers and Rangers will be on duty in Islamabad during Eid, and residents there have been asked to co-operate with police and other agencies during the event.
Police will set up hundreds of mobile check-points throughout Karachi, The Nation reported.
Police in Karachi will also be overseeing the collection of hides. This comes as Pakistani authorities nationwide have banned a number of radical groups from collecting animal hides, in an effort to cut funding sources for terrorism.
Lahore police have devised their own comprehensive security plan. At an August 28 meeting chaired by Additional IGP Mohammad Amin Wains, officials finalised arrangements to protect cattle markets, railways, bus stands and worship places, reported The News.
Busy shoppers look forward to peaceful Eid
Shopping is at its peak in main trade centres all over Pakistan as the Eid festival rapidly nears.
"We are here with our parents to buy clothes and shoes," Sana, 8, told Pakistan Forward in crowded Saddar Bazaar.
She added that she will buy bangles on the night of Eid.
"The sale of food increases when more people come for shopping ahead of any festival," said Shahid Ali, a fast food vendor in Saddar. His income has almost tripled in the past two weeks, he told Pakistan Forward.
Makeshift cattle markets, however, are the most crowded shopping venues. Some of the markets are selling thousands of buffalos, cows, goats, lambs and camels daily.
"The prices are higher than normal since the government doesn't regulate prices for sacrificial animals," said Bashir Khan, who purchased a buffalo for Rs. 120,000 ($1,140) for sacrifice on the first day of Eid.
During Eid, cows and buffalos range in price from Rs. 80,000 ($760) to Rs. 150,000 ($1,424), he told Pakistan Forward, adding that sheep and goats cost between Rs. 15,000 ($142) and Rs. 40,000 ($380).
"Some buyers pay more for a sacrificial animal because they strongly believe they will be rewarded for doing so in the hereafter," said Safeer Ahmad, another customer in Peshawar looking for an animal.
Animal buyers routinely distribute the biggest share of meat among the needy and among relatives who could not afford to sacrifice an animal and save a small portion for their own families, he told Pakistan Forward.