ISLAMABAD -- Discussions between opposing Pakistani political parties regarding the peaceful transfer of power next month bode well for the country's democracy, say analysts and the general public.
Prime Minister Shahid Khaqan Abbasi and opposition lawmaker Syed Khursheed Shah met this month before the end of the government's mandate in May, setting up a caretaker government ahead of elections in October and agreeing on the budget for 2018-2019.
Abbasi is a member of the ruling Pakistan Muslim League-Nawaz (PML-N), while Shah is a leader of the Pakistan Peoples Party (PPP).
Although such co-operation may be common in other democracies, it is a rarity in Pakistan, a country that has been ruled by dictators for nearly half of its 71-year history and seen three coups, according to analysts.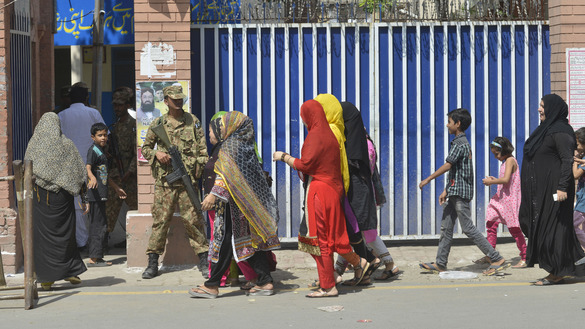 The transfer of power next month will mark only the second time in Pakistan's history that an elected government has completed its tenure.
Increasing growth, tolerance
Democracy has allowed Pakistan to make gains on numerous fronts, such as combatting terrorism, building confidence in the political system and creating a more open society and democratic culture, Imtiaz Gul, executive director of the Islamabad-based Centre for Research and Security Studies (CRSS), told Pakistan Forward.
The incidence of terrorism has dropped significantly, and the level of violence in politics and society also has fallen, he said.
Ahmed Bilal Mehboob, president of the Islamabad-based Pakistan Institute of Legislative Development and Transparency, pointed to an increase in tolerance.
"The immediate effect of the continuation of democracy is growing political tolerance," he told Pakistan Forward. "In the 1970s, '80s and '90s, even public gatherings of opposition parties were not tolerated, let alone amicable negotiations for the transfer of power."
Other analysts have noted a positive correlation between democracy and the economy in Pakistan.
"In the first three years [after Gen. Pervez Musharraf's dictatorship ended in 2008], we witnessed little growth [in Pakistan's gross domestic product (GDP)]," Zafar Mehmood, an economist and faculty member at the National University of Sciences and Technology (NUST) in Islamabad, told Pakistan Forward. "But year 2017-2018 witnessed a 5.8% [GDP] growth rate as compared to 4.1% in 2015 and 5.3% in 2016."
Replacing fear with confidence
Confidence in the political system has replaced the fear of the past, say Pakistani men and women from all walks of life.
"I remember in the 1990s when the PPP and the PML-N were not compromising with each other and were busy toppling each other's governments instead of negotiating issues and the future of democracy," said Kaleem Khan, a 46-year-old owner of a hotel in Islamabad.
"The result was instability and finally the dictatorship [led] by Gen. Musharraf that continued until 2008," he told Pakistan Forward.
"I was a child when I used to hear of dictatorship, and later I was afraid to participate in any political gatherings out of fear of [Musharraf]," Muhammad Zubair, a 28-year-old teacher from Vehari District, Islamabad, told Pakistan Forward. "But today we enjoy such gatherings."
"No one can stop Pakistan's forward movement due to the resilience of its people," Islamabad-based security analyst Lt. Gen. (ret.) Talat Masood told Pakistan Forward.