LAHORE -- Pakistan's political leadership strongly condemned "disrespectful" acts in public against politicians, describing such acts as "immoral" and against the spirit of democracy.
Two recent incidents sparked the condemnations.
On Sunday (March 11), a seminary student hurled shoes at Mian Muhammad Nawaz Sharif, the former prime minister, during a seminar at the Jamia Naeemia religious seminary in Lahore.
"The man was sitting in the front row and suddenly stood up chanting 'Labaik, Labaik' and threw shoes at Nawaz Sharif as he reached [the podium] to speak at the gathering," said Mufti Ashiq Hussain, a resident of Lahore who attended the event, referring to a slogan of Tehreek-i-Labaik Yah Rasool Allah Pakistan, a religious group turned Islamist political party.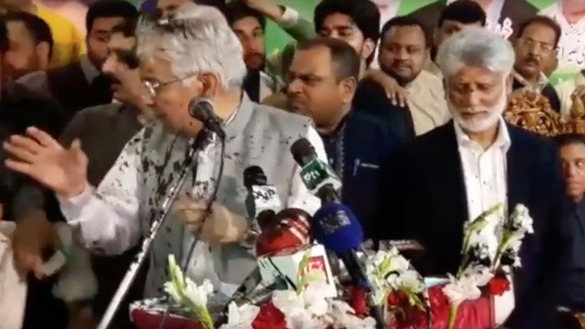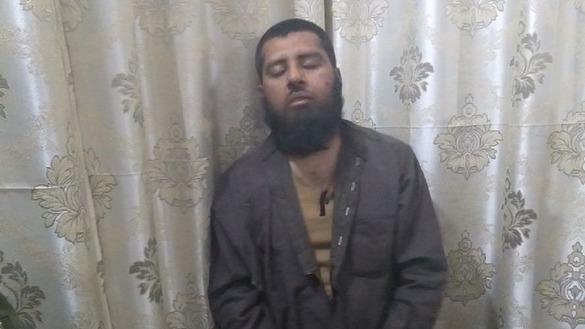 "It seemed that it was an organised effort to humiliate the former prime minister because the shoe hurling continued even as the first attacker was held by security, but luckily no other shoe could reach the stage," he told Pakistan Forward.
The main suspect in the incident and two accomplices were arrested.
Meanwhile on Saturday (March 10), a man threw ink at Foreign Minister Khawaja Muhammad Asif in his native Sialkot city, Punjab Province, as he spoke during a rally of the ruling Pakistan Muslim League-Nawaz (PML-N) party.
The suspect, identified as Faiz ur Rasool, was held and handed over to police.
He told police he threw the ink to protest the attempted amendment of the Khatm-i-Naboowat (finality of prophethood) declaration that elected officials and candidates are required to sign.
The latest political attacks might not be isolated incidents, according to Asim Naseer, a senior journalist and analyst based in Lahore.
"It seems like a planned move by someone," he told Pakistan Forward.
On February 24, Interior Minister Ahsan Iqbal also had shoes thrown at him in his native town of Narrowal, Punjab, Naseer said.
Political leaders unite against intolerance
President Mamnoon Hussain urged the nation to stand united against intolerance of political differences.
"Unprecedented successes in the war on terror can turn into defeat if such a trend is not stopped," he said in a statement, ordering authorities to take steps to protect the national leadership.
"This trend could prove to be ruinous for the nation," he said. "We should have a 'charter of morality' to observe religious and constitutional limits while expressing their differences to protect society from moral deterioration."
Other Pakistani leaders, including Pakistan Tehreek-e-Insaf (PTI) chairman Imran Khan, Pakistan Peoples Party (PPP) chairman Bilawal Bhutto Zardari, Jamiat Ulema-e-Islam (Fazl) (JUI-F) chief Maulana Fazl-ur-Rehman, Jamaat-e-Islami Pakistan (JI) chief Siraj ul Haq and Awami National Party (ANP) chief Asfandyar Wali Khan, condemned the incidents.
The incidents represent an ugly trend of undermining respect toward and the security of political leaders, said Zardari, according to a PPP statement issued Sunday (March 11).
"We have been against the use of such disrespectful tactics against [political] opponents since the very beginning, and will condemn such incidents in the strongest possible terms," he said.
"These attempts should not be aimed at discouraging political leaders from having direct contact with the public," he said.
Khan also condemned the acts. "This is not the way to express yourself, and I condemn whoever did it," he said.
"This trend of shoe hurling and ink throwing reflects increasing intolerance in society, and the other leadership will not be spared if we fail to stop and discourage it," said Fazl.