ISLAMABAD -- Pakistan has pledged a 40% increase in its development budget over the next fiscal year as the government continues to invest in infrastructure projects.
Economists welcomed the May 26 announcement as a sign of financial stability and improved security but also pointed out that it comes ahead of an election year.
Speaking to parliament, Finance Minister Ishaq Dar said the Public Sector Development Programme would have its funding increased from Rs. 715 billion ($6.8 billion) to Rs. 1 trillion ($9.6 billion) for 2017-18.
The government announced an 11% hike in total expenditure over the next year, as positive financial indicators and an improving security situation attract more investors to the country.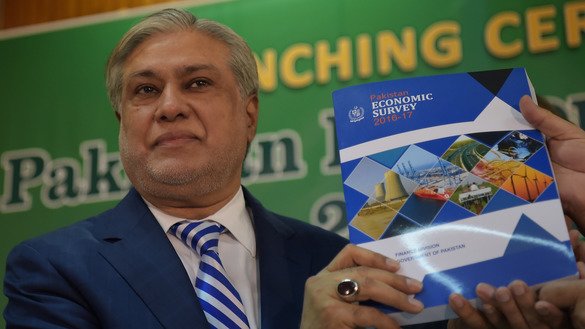 "The estimate for total expenditure in the year 2017-18 is Rs. 4,753 billion [$45.3 billion], which is 11.7% more than the previous year's expenditures of Rs. 4,256 billion [$40.6 billion]," Dar said.
The defence budget has grown from Rs. 841 billion ($8 billion) to Rs. 920 billion ($8.8 billion).
On May 25, the government said that the economy expanded almost 5.3% in the past year, its largest increase in a decade.
The rise follows a construction boom linked to a $50 billion (Rs. 5.2 trillion) investment plan to upgrade transport and power infrastructure.
Confidence in Pakistan is growing, with the International Monetary Fund saying in October that the country had emerged from crisis and stabilised its economy after completing a bailout programme.
Pakistan's credit rating has also improved, though foreign investment remains poor compared to that in its South Asian neighbours.
The country will need to register sustained growth of 6-8% over several years to make a significant dent in poverty and provide enough jobs for its youth, say economists.
Rising living standards
Pakistani economists welcomed the positive financial indicators.
"This is a good development that the government has raised the development budget to a record-high level," Murtaza Malik, president of the Pakistan Economy Watch, an economic monitoring think tank in Islamabad, told Pakistan Forward.
"The key focus of the government should be on human development in the next financial year to improve living standards," he said.
"Millions are facing an energy crisis, water shortage, lack of education, health facilities, unemployment and nutrition problems that should be addressed on a priority basis," Malik said.
Developing infrastructure alone is not enough to solve the basic problems of ordinary citizens, he said.
"With the highest-ever development budget for 2017-18, the government should provide basic amenities," he said.
Keeping budget promises essential
Ashfaque Hasan Khan, an economist and dean of the National University of Sciences & Technology (NUST) school of social sciences and humanities in Islamabad, welcomed the news of the budget -- as long as it is not merely lip service for politicians during an election year.
"This is the election budget of the government," he told Pakistan Forward.
The government will provide millions of rupees worth of development funds to the parliamentarians of its party to muster support for the party in the next elections, he said.
The ruling party will have political mileage in its election campaign next year after announcing the country's highest-ever development budget, he said.
"Announcing a big budget is not an achievement," Khan said. "The real [achievement] is its implementation in letter and spirit."
If the government spends the money proposed in the new budget, it would augment economic activities, create thousands of new jobs and alleviate ordinary Pakistanis' problems, said Ali Nasir, an economic analyst and senior correspondent of Business Plus TV in Karachi.
"The public's basic problems have worsened in recent years, and an increase in development budget would support the government in overcoming [these] major issues," he told Pakistan Forward.
"Everyone knows that the new budget is the election budget and that the government will have to make serious efforts to implement it in its true spirit to fulfill the promises that it made to the people," he said.
[Javed Mahmood from Islamabad contributed to this report.]