PESHAWAR -- Pakistani authorities are working to revive the silk and honey industries in Malakand Division, Khyber Pakhtunkhwa (KP). Both the division and the province in general were ravaged during the Taliban's peak in KP from 2007-2009.
Pakistani Minister for Industries and Production Ghulam Murtaza Khan Jatoi inaugurated two cluster development projects in Swat District October 26. Established under the country's Public Sector Development Programme (PSDP), the projects cost Rs. 100 million ($1 million).
"The projects will promote traditional textile sector and home production in Swat District," said Jatoi during the inauguration.
The project includes facilities that are aimed at upgrading the traditional silk and honey bee sectors by developing new product lines that take into account contemporary market trends and by exploring new opportunities for end product consumption.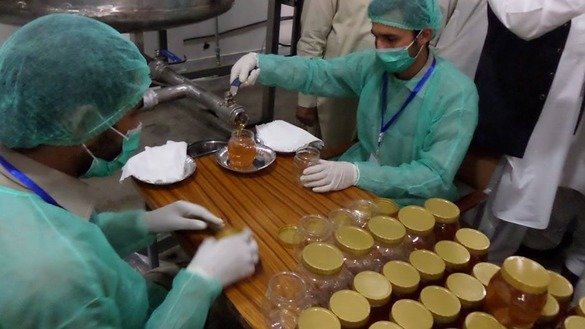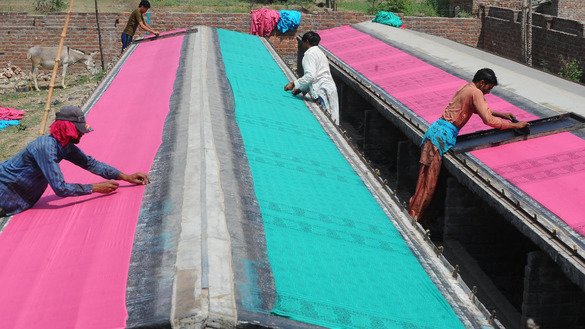 The development projects were established by the ministry's Small and Medium Enterprise Authority (SMEDA), which is also responsible for supervising the facilities through consultation and institutional support.
Processing honey
The Malakand region is endowed with conditions ripe for producing high quality honey, but the area lacks proper processing facilities.
The poor law and order situation of past years also set back honey production, Ishfaq Afridi, project director of SMEDA's Honey Processing and Packaging Common Facility Centre, told Pakistan Forward.
With an eye on exports, the centre was set up under the PSDP and cost Rs. 38.2 million ($363,000), which includes a capital cost of Rs. 18.6 million ($177,000) and a three-year operational cost of Rs. 19.6 million ($186,000).
The facility will help beekeepers increase their profits by increasing value added through extracting, cleaning, bottling and packaging at a single facility, said Afridi.
Farmers will be in a better position to access international markets after improving quality and standardising production at the centre
The centre is able to process about 2 tonnes of honey in eight hours.
The region has more than 500 honey producing bee colonies with a capacity of about 900 tonnes of honey per year, Afridi said. But the old practice of transporting the honey to distant processing locations reduced the profit margin of producers, he added.
Processing, de-moisturising and improving the stability of local honey at the new centre will increase the profit margin of farmers by almost 40%, according to Afridi. "The centre is also expected to encourage farmers to adopt new procedures of to improve quality", he said.
Dyeing, washing and pressing silk
Silk producers in Malakand are also getting a helping hand.
"Our efforts are aimed at encouraging business and entrepreneurship through cluster development in Swat, where the citizenry endured adverse conditions and economic setbacks during the insurgency," said Muhammad Israr Wazir, a textile engineer and project director of SMEDA's Dyeing, Washing and Pressing Common Facility Centre for Silk Cluster.
"Supporting clusters of local silk producers to achieve sustainable livelihoods and boost economic activities in Malakand is one of our objectives," he told Pakistan Forward.
Common dyeing, washing, pressing and sizing facilities will improve product quality, generate employment and boost the economy of the region, Israr said. They will help the community better its socio-economic conditions by exploring new market opportunities at the national level and will increase the market share of their products, he predicted.
The Silk Centre has the capacity to process 3,000 metres of fabric in 24 hours, enough to meet the demands of the existing silk industry in Swat, he said.
"Only 75 out of about 350 silk units that were closed due to insurgency and military operations have starting working again, and we are fully capable of processing the silk fabric prepared in these units," said Israr.
The centre was set up at a cost of Rs. 57.5 million ($547,000), including a capital investment of Rs. 25.8 million ($245,000) and a three-year operational cost of Rs. 31.8 million ($302,000), he said.
Benefiting local farmers
"Local farmers are eager to benefit from these projects after a long period of uncertainty that adversely affected trade and economic activities in Swat", Sher Malook Khan, president of the Malakand Honeybee Keepers Association, told Pakistan Forward, referring to the years of Taliban oppression.
During that time, it was very difficult for farmers to transport their honey for processing, and most of the produce would spoil en route to packaging and purification centres situated outside the Malakand region, he said.
As a result of militancy, 80% of honey farms closed, leaving their owners in a state of despair in the worst-affected areas of Malakand -- Kalam and Shangla, according to Khan.