SWAT -- The niche business of handmade shawls in Islampur is booming -- employing nearly every family in the small village in Swat Valley.
The warm sheep's wool shawls for women and men are known throughout Pakistan and the region, and are even exported to international markets.
The residents of Islampur, also known as Salampur, have been weaving shawls for at least the past century. However, the business was on the verge of collapse due to a long wave of terrorism and extremism in Swat Valley, which peaked in 2007.
The shawl business has been revived after successful military operations in the area -- Operation Rah-e-Rast in 2009 followed by Operation Zarb-e-Azb in 2014 and the ongoing Operation Radd-ul-Fasaad -- helped improve law and order and attracted tourists to the green valley of Swat.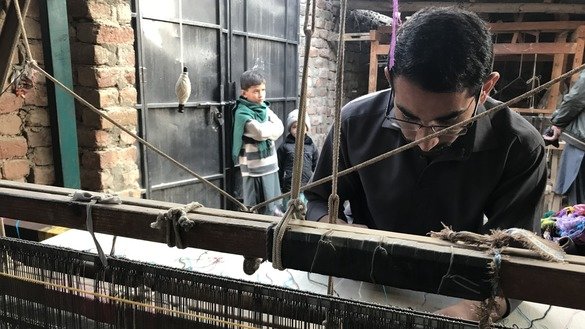 Now that security has returned, the weavers are back to work and the village boasts 100% employment, according to Geo News.
The population of Islampur is more than 30,000, out of whom 80% are associated with producing shawls, Hafeez ur Rahman, 21, a local artisan, told Pakistan Forward.
The cottage industry comprises 3,000 handloom units that are owned by several individuals, he said.
"Women's contribution is imperative in boosting this business in the area and plays a key role in producing woolen shawls and chaddars," he said.
"Every person in Salampur is a master of his [or her] craft -- they weave shawls, woolen cloth and scarves," Akhtar Ali, a social worker from Islampur, told Pakistan Forward.
Even with peace, challenges remain. Artisans from Islampur do not have direct access to the market, and most are at the mercy of middlemen.
"The middlemen purchase their products at heavily discounted prices and then sell them in the national and international markets for [marked up] rates," Ali told Pakistan Forward.
Welcoming the return of peace
Abdullah Khan is the owner of one of the 60 shawl shops in Islampur.
A colourful woolen shawl costs between Rs. 400 and Rs. 30,000 ($4-$271), depending on the quality of wool and embroidery on it, he told Pakistan Forward.
The long years of militancy forced many weavers to quit their profession, despite having an association with the business for the past century, he said.
Khan said he is happy now that they can continue their family profession because of the return of peace in Swat.
He thanked the Pakistani army "for the elimination of terrorism in this beautiful valley".