PESHAWAR -- Residents of Khyber Pakhtunkhwa (KP)'s newly merged tribal districts are welcoming an international initiative aimed at reviving the region's agriculture activities.
The US Agency for International Development (USAID) and the United Nations Food and Agriculture Organisation (FAO) are working to build 13 cluster-based packing sheds, five fruit and vegetable auction sheds, and three livestock markets in South Waziristan, North Waziristan and Khyber districts.
The effort will not only support value chain development and improved agriculture practices in the merged districts for year-round production but will provide a viable environment for fruits, vegetable and livestock management, the FAO said.
Five market structures -- including one livestock market, two fruit and vegetable packing sheds, and a couple of fruit and vegetable auction sheds -- were inaugurated in South Waziristan on September 27.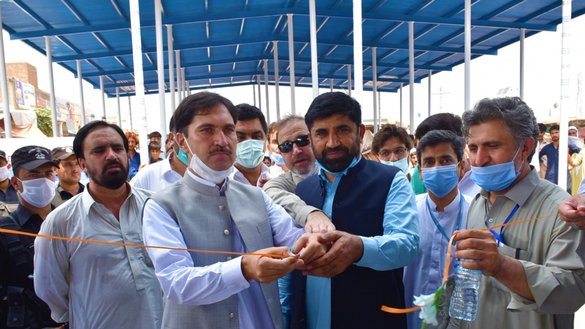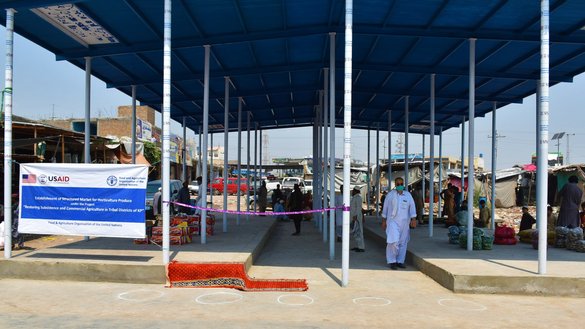 "The market structures are part of support to commercial agriculture activities to maintain and increase the value chain of agriculture produce," Waleed Mahdi, an international co-ordinator for the FAO, said in a video message September 29.
"The FAO is supporting the restoration of subsistence and commercial agriculture for 42,763 households in the newly merged districts of KP under the USAID-funded project," he said.
The first of the 13 sheds was inaugurated July 24 in Bara Tehsil, Khyber District.
"The returning farmers in the merged districts face a number of challenges, and one of them is not having proper markets in their areas," said USAID Mission Director to Pakistan Director Julie Koenen at the time.
"These structures will ensure year-round marketing of fruits, vegetables and livestock, improve packaging, and provide a business-friendly environment to farmers," she said, according to a US embassy press statement.
"The construction of the markets is part of a joint initiative of more than $10 million in recovery and rehabilitation funding to improve livelihoods and recover market systems for the returning Temporary Displaced Populations in the Merged Districts of Khyber Pakhtunkhwa," the statement said.
"The project aims to significantly contribute to the peace and development of the region by reducing poverty and economic inequalities through the resumption of food production and restoration and improvement of agriculture-based livelihoods in the target areas, despite COVID-19," said Mina Dowlatchahi, FAO Representative in Pakistan.
Boosting trade, livelihoods
Tribes living along the border with Afghanistan have long relied on trade, agriculture and livestock for their livelihoods -- all of which were affected by militancy.
Now, the new hubs are set to provide year-round facilities for trade, kick-starting an economy left stagnant by decades of terrorism.
"The establishment of the hubs in tribal districts, especially Khyber, will serve as a base for boosting not only the local trade but also trade with neighbouring Afghanistan," said Alhaj Shah Jee Gul Afridi, a former National Assembly member from Khyber District.
The Torkham border crossing and Khyber Pass represent one of the main routes from which livestock and agricultural products shuttle between Pakistan and Afghanistan, he said.
"Its very important to revive and boost trade as most of the displaced tribe members have now returned to their villages... their lives have to be restored, and the initiative will serve that purpose," he said.
The support to vulnerable communities in the district is timely and commendable, said Additional Deputy Commissioner South Waziristan Faheed Ullah Khan.
"The merger has opened new doors of development in far off areas," he said. "Earlier, most of the livestock and agri-trade was disorganised [and] was carried out at village fairs and melas in makeshift kiosks... always exposed to harsh weather and insecurity."
"But now farmers and cattle dealers will have the sheds and sheltered clusters, [enabling them] to stay longer and do their business," he said.
"These sheds and hubs will serve as a base for larger clusters and organised trade where agricultural commodities will earn more for farmers," said Ikram Afridi, a farmer from the Tirah Valley.
"Thus, economic conditions will be boosted and it will restore permanent peace as well, as earlier terrorism and militant activities destroyed their source of livelihood," he said.
"In the days of war, militants were the only buyers and they set their price for crops and cattle, but if these clusters are organised, the local traders and farmers will benefit," he said.
"It's good to see that tribes are getting seed, fertiliser, goats and cattle to restart their livelihood," said Shazudin Wazir, a tribal journalist from Wana, South Waziristan.
"There is a dire need for these projects to [focus on] the long term as well as to be transparent," he said.