PESHAWAR -- Guliafshan Tariq, a Pakistani athlete and human rights activist, rode her motorbike through Khyber Pakhtunkhwa (KP) May 6-24 as part of a planned cross-country ride to promote peace.
On completion of her solo ride through KP, Guliafshan expressed astonishment over misconceptions of the region as a "land of religious radicals".
"During my 19-day journey from the plains of Dera Ismail Khan to the rugged terrain of the mountainous Chitral District, what I found was a warm welcome, rich hospitality, affection, respect and honour from the people of KP," she said.
"I didn't find any of the things that I heard about the people of KP, [such as] that they are intolerant," she told Pakistan Forward at the Peshawar Press Club May 24, after completing the first leg of her cross-country ride.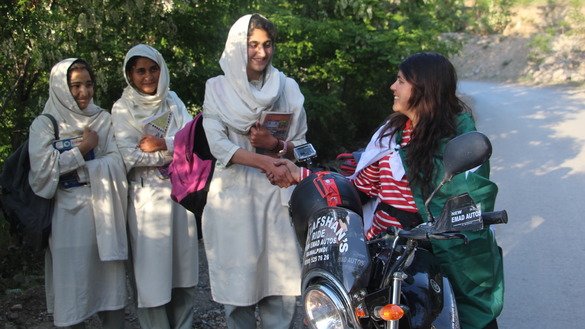 "Being an outsider and coming from Sargoda District, Punjab Province, I had the impression that people in KP, especially women wearing full cover veils and men sporting beards and wearing caps, are 'terrorists'," she said.
Based on these fears and misperceptions, Guliafshan said, her family opposed her decision to travel alone through KP and gave permission very reluctantly.
But the experience has been eye-opening.
A new perspective
"My motorbike journey enabled me to meet with people of different areas, cultures, languages and traditions and helped me to find out the reality about the behaviour and attitudes of KP residents," Guliafshan said.
All Pakistanis, and especially those in KP, carry the blemish of terrorism and radicalism because of the wrongful acts of a handful of bad elements, she said. The reality is that Pakistanis are very peace loving, tolerant and respectful.
"This is the objective of my journey: to dispel the impression created about our country in the world and to inform the public that Pakistanis are not extremists but in fact are very loving and respectful," she told Pakistan Forward.
Breaking records
Apart from being a peace activist, Guliafshan is an athlete, climber, trekker and record-holding paraglider. In 2015 she cycled through Khunjerab Pass at an elevation of 5,000 metres in her effort to promote peace and to convey a more benign image of Pakistan around globe.
The second phase of her cross-Pakistan motorbike journey will start from Balochistan, she said. However, she hastened to add, it depends on sponsorship from the federal government.
She undertook her KP journey without government sponsorship, she said, adding that Umbrella Brands, a group of youth from Swat, bore her expenses.
On reaching Peshawar, Guliafshan won recognition from the Pakistan Book of Records (PBR).
"The idea behind the Pakistan Book of Records comes from the Guinness Book of World Records, which issues certificates to those who set a record," PBR founder Ahmad Hussain told Pakistan Forward.
"The purpose of launching PBR was to create a suitable platform, recognise talent and encourage youth to set records in different fields, even if they are on a smaller scale," said Ahmad, himself a record holder in martial arts.
"We instructed Guliafshan to submit video recordings and photographs as proof of her visit to different areas of KP, after which we decided to recognise the record she set," he said.
"She deserved recognition for her courage," he said.
A 'quite unusual' sight
Guliafshan's sponsor, Umbrella Brands, documented her journey.
"We accompanied Guliafshan during her journey to make a documentary of her visit, which will be aired on an [unspecified] international news channel, to promote Pakistan's soft image," Abrar Ahmad Khan, chief executive officer of Umbrella Brands Organisation, told Pakistan Forward.
Khan expressed hope that the documentary film on Guliafshan's tour in KP would encourage foreign travellers, especially adventurers, to visit the area.
"It was quite unusual to see a lady riding a bike in Parva, Dera Ismail Khan," said District Wildlife Officer Sajeel Balouch.
Sajeel said his brother Imtiaz Balouch, the nazim of Parva Tehsil, was very appreciative when he came to know about Guliafshan's peace initiative.
"We extended warm hospitality to her during her stay in Parva and arranged her meetings with local people so that she could interact with them and gain a better understanding of peace-loving people," Sajeel told Pakistan Forward.