PESHAWAR -- Mounted onto a three-wheeled motorcycle, Muhammad Ismail's "Peace Dove" stands ready to embark on a journey across Pakistan.
Ismail, a resident of Shorkot village, Punjab Province, saved more than Rs. 1 million ($6,395) and spent seven months to create the "Peace Dove", which is equipped with a fiberglass body and outside cameras.
He and his entire family are ready to go on their "Pakistan Peace Journey" next month.
By year's end, "I will be rolling on to urban Pakistan to give the citizens and the world a message: Pakistan is a peaceful country after defeating the terrorists", Ismail said on October 20.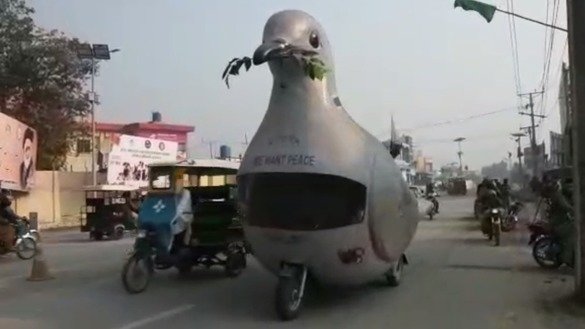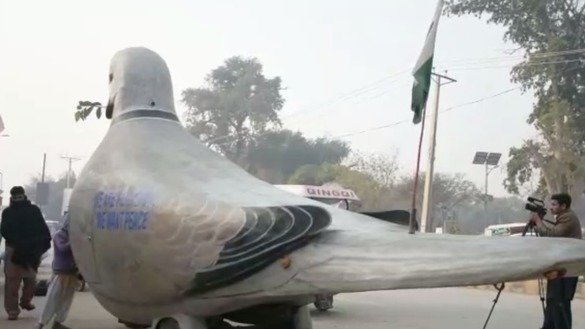 "The dove is a symbol of peace, and we want to send a message of peace wherever we go," said Ismail.
"The reason for the adventure is to portray Pakistan and the tribal areas in its true face -- its peaceful face," said Mrs. Ismail, who declined to give her first name.
"I, along with my kids and husband, have travelled all over Pakistan and also in the tribal areas. I have no fear at all; it's a message that we are a peaceful nation and love peace," she said.
Although investors may be discouraged, "we are sending the message of hope to all those who are reluctant to come to Pakistan... the land of peace lovers," she said.
The upcoming trip will be the family's second. The family in January took the Peace Dove from Punjab to the tribal areas along the border with Afghanistan, all the way to South Waziristan to spread a message of love and peace.
"We are negatively portrayed as terrorists, though it is not so. We want to tell the world that we are a peaceful nation", said Ismail. "I visited the tribal areas with my children, my wife -- I have no fear as the tribal areas now are as peaceful as the rest of the world, and our journey is proof of it."
Ismail remarked that his family slept in the Peace Dove in the open, and that as they travelled along the roads of Mohmand Agency, Bara, and Dara Adamkhel and other tribal areas, they had no problems.
A 'new courage'
The public response in Khyber Pakhtunkhwa and the tribal areas "is always enormous", Ismail said. "The tribes welcome us, feed us well; they even give gifts to my wife and children. It's a great honour for us."
"When I saw the Dove in the main bazaar in January this year, I was really impressed to hear that our brother from Punjab is here to show the world how peaceful Mohmand District is," said Ramzan Muhmand, a resident of Ghalanai, Mohmand District.
"We are thankful for Ismail and his family who infused a new confidence in us that terrorism is defeated and that Mohmand is no longer a no-go area," he said.
"The initiative is a great step in restoring tribe members' confidence as they are the victims of terrorism themselves," said Rahim Mehsud, a former resident of South Waziristan who now lives in Dera Ismail Khan.
"They are not terrorists -- the wrongs of a few should not be a pretext to punish all. We are thankful to Ismail and his family for telling the world," he said.
"The Peace Dove family did a great service to the tribes living in Dera Ismail Khan, not only for promoting the message of peace among them but also having an insight into the lives of the tribes and how much war has traumatised their families," said Sibgatullah Mughal, the editor of local daily Mishle Dera.
"The peace journey of Ismail and his family has also helped remove the misconceptions of the tribes about the people of Punjab, [some of whom] consider all tribesmen to be terrorists," he said.