PESHAWAR -- Adventure-seeker Maria Soomro has given a thumbs up to travelling solo in Pakistan.
Soomro, 30, has been hitchhiking for the past six months in the northern areas of Pakistan, where she found beauty everywhere -- from the people who were loving, caring, hospitable and respectful to the scenic countryside.
"Since March 2020, when I started hitchhiking from Lahore, I have met about 300 people from diverse backgrounds and almost all were very co-operative, kind, courteous and respectful," Soomro told Pakistan Forward from Gilgit, the capital of Gilgit-Baltistan.
"I would suggest to adventure-loving women like me to move ahead, make plans, pick up a backpack and explore with ease the beauty of Pakistan, both in terms of locations and communities," she said.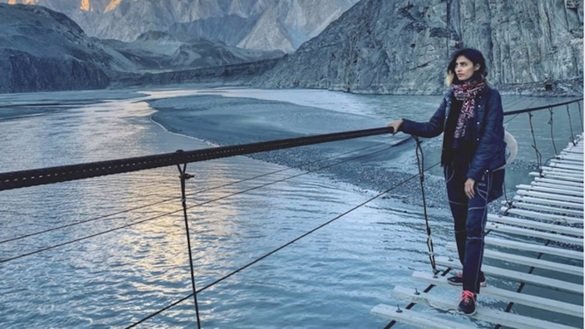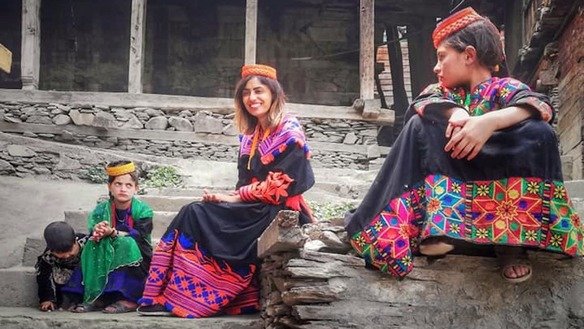 "I was surprised to see breathtaking scenic sites in the mountainous regions of Swat, Chitral, Upper Dir and Gilgit-Baltistan, which would have remained unexplored to me if I had not taken up the initiative," she added.
A resident of Karachi, Soomro quit her banking job to fulfil her dream of visiting different parts of the country through hitchhiking.
"This is the first time that I've done a solo journey. Before, I travelled in different areas accompanied by friends."
Hitchhiking is a great way to travel because it saves money, allowing travellers to extend their journey and to visit more areas, she said.
Safety advice
Still, she advised female travellers to learn basic safety principles before initiating such an itinerary.
She travels only in the daytime and always seeks lifts from motorists in crowded areas. In addition, when camping out, she pitches her tent near populated areas.
Travellers should inform local police about their arrival and share their GPS location along with details of the vehicle they travel in with an in-charge officer or a trustworthy friend, she said.
For additional safety, she keeps a knife and pepper spray handy, though she has never had to use them. Soomro posted her safety advice for female travellers on her Instagram channel (@MariaSoomro_).
During her travels, Soomro visited parts of Khyber Pakhtunkhwa (KP) including Swat, which had been a militant hotbed in recent years before military forces improved security in the region.
"I am the first female hitchhiker from Pakistan who has travelled in these regions alone, and I found that there is no danger to travellers as locals ... extend rich hospitality to visitors," she observed.
During her journey, she came across three foreign hitchhikers travelling separately in the Shimshal Valley of Gilgit-Baltistan.
If foreigners can come and visit scenic locations in Pakistan, Pakistanis -- especially females -- should take advantage of such adventures in their home country, she said.
Now that she has reached Gilgit, she plans to complete her journey and return to Karachi. Once home, she aims to write a travelogue on her experiences to show the real face of Pakistan and its denizens.
Boosting KP's reputation
Soomro's travel throughout KP is evidence of the strides that security forces have made to improve security in the region, said Zahoor Durrani, managing director of Peshawar-based tour operator Sehrai Travel.
"It's very heartening to hear that a lone female traveller has visited our province by catching rides and that her experience is very positive," he said.
The rise of militancy and incidents of terrorism from 2000 to 2017 tainted the image of the country, especially in KP, he said.
Many travellers approach his company and express their desire to visit the scenic sites in KP but are still wary of the security situation, he added.
The media should promote Soomro's journey to bolster the image of the region and highlight the improved security, Durrani said, adding that it will help spur more Pakistani and international travellers to visit.
The northern region and Pakistan as a whole have become much safer to explore, said Guliafshan Tariq, who travelled alone in the Swat region on a motorbike in 2017, agreeing with Soomro.
Tariq said the aim of her trip was to dispel the impression that Pakistan -- especially KP -- is home to a host of extremist elements.
Pakistan and KP are very safe for travellers, even for females, because of cultural norms that consider guests to be blessings from God, Tariq said.
She urged travellers to enjoy the beauty of Pakistan and its people.
Improved security in Pakistan is having a positive effect on tourism, said Ejaz Khan, a Peshawar journalist who has covered the seaport and tourism sectors for the past three decades.
"With the improvement of the security situation, the number of travellers to Pakistan is increasing every year," he said.
Khan lauded the courage of Soomro in undertaking the solo hitchhiking journey in areas including Swat and Upper Dir.
Her journey will not only encourage other female adventurers but send a positive message to international tourists about the safety of visitors in Pakistan, he said.