ISLAMABAD -- The killing of a key commander of the Khorasan branch of the "Islamic State of Iraq and Syria" (ISIS-K) has dealt a major blow to the group, say Pakistani authorities and observers.
Khyber Pakhtunkhwa (KP) Police's Counter Terrorism Department (CTD) on June 6 said that law enforcement in a joint operation had killed Subhanullah alias Usman, an ISIS-K commander, in Bajaur district.
"Subhanullah was wanted in several terror cases, including attacks on security forces and police personnel, and a bounty of 2 million PKR (some $7,000) was placed on his head," said Amjad Khan, a senior CTD official.
"During the ongoing crackdown on various militant groups, law enforcement agencies had received intelligence reports about the arrival of ISIS-K leaders in Bajaur from a neighbouring Afghan province," he said.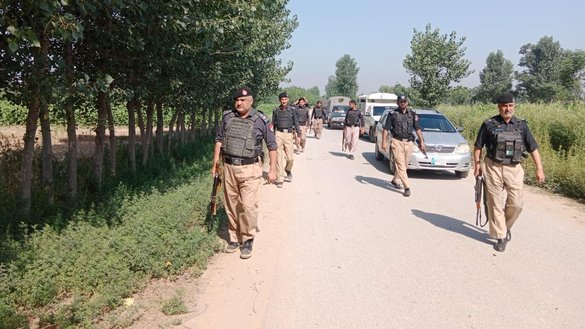 ISIS's top leadership formed ISIS-K in July 2014.
Bajaur district is one of a few areas inside Pakistan where ISIS-K has intensified its attacks in recent years.
ISIS-K organised its underground structure in Bajaur after some of the local militants of Tehreek-e Taliban Pakistan (TTP), another Pakistani militant oufit, joined the ranks of the terror group a few years ago, said Safeer Ahmed, a Peshawar-based security analyst.
He said that ISIS-K in Bajaur mainly targeted security forces; leaders of Jamiat Ulema-e-Islam (Fazl) (JUI-F), a Pakistani religious party; and tribal elders, he said.
On May 8, ISIS-K, through the terror group's central weekly Al-Naba newsletter, claimed credit for the killing of a pro-government tribal elder in the Inayat Kilay area of Bajaur in a bombing.
The killing of Subhanullah will not only weaken ISIS-K in Bajaur but also in the Pakistani-Afghan region, said Khan of the KP CTD.
In March 2022, ISIS-K carried out a suicide attack on a Shia mosque in Peshawar that killed more than 64 worshippers.
Crackdown intensified
After a rise in terror attacks, Pakistani authorities have intensified their crackdown on various military groups, including ISIS-K and the TTP, across the country.
On June 8, Sindh Police's CTD claimed to have arrested a TTP militant from Karachi's coastal area of Rehri Goth. He was involved in fundraising through extortion in the city.
On June 1, Sindh Police's CTD arrested a militant working for a transnational militant group in Karachi.
On May 28, Punjab Police's CTD claimed to have arrested 12 militants belonging to ISIS-K and the TTP from several Punjab districts in raids.
On May 4, Iqbal alias Bali Khayara, a TTP high-profile commander, was killed in a shootout with police in Dera Ismail Khan, KP.
In its latest progress report, the KP CTD observed that incidents of terrorism in the province declined by 11.9% in April, compared to the previous three months of the year.
Observers said that recent collaboration between militant groups is an indication of the weakening of the groups because of an ongoing crackdown and the killings and arrests of key commanders.
The TTP in statements on its official channel June 3 and June 4 claimed that two attacks on Pakistani security forces in Bannu district and North Waziristan districts of KP were made in co-operation with a group led by Hafiz Gul Bahadur.