PESHAWAR -- Hundreds of Peshawar residents took to the streets in angry protest Sunday (March 6) following a deadly attack against a Shia mosque in the city on Friday.
Police released closed circuit TV footage of Friday's attack showing a man dressed in a traditional shalwar kameez shoot two policemen as he entered the mosque in the Kocha Risaldar area of Peshawar, about 190km (120 miles) from the capital of Islamabad.
He then detonated a suicide vest packed with ball bearings that ripped through the building, crowded with people just moments before Friday prayers were due to start.
The "Islamic State of Iraq and Syria" (ISIS) claimed responsibility.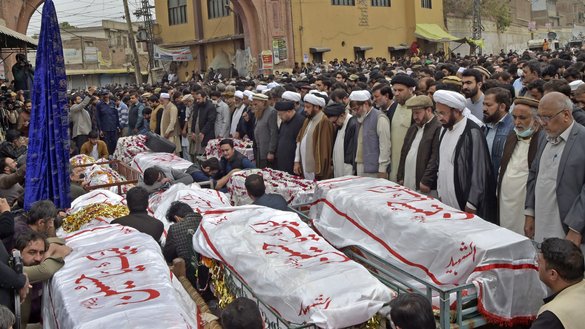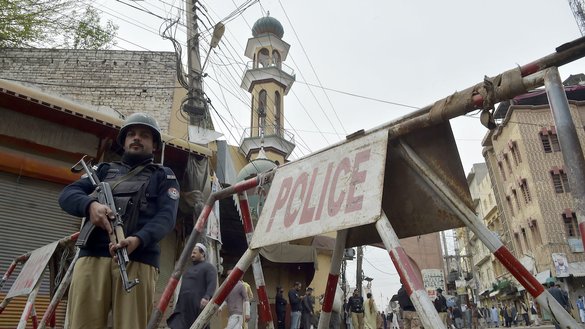 Identifying the bomber
"There are seven bodies beyond recognition including two amputated feet which we believe are of the bomber," Peshawar police chief Muhammad Ijaz Khan told AFP.
The death toll had risen to 62 -- including seven children aged below 10, he said.
The bomber was identified as Julaibeed al-Kabuli, but Pakistani security officials said that the name was an alias, according to the New York Times.
Muhammad Ali Saif, a special assistant to the provincial chief minister, said at a news conference on Saturday, "The rest of the network will be exposed in the next 48 hours."
He declined to share more details, citing operational sensitivities.
It was the deadliest attack in Pakistan since July 2018, when a blast at an election rally in Mastung, Balochistan, killed 149 people -- and was also claimed by the local chapter of ISIS.
Ijaz said officials were checking the biometric data of those who had recently crossed into Pakistan from Afghanistan, where ISIS previously has planned attacks.
Peshawar -- just 50km from the porous border with Afghanistan -- was a frequent target of militants in the early 2010s, but security has greatly improved in recent years.