Iraq's infrastructure, dilapidated and damaged by years of war -- most recently against the "Islamic State of Iraq and Syria" (ISIS) -- is buckling under the strain of providing services to millions of citizens.
To ensure it can provide adequate services to its population going forward, and to rebuild many sectors of the economy that are still struggling in the aftermath of the war on ISIS, Iraq needs to attract foreign investment on a large scale.
But Iraqi analysts warn that as Iraq seeks investors, and as investors court Iraq, it is important for the country's leaders not to make a bad situation worse by attracting the wrong kind of investment.
They noted that China is trying to monopolise the major foreign investment projects available in Iraq and are cautioning about negative consequences.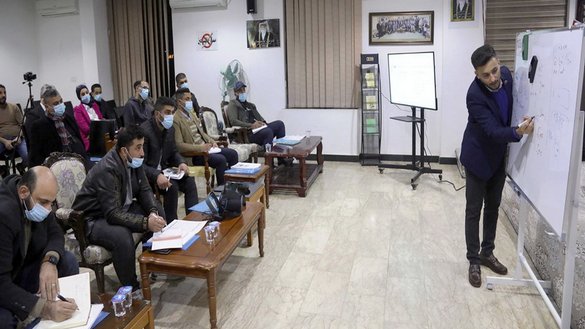 China has been proposing projects that have the potential to lead Iraq into debt traps similar to those faced by countries that previously opened their doors to Chinese investments, such as Sri Lanka, Kenya and Bangladesh, analysts said.
China also is using militias backed by the Islamic Revolutionary Guard Corps (IRGC) to clear the way for Chinese investment in Iraq by creating an unwelcoming climate for business interests and scaring off potential competitors.
This has sparked ire in Iraq, where many hold the militias responsible for the proliferation of corruption and lack of security, accusing them of creating an environment that chases away international investment.
Several local and international companies have been forced to withdraw their investments or transfer them to subcontractors because of the harassment to which militias subjected them.
This included extortion and demands of monthly shares of the profits, imposed as tribute payments in exchange for not harming their projects or their employees, which led to the disruption of thousands of investments.
Little support for 'unilateral investments'
Since 2019, China has been trying to expand economically in Iraq by bartering reconstruction for oil: 100,000 barrels per day of crude, in exchange for taking on reconstruction projects in various sectors.
But despite its need for support and reconstruction, Baghdad is not in favour of attracting "unilateral investments" or opening the door wide for Chinese companies.
Iraq wants investments from all countries, not from one nation to the exclusion of others, an economist told Al-Mashareq, asking that his name not be used.
"Diversity and competition are necessary to achieve integrated development," he said.
He noted that Baghdad had previously objected to Chinese plans to buy shares of international companies involved in oil exploration and production projects, for fear that Beijing would seek to take control of Iraq's energy sector.
Since last year, Iraqi officials stopped the sale of operational concessions in three southern oil fields, Qurna 1, Qurna 2 and Rumaila, to state-backed Chinese companies, most notably Sinopec.
But China's expansionist efforts continue, the economist said, as Iraq is a cornerstone of its strategy to extend its economic hegemony over the world, through what is known as the Belt and Road Initiative (BRI) or One Belt One Road (OBOR).
The BRI aims to use the countries of the Middle East as a trade route through which to funnel Chinese goods to Europe and Africa.
This is in addition to China's reliance on Iraq as a key source of oil for its energy needs, as it ranks first among importers of Iraqi crude oil, with an annual import volume of 60 million tonnes.
In a report on China's external financing within the BRI during the first half of 2022, Fudan University's Green Finance and Development Centre said that China had granted investments to Iraq worth about $1.5 billion.
Beijing also concluded contracts with Baghdad at the end of 2021, within the "Oil-for-Construction" agreement, to build 1,000 schools across Iraq, a civilian airport in al-Nasiriyah, and solar energy power plants.
Distrust of China's motives
China provides countries where it seeks investment opportunities a multitude of incentives, such as credit facilities for project financing purposes, in order to gain greater access, note analysts.
As one example, China signed an agreement with Iraq in June "exempting the holders of diplomatic, service and special passports from the requirements of entry visas to its territory", according to Iraq's Foreign Ministry.
China uses this access to expand within the economies of countries aspiring for development and impose its hegemony on them, saddling them with debt burdens and projects that do not meet quality and efficiency standards.
The Chinese penetration of Iraq also is taking on a cultural character, with the first Chinese language institute opening last December in Baghdad, the China Network reported September 19. Trainees came from several Iraqi provinces.
Yet generally speaking, analysts said, Iraqis do not consider China a trustworthy ally, given its persecution and oppression of ethnic minorities, such as the Muslim Uighurs.
"It is no different from its partner Iran, whose regime oppresses and treats its citizens cruelly, harms the interests of the peoples of the region and threatens the stability of their countries," Baghdad resident Abu Firas told Al-Mashareq.
Chinese investments are a form of controlling his country's wealth, he said.
It is "the other side of the coin" to the Iranian influence "that has driven Iraqis to protest against it repeatedly", he said.
In an August 7 protest, he said, Iraqis stormed the Halfaya oil field in Maysan that is operated by the PetroChina oil company and threatened to block production.