ISLAMABAD -- Someone with deep pockets and the desire to silence Iranian women has been paying Pakistani social media marketing firms to run a smear campaign against women's rights activists in the Islamic Republic, targeting their online presence and stifling their freedom of expression.
In a co-ordinated harassment campaign that started in mid-April, at least 25 Instagram accounts sharing stories of sexual violence in Iran were targeted by armies of bots that flooded the accounts with bogus subscriptions, Qurium, a digital forensics nonprofit, reported June 16.
Instagram is the only major global social media platform that can be accessed in Iran without a virtual private network (VPN), while other popular international social media platforms -- including Facebook, Twitter and YouTube -- are blocked by the Iranian regime.
Over the course of four weeks, about one million fake subscribers flooded the Instagram accounts of prominent Iranian feminist activists connected to the #MeToo movement, Qurium reported.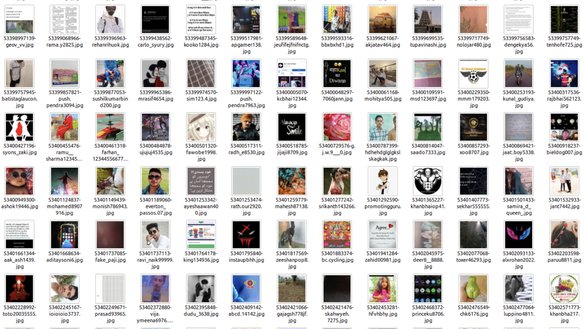 The accounts became unmanageable and the administrators of the accounts had to change their profiles to "private" to prevent other bots from joining.
The attack was clearly targeted -- and the attacker spent thousands of dollars to instruct armies of bots to follow these accounts, Qurium said, without naming who might be behind the attack.
Promoting Guru and Dua Communication, two social media marketing (SMM) firms operating out of Punjab province, sold the Instagram follower packages that were used in the campaign against Iranian women activists, the report found.
The packages include accounts sold in batches that use stock imagery of South Asian, Indian or Pakistani usernames, and English quotes in the account bios, the report said.
The package offers "10,000 followers for $50, or up to 1 million fake followers for $1,500" and offers a dashboard to purchase all types of fake followers, product reviews, and "likes". Payments are accepted via Paypal or cryptocurrency, the report said.
The culprit might have chosen Pakistani bots simply to save money.
"Buying thousands of fake Pakistani accounts is simply less expensive than buying accounts with Iranian looking identities," Qurium reported. "The Pakistani market for SMM is simply huge with lots of resellers competing for clients willing to pay for boosting their social media accounts."
However, the use of those fake accounts as "a form of a digital attack to silence Iranian women movement, [sic] is most probably not known by the resellers of these dodgy services", said Qurium.
Campaign against women
The smear campaign against women's rights activists is part of Iran's ongoing crackdown on civil society and rights activists who have been campaigning on an array of pressing social issues, said international rights organisations and activists.
This month, Iranian authorities have launched a harsh new crackdown on women who violate the country's "hijab and chastity" law, which requires women and girls over the age of nine to wear a headscarf in public.
Under Iran's Sharia law, imposed after the 1979 revolution, women are obliged to cover their hair and wear loose-fitting "modest" clothes. Violators face public rebuke, fines or arrest.
A large number of Iranian women do not abide by this law.
This year, Tehran announced that July 12 would be observed as "National Hijab and Chastity Day", to mark the importance of the country's strict rules regarding women and their bodies.
However, on that day, Iranian women fed up with the restrictive dress code participated in the "#No2Hijab" campaign on Instagram by posting videos of themselves uncovering their hair, and writing posts defying the regime's actions.
Inside Iran, rights activists, particularly those associated with women's rights, have been using Instagram extensively to highlight Tehran's atrocities and rights abuses, said Shah, a Pakistan-based rights activist affiliated with the United for Iran independent rights group.
Iran's Islamic Revolutionary Guard Corps (IRGC) has targeted rights activists and threatened them with sexual violence and death through a paid campaign, said Shah, who used only her last name for security reasons.
On June 29, several rights groups including ARTICLE 19, Access Now, United for Iran and Front Line Defenders issued a joint statement against the "co-ordinated attacks" from a "sustained, paid campaign" against a wide network of Iranian women's rights defenders and Iran's #MeToo movement activists.
The statement also urged Meta, the parent company of Instagram and Facebook, to immediately investigate and eliminate fake followers and do more to protect free speech for human rights defenders, activists and ordinary citizens.
Ishrat Ali, a Lahore-based women's rights activist, expressed concern about the involvement of Pakistani social media companies in the online smear campaign against Iranian women's rights activists.
She called on Pakistani women's rights groups to pressure their country's officials to take action against the social media companies.
"Pakistani women's rights activists are in solidarity with Iranian rights activists in their struggle against Tehran's rigid regime," said Ali.
Iranian women are 'second-class citizens'
Women and girls are treated as second-class citizens in Iran, according to a United Nations (UN) Human Rights Council report, which cited domestic violence, thousands of cases of 10- to 14-year-old girls being married to older men, and continued entrenched discrimination in law and practice.
The legal age of marriage for girls is 13, and even younger girls may be married with judicial and paternal consent under Iran's Sharia law.
"Between March 2020 and March 2021, over 31,000 marriages of girls between the ages of 10 to 14 were recorded, an increase of 10.5% compared to the previous year," according to the UN report on the "Situation of human rights in the Islamic Republic of Iran" submitted to the UN General Assembly on January 13.
Javaid Rehman, the UN special rapporteur on human rights in Iran, called for "immediate reforms" on the treatment of women and girls in the Islamic Republic.
"Blatant discrimination exists in Iranian law and practice that must change," he said in March 2021, according to a UN statement.
"In several areas of their lives, including marriage, divorce, employment and culture, Iranian women are either restricted or need permission from their husbands or paternal guardians, depriving them of their autonomy and human dignity."
"These constructs are completely unacceptable and must be reformed now," he said.