Five days after the death of 22 year-old Mahsa Amini in custody of Tehran's "morality police", protests in Iran have spread to the entire country, with numerous cities joining the protests.
The protests are the most serious in Iran since the November 2019 unrest over fuel price rises, marked this time by the presence of large numbers of women.
In rallies across the country, demonstrators blockaded streets, hurled stones at security forces, set fire to police vehicles and garbage bins, and chanted anti-government slogans.
Many have removed their headscarves in defiance of the Islamic Republic's strict laws. Some have set their headscarves on fire or symbolically cut their hair.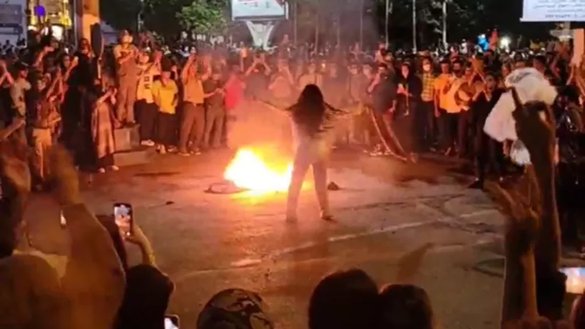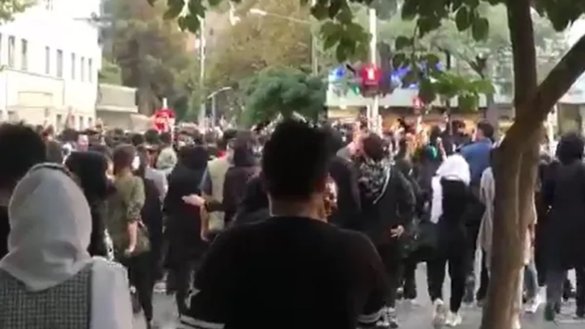 Several Iran-based female celebrities have joined the dissent by posting pictures of themselves on social media without headscarves, a prohibited move in Iran's social media sphere.
In Tehran, university students are standing up to the morality police, which has deployed female members of the force to universities to suppress protests and force women to cover their hair.
Crackdown on protests
Multiple reports from Iran have confirmed the death of at least eight protesters since Friday (September 16), when Amini, a native of Kordestan province, was declared dead in a Tehran hospital.
On Tuesday night, police used tear gas and made arrests to disperse crowds of up to 1,000 participants.
Kordestan governor Ismail Zarei-Koosha said Tuesday that three people had been killed during Monday protests in the province.
Activists say dozens of people have been wounded, and accuse the security forces of using live fire that has caused the casualties.
Human Rights Watch said witness accounts and videos circulating on social media "indicate that authorities are using tear gas to disperse protesters and have apparently used lethal force in Kordestan province".
The Kurdish human rights group Hengaw, based in Norway, said it had confirmed three deaths in Kordestan -- in Divandareh town, Saghez and Dehgolan.
It added that 221 people had been wounded and another 250 arrested in Kordestan, where there also had been a general strike on Monday and two days of mourning announced and observed by the public on Monday and Tuesday.
A 10-year-old girl -- images of whose blood-spattered body have gone viral on social media -- was wounded in the town of Bukan but is alive, Hengaw added.
The Norway-based Iran Human Rights (IHR) non-governmental organisation said security forces used batons, tear gas, water cannon, rubber bullets and live ammunition in certain regions to "crush the protests".
The Netblocks internet access monitor noted a 3.5-hour-long regional internet blackout in Kordestan, and also partial disruptions in Tehran and other cities during protests on Monday.
The Islamic Republic regularly resorts to internet access restrictions when protests arise in the country.
Iranian leader Ali Khamenei, who on Wednesday met with a number of military commanders on the anniversary of the Iran-Iraq war, was noticeably silent about the ongoing protests.
Global reaction
Amini's death and Iran's response to the protests have drawn condemnation from the United Nations (UN), United States, France and other countries.
The situation will add to pressure on President Ebrahim Raisi, already facing intense scrutiny over Iran's human rights record, who was slated to address the 77th session of the UN General Assembly on Wednesday.
In Geneva, the UN said acting High Commissioner for Human Rights Nada al-Nashif expressed alarm at Amini's death and the "violent response by security forces to ensuing protests" and called for an investigation.
IHR director Mahmoud Amiry-Moghaddam said countries with diplomatic relations with Iran must act "to stop further state killings by supporting the people's demands to realise their basic rights".
Since her death on Friday, Mahsa Amini's name has been trending on social media. The hashtag has been used on Twitter over 10 million times in Persian and five million times in English.
On Instagram, the campaigns "Woman, Life, Freedom, from Kordestan to all of Iran" and "I'm a woman, get used to seeing my hair without coverage" have attracted hundreds of thousands of followers.
On TikTok, the hashtag Mahsa Amini has been used 96 million times.