The death of the top "Islamic State of Iraq and Syria" (ISIS) leader in Syria last week is another blow to a terrorist group that lost its last territorial foothold in 2019.
ISIS's chief in Syria was killed July 12 in a US drone strike as he rode a motorcycle in Aleppo province, the Pentagon and local organisations said.
Maher al-Agal was killed near the town of Jindires, and one of his top aides was seriously injured in the strike, said US Central Command (CENTCOM) spokesman Lt. Col. Dave Eastburn.
Al-Agal was one of the top five ISIS leaders and the leader of ISIS in Syria, the Pentagon said.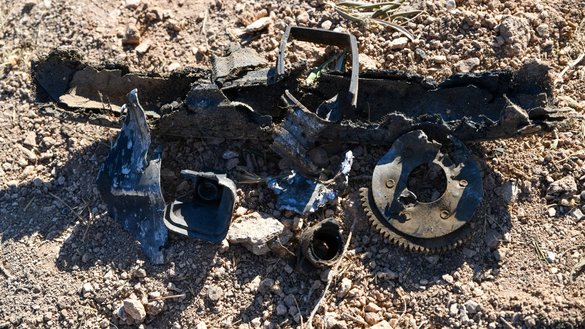 In addition to being a senior leader within the group, al-Agal was responsible for aggressively pursuing the development of ISIS networks outside of Iraq and Syria, it said.
The Syrian Observatory for Human Rights confirmed that al-Agal had been killed in a drone strike in Jindires district in northwestern Aleppo.
US President Joe Biden said the strike "takes a key terrorist off the field and significantly degrades the ability of ISIS to plan, resource, and conduct their operations in the region".
"Extensive planning went into this operation to ensure its successful execution," CENTCOM said in a statement.
"This strike reaffirms CENTCOM's steadfast commitment to the region and the enduring defeat of ISIS," said another CENTCOM spokesman, Col. Joe Buccino.
"The removal of these ISIS leaders will disrupt the terrorist organisation's ability to further plot and carry out global attacks," he said.
Although ISIS still operates in various countries, it has had no territorial base since an international coalition seized its last holdout in al-Baghouz, Syria, in 2019.
Links to Ahrar al-Sharqiya
At the site of the drone strike, there were two small craters in the road and debris from the destroyed motorcycle.
Local villagers told AFP the two ISIS elements did not live in the area where they were killed.
A Syrian Democratic Forces (SDF) spokesman said both men had links to Ahrar al-Sharqiya, an armed group operating in northern Syria.
The group has integrated former leaders and members of ISIS and other extremist groups, and has conducted attacks in northern Syria.
Ahrar al-Sharqiya was responsible for the 2019 assassination of prominent Kurdish female politician Hevrin Khalaf, which sparked international condemnation.
The US Treasury placed the group and two of its leaders on its sanctions blacklist in July 2021, for abuses against civilians.
"Ahrar al-Sharqiya has committed numerous crimes against civilians, particularly Syrian Kurds, including unlawful killings, abductions, torture and seizures of private property," the Treasury said at the time.
Targeting extremist leaders
On June 16, US-led international coalition forces captured a senior ISIS bomb maker in an airborne operation carried out before dawn in northern Syria.
SDF members were involved in the preparation of the Aleppo province operation.
"The captured individual is an experienced bomb maker and operational facilitator who became one of the top leaders of ISIS's Syrian branch," the international coalition said.
US officials identified him as Hani Ahmed al-Kurdi, also known as the "Wali of al-Raqa", ISIS's former de facto capital, the Washington Post reported.
On June 27, a US drone strike on the edge of Idlib city in northwestern Syria killed a Yemeni leader of al-Qaeda-affiliated Hurras al-Deen, the US military and the Observatory said.
Abu Hamzah al-Yemeni had been travelling alone on a motorcycle at the time of the strike on the road between Idlib city and the town of Qaminas.
On February 3, the top leader of ISIS, Abu Ibrahim al-Qurashi, blew himself up during a raid conducted by US special forces in Idlib province, Syria.
The ISIS leader's better-known predecessor, Abu Bakr al-Baghdadi, was killed in a similar raid in 2019, also in Idlib.
SDF members were involved in both operations.