KYIV -- Russia is continuing to block key Ukrainian ports in the Black Sea and Sea of Azov, blackmailing the world by threatening to exacerbate a growing food crisis.
Russia's full-scale invasion of Ukraine, traditionally a breadbasket to the world, has sparked dramatic grain and fertiliser shortages, sent global prices soaring and put hundreds of millions of people at risk from hunger.
Before the Russian invasion, Ukraine was the world's top producer of sunflower oil and a major wheat exporter, but more than 20 million tonnes of grain exports remain trapped in silos and ports by the blockade.
The hunger crisis could lead to huge numbers of displaced around the world, United Nations refugee chief Filippo Grandi told reporters Wednesday (June 15).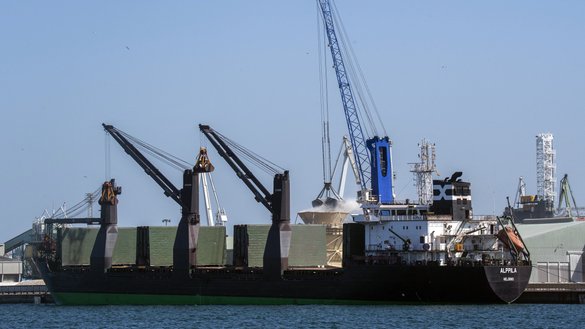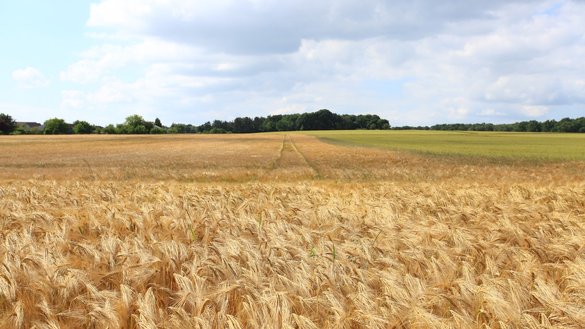 Efforts to address the global food insecurity crisis, which has been dramatically aggravated by Russia's invasion of Ukraine, are "of paramount importance... to prevent a larger number of people moving," Grandi said.
"If you ask me how many... I don't know, but it will be pretty big numbers."
"The impact, if this is not resolved quickly, would be devastating," Grandi said. "It is already devastating."
African and Middle Eastern countries need the blocked corn and wheat most of all, said Igor Semyvolos of Kyiv, director of the Association for Middle East Studies.
"On the whole, between 40% and 60% of Ukraine's grain goes to different countries in the Middle East," he said.
"It's a massive contribution to food security."
To make matters worse, recent growing seasons in Africa and the Middle East have been dry, prompting analysts to warn of potential worldwide famine.
"If the world currently had significant food reserves, the lack of Ukrainian exports might not be felt so acutely," said Oleg Nivievskyi, vice president of economic education at the Kyiv School of Economics.
"In the past few years, global harvests haven't been very abundant," he said.
"Right now grain reserves are at their lowest level in 15 years."
"That's if you don't count China's stockpiles since no one knows exactly how much grain it has," Nivievskyi said.
Russian food 'blackmail'
With Russia blocking Ukraine's seaports, only trucks and trains can export Ukrainian wheat and corn. However, those options have paltry capacity compared to ships.
A single bulk carrier can hold 60,000 tonnes of grain. A typical truck can take 40 tonnes.
"Last month, 1.7 million tonnes of Ukrainian grain were exported," said Nivievskyi. "Half of it was transported by train and half by truck. Meanwhile, there are 20 million tonnes sitting at the ports."
"Can you imagine?" he continued. "The railways here cannot handle that."
Since UN Secretary-General António Guterres visited Kyiv in May, the UN has been trying to figure out how to extract grain from Ukraine.
Russia's demands for the removal of international sanctions in exchange for unblocking Ukrainian grain exports amount to blackmail and a grain war, say Western officials.
"This is all deliberate," US Secretary of State Antony Blinken said at a virtual roundtable discussion in Washington on June 6.
"[Russian] President [Vladimir] Putin is stopping food from being shipped and aggressively using his propaganda machine to deflect or distort responsibility because he hopes it'll get the world to give in to him and end the sanctions ... it's blackmail," he said.
"The whole world wants to destroy Russia with sanctions," said Nivievskyi of the Kyiv School of Economics.
"Russia is doing the same thing with Ukraine -- it is destroying it economically. It understands that Ukraine's agricultural products are exported by sea -- 70% of all its exports travel by sea. It's 30% of Ukraine's GDP."
Russian theft
Ukrainian officials and agronomists have warned of another problem.
Russia is not only blocking ports but hauling away grain from Ukrainian territory it holds, said Mykola Vinichenko, deputy director of the Directorate of Agro-Industrial Development in Zaporizhzhia province.
Zaporizhzhia has more than 130,000 tonnes of grain that Russian forces already have begun stealing and exporting, he said.
"They come to the storage elevator and say the owners can ship out grain but only to Crimea. If the owner doesn't show up, that means it's free for the taking. They just load it onto trucks and take it," he said.
Vinichenko said farmers from occupied territories tell him daily that the Russians are plundering their equipment and grain from the storage elevators.
The situation is the same in Kherson province, which is, like Zaphorizhzhia, partially occupied by Russia.
Russian forces are "just robbing", said Volodymyr Molchanov, an economist and political scientist from Kherson who has long worked with agribusiness giants. "They offload it onto 60-tonne trucks and drive to Sevastopol."
"The Sevastopol port is not yet ready to ship grain on a massive scale. There are no facilities there," he said. "So they unload it with ordinary [excavator] buckets. Then it goes to Syria, Lebanon, Egypt and Turkey because everyone wants to eat."
Ukrainian wheat costs about $100 per tonne wholesale in Crimea but quadruple that amount on the international market, Molchanov learned from his own sources. Russia also ships Ukrainian wheat to itself and then resells it at a vast profit.
"It's a very simple racket," he said. "They buy up stolen wheat practically for peanuts in Crimea and transport it to Siberia. From there they sell it at normal prices as a Russian good, and get a good financial return."
For the time being, Ukrainians are helpless to stop the looting of their crops.
"People ask me what they can do when the Russians plunder them," Vinichenko said. "Right now all they can do is record these kinds of incidents -- register them through the police and give statements to the Security Service of Ukraine [SBU]."
Russian officials have chosen to feign ignorance and change the narrative.
At a news conference in Istanbul on June 8, a Ukrainian journalist asked Russian Foreign Minister Sergey Lavrov bluntly, "What items that were stolen in Ukraine, besides grain, has Russia managed to sell so far?"
Lavrov responded with propaganda about "neo-Nazis" in Ukraine.
Working with Turkey
Ukrainian authorities are trying to enlist Turkey's help.
Ukrainian Ambassador to Turkey Vasyl Bodnar has already approached the Turkish authorities and Interpol for assistance in investigating deliveries of Ukrainian grain through Turkish waters.
At the request of the UN, Turkey has offered its services in exchange for a 25% discount on grain to escort maritime convoys from Ukrainian ports, despite the presence of mines -- some of which have been detected near the Turkish coast.
Turkey is ready to host a four-way meeting with the United Nations, Russia and Ukraine to organise the export of grain through the Black Sea, Turkish Foreign Minister Mevlut Cavusoglu said on Wednesday.
The UN has submitted a plan to facilitate exports, he said.
Under the plan, safe corridors could be established without de-mining in the Black Sea for grain exports from Ukraine, he added.
"The situation is not very encouraging," said Semyvolos of the Association for Middle East Studies.
"On the one hand, Ukraine is not averse to giving the Turks an opportunity to benefit from the situation, but on the other, there are many risks," he said.
"If the Russians want to attack the ports that are open for transporting grain, will Turkey beat back those [assaults]? I don't think so."