China has been making a series of massive food purchases, prompting observers to note that Beijing is in the process of hoarding key supplies amid a worsening wheat crisis triggered by Russia's unprovoked war on Ukraine.
The US Department of Agriculture (USDA) confirmed in April the sale of a million metric tonnes of corn to China, two-thirds of it for old crop and the rest for delivery in the 2022-2023 marketing year, according to the Farm Journal.
The purchase came on the heels of China's largest corn purchase since May 2021 a week earlier, which totalled 1.084 million tonnes, it added.
China hoarding grain
"China's in a hoarding mode right now," said Brian Grete, editor of Pro Farmer.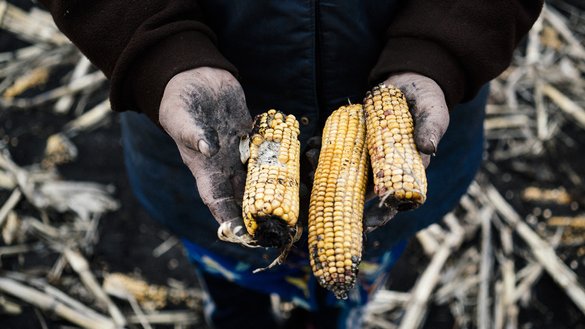 "Food security is one of their top priorities, if not their top priority, and you just took a chunk out with Ukraine. Ukraine had become a major supplier of corn to China. And I think that we will see China in for more corn," he said.
Russia's navy is continuing to blockade Ukraine in the Black Sea, preventing the breadbasket nation from exporting key food supplies.
Before the Russian invasion, which began February 24, Ukraine exported roughly 4.5 million tonnes of agricultural produce per month through its ports, including 12% of global wheat, 15% of corn and half of its sunflower oil, according to AFP.
The war and its ongoing blockade have largely brought the trade to a halt, with alternative routes by rail and truck unable to tackle the enormous logistical and financial hurdles needed to move so much produce to international markets.
United Nations Secretary-General António Guterres has been unequivocal on the matter, saying May 18 that the war "threatens to tip tens of millions of people over the edge into food insecurity".
What might follow would be "malnutrition, mass hunger and famine, in a crisis that could last for years", he warned.
To date, more than 20 million tonnes of food products remain stuck in Ukraine, according to Ukrainian authorities.
"We'll probably also see China buying other commodities," Grete added.
"What commodities they have at home, especially wheat, which is about half of the global supply, they aren't going to push onto the world market. They're going to keep those themselves," he said.
"China's historically a hoarder. And amid the inflating prices around the world, the tightening supplies, they are hoarding even more right now."
Corn prices have hit their highest levels in over a decade amid China's hoarding.
Russian blackmail
Meanwhile, the Kremlin is clearly trying to profit from the crisis it created.
Moscow is ready to make a "significant contribution" to averting a looming food crisis if the West lifts sanctions imposed on Russia over Ukraine, President Vladimir Putin said in a telephone call May 25 with Italian Prime Minister Mario Draghi.
"Vladimir Putin emphasises that the Russian Federation is ready to make a significant contribution to overcoming the food crisis through the export of grain and fertiliser, subject to the lifting of politically motivated restrictions by the West," the Kremlin said in a statement following the call.
Putin also described as "unfounded" accusations that Russia was to blame for the problems with food supplies on the global market.
The United States scoffed at Putin's offer.
"Now they're using economic tools, as weapons. They're weaponising food. They're weaponising economic assistance," Pentagon spokesman John Kirby said.
"I guess we shouldn't be surprised by that, since they've weaponised everything else, including lies and information,"Kirby said.
Russia May 27 also said it was looking to ramp up its production of grain to export in the coming season.
"In the current season (2021-2022) we have already exported over 35 million tonnes of grain, including 28.5 million tonnes of wheat," Agriculture Minister Dmitry Patrushev said at a Russian grain forum, adding that before the end of the season on June 30, the export volume will exceed 37 million tonnes.
"In the coming season [starting July 1, 2022] we estimate our export potential for grain at 50 million tonnes," he said.
'Friendship between two states'
A key backdrop to these developments is the meeting in Beijing between Putin and Chinese President Xi Jinping in February in which they vowed to stick together in a "new era" of global political and military order.
"Friendship between the two states has no limits," they said in a joint statement released after the meeting. "There are no 'forbidden' areas of co-operation."
The Chinese regime reportedly learned in advance of the Russian plan to invade Ukraine but cared only about not having it happen during the Beijing Winter Olympics.
Since then, Chinese media have enabled Kremlin propaganda to skirt bans in the West, while Chinese citizens are being indoctrinated with an anti-Western, pro-Soviet ideological campaign.
Chinese outlets are by far the biggest spreaders of Russian propaganda, analysts say.
False narratives spread by Chinese outlets include neo-Nazi storylines, blaming NATO's "eastward expansion" for the conflict, and attempting to equate Russia's invasion of Ukraine to US military actions in Iraq, Syria and Afghanistan.
Meanwhile, China and Russia on May 24 held their first joint military exercise since the Kremlin's invasion of Ukraine, sending bombers over the seas in northeast Asia where a key meeting of foreign leaders was being held.
The exercise occurred during a meeting of the Quad bloc -- United States, India, Australia and Japan -- that discussed China's growing military threat.
Speaking in Tokyo on May 23, US President Joe Biden compared China's threat to self-ruled Taiwan to the Russian invasion of Ukraine, delivering his strongest remarks to date on the issue amid rising tensions over Beijing's growing economic and military power.
Biden compared Taiwan's situation directly with that of Ukraine, which has received billions of dollars worth of arms and aid from the United States since the Russian invasion on February 24.