PARIS -- Executions in Iran rose by 25% in 2021, a report by two leading NGOs said Thursday (April 28), expressing alarm over a surge in the numbers executed for drug offenses and also the hanging of at least 17 women and members of ethnic minorities.
The rate of executions in Iran accelerated after the election of former judiciary chief Ebrahim Raisi to the presidency, said the report by Norway-based Iran Human Rights (IHR) and France's Together Against the Death Penalty (ECPM).
Raisi, referred to as a mass murderer by several global rights groups, is widely known as a main decision-maker in the mass execution of more than 100 political prisoners in 1988 in Iran.
The report urged world powers negotiating with Iran on reviving the 2015 nuclear deal to put its use of capital punishment at the centre of the talks.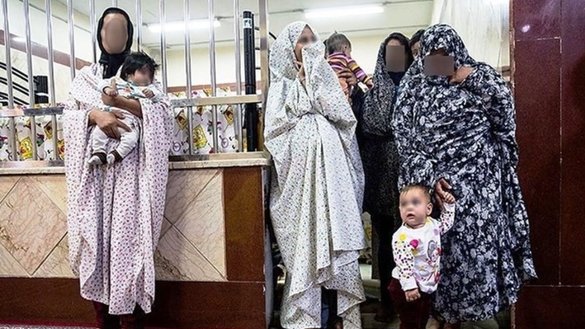 Iran executes more people annually than any nation other than China.
At least 333 people were executed in 2021, a 25% increase from 2020, according to the report. At least 126 executions were for drug-related charges, five times higher than 2020's figure of 25.
This marked a major reversal of a decline in drug-related executions since Iran in 2017 adopted amendments to its anti-narcotics law in the face of international pressure.
Over 80% of executions were not officially announced, including all of those for drug-related offences, the report said.
The report "reveals an increase in the number of executions, an alarming rise in the implementation of death sentences for drug offences and an ongoing lack of transparency", the NGOs said.
'Tool of repression'
The report said at least 17 women were executed in 2021, compared to nine in 2020. Twelve were sentenced for murder and five on drug-related charges.
There has been growing concern over the numbers of women executed on charges of murdering a husband or relative who activists believe may have been abusive.
It noted the case of one woman, Zahra Esmaili, who shot her husband dead in 2017. She was executed in February 2021 and may have had a heart attack before being hanged after watching others suffer the same fate before her.
In another case, Maryam Karimi was convicted for the murder of her husband and was hanged in March 2021, with her daughter personally carrying out the execution by kicking away the stool as is allowed under Iranian law.
The report also expressed concern that the execution of ethnic minorities continued to rise in 2021, accounting for a disproportionately large number of those hanged.
Prisoners from the Baluch minority accounted for 21% of all executions in 2021, although they only represent 2 to 6% of Iran's population, it said.
Most prisoners executed for security-related charges belonged to the ethnic Arab, Baluch and Kurdish minorities, it added.
"We are alarmed at the disproportionate number of ethnic minority executions as evidenced in this report," said ECPM Director Raphael Chenuil-Hazan.
Rights group Amnesty International on April 12 accused Iran of deliberately denying life-saving medical care to prisoners, saying it had confirmed 96 cases since 2010 of detainees dying after a lack of treatment.
A large proportion of the deaths took place in northwestern prisons that house many inmates from the Kurdish and Azarbaijani minorities and in southeastern Iran, where prisoners mostly belong to the Baluch minority, Amnesty said.
"The Iranian authorities' chilling disregard for human life has effectively turned Iran's prisons into a waiting room of death for ill prisoners, where treatable conditions tragically become fatal," said Diana Eltahawy, Amnesty's deputy regional director for the Middle East and North Africa.
The IHR and ECPM report said there were no public executions in Iran in 2021 for the first time in a decade but expressed concern they could start again.