Iranian authorities hanged a man convicted of drug offences even though he had already been killed in a confrontation with prison officers just prior to his planned execution, a rights group said Monday (November 7).
The prisoner, named Nematollah Barahouyi, was to be hanged with another man also convicted of drug offences in Zahedan central prison in Iran's southeastern Sistan and Baluchestan province on Sunday, according to Iran Human Rights (IHR).
Both men were members of the Baluch minority group.
IHR quoted local sources as saying Barahouyi was killed in an altercation with officers before the planned execution, and the authorities hanged him anyway to prevent any legal consequences for the prison guards.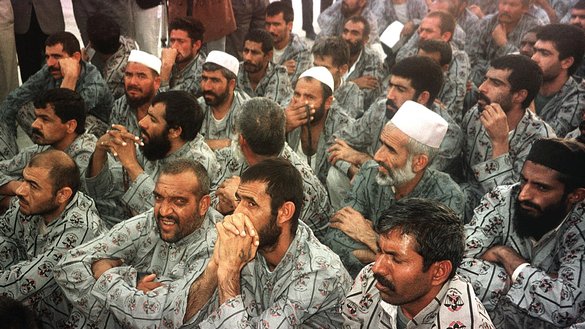 The Hal Vash news site, which monitors events in Sistan and Baluchestan and those affecting Iran's Sunni minority, also reported that Barahouyi was killed before the intended execution.
It said the convict had been woken in the early hours of Sunday and told he was going to be executed.
Taken unawares, he resisted and was then killed when he was hit in the neck by prison officers "with a sharp object", Hal Vash said.
Barahouyi had three daughters, but his family was not allowed to visit him in prison for years.
There was no confirmation from Iranian authorities and the execution has not been reported in domestic media, as is the case with most hangings in the country.
The other prisoner, named Amanollah Alizehi, had been arrested in Zahedan two years ago and sentenced to death on drug-related charges, IHR said.
He was secretly executed without his family or lawyer being informed, the rights group said.
Record high executions
Recorded executions in Iran last year -- at least 314 -- were higher than in any other country worldwide, according to Amnesty International.
Such data is not available for China, however, where the rights watchdog believes annual executions run into the thousands.
IHR says 462 people have been put to death in Iran so far this year, with two NGOs in April reporting that the rate of executions in Iran rose by 25% in 2021, accelerating after the election of former judiciary chief Ebrahim Raisi to presidency.
Representatives of the Baluch people who live in Sistan and Baluchestan say disproportionate numbers of the community are executed, and they also suffer from overall discrimination.
In a July 27 statement, Amnesty and the Abdorrahman Boroumand Centre for Human Rights in Iran said Iran is carrying out executions at a "horrifying pace" on a mass scale that constitutes an "abhorrent assault" on the right to life.
The two groups said 251 hangings have been confirmed between January and the end of June, although the real number may be even higher.
Amnesty International in April accused Iran of deliberately denying life-saving medical care to prisoners, saying it had confirmed 96 cases of detainees dying after a lack of treatment since 2010.
The report followed several high profile cases of prisoners who died in custody from what activists said was a failure by Iran to properly treat their illnesses.
A large proportion of the deaths took place in prisons in northwestern Iran that house many inmates from the Kurdish and Azeri minorities, and in southeastern Iran, where most prisoners belong to the Baluch minority.
Sistan and Baluchestan has been a major flashpoint of late, with over 100 killed by security forces in the province since September 30, according to IHR.