ASHGABAT -- The recent uptick in Taliban violence in Afghanistan could give pro-Kremlin pundits and Russian officials a pretext for trying to scare countries bordering Afghanistan into closer security co-operation with Moscow, observers say.
Since the US-Taliban deal in February, the insurgents have not carried out major attacks on key cities but have launched near-daily assaults on Afghan forces in rural areas. The surge in violence in recent months comes as the Taliban and Afghan government engage in peace talks in Doha, Qatar.
Countries bordering Afghanistan should expect the Russian regime to issue new statements on the danger that Afghanistan poses to the entire region, they say.
A recent invocation of the purported Afghan peril came from Alexander Venediktov, deputy secretary of the Russian Security Council, on November 18 at the annual meeting of the secretaries of the CIS member states' security councils.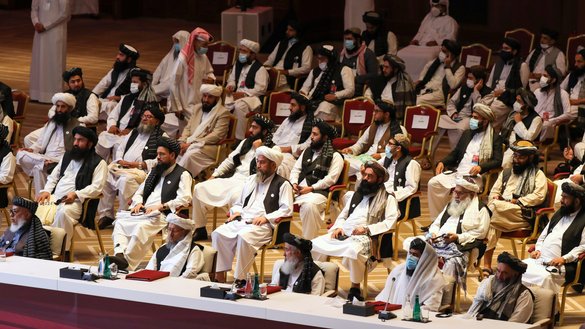 At the meeting, which took place via video conference, the delegates discussed the need to fight present-day challenges, the situation in Afghanistan and its influence on security in region.
Venediktov was trying to badger the leaders of Turkmenistan and other countries bordering Afghanistan to coalesce more closely around Russia and to co-operate more with Moscow on security issues, said Akmyrat Khydyrov (not his real last name), a former counter-intelligence officer in Turkmenistan's State Border Service (GPS).
"[Venediktov] described the situation as so complicated, dangerous and unpredictable that the Central Asian countries bordering Afghanistan have no choice but to count on Russia," Khydyrov said.
Addressing his counterparts, Venediktov spoke in particular of heightened combat across Afghanistan the February peace agreement, an ostensibly rising number of districts being taken over by the Taliban, and the prospect of a growing threat to Central Asian security if the United States withdraws from Afghanistan.
Fear mongering
This is the Kremlin's latest attempt at fear mongering, said Khydyrov, as the Russian regime is spreading horror stories about Afghanistan's tragic situation in a bid to reinforce its influence in the region.
"The Taliban have occupied many districts in the northern Afghan provinces for more than 20 years, and their units are near the Turkmen border, yet in all this time there hasn't been a single attempt to breach the border or infiltrate our territory," he said.
He based this conclusion on an analysis of all the incidents that have occurred in recent decades on the Turkmen-Afghan border, even though some have led to the shooting deaths of Turkmen border guards.
"In the past and even now, here and there, you'll see local clashes or shootouts with smugglers and members of cross-border crime rings," he said. "But as an expert, I can tell you those are just typical days on the border. Nevertheless, Russian media and experts portray those incidents as attacks by militants from extremist groups."
Pro-Kremlin analysts present such incidents to the global community as a sign of Turkmen weakness and vulnerability in the face of terrorist threats and use them to advance Russia's far-reaching military and political interests, he said.
Ashgabat is aware of what is happening in the Afghan provinces that border Turkmenistan, said Khydyrov and other Turkmen observers.
"It's true that things are very volatile [in Afghanistan], but that situation poses no threat to Turkmenistan or other Central Asian countries, contrary to the claims Russian officials make to scare them," he said. "Rather, it's infighting among the Afghans, and there's an explanation for everything."
Common crimes have risen in the Afghan border provinces against the background of stepped-up Taliban combat with government forces, said Khydyrov, referring to confidential intelligence from the Turkmen GPS.