PESHAWAR -- Khyber Pakhtunkhwa (KP) has bolstered security following an attack on a NATO supply convoy in Khyber District and other terrorist incidents.
On October 16, three gunmen on motorbikes attacked a convoy carrying NATO supplies to Afghanistan in the Jalhandar Kelay area of Bara Subdivision, Khyber District.
"Two trailers and four Humvees loaded on the vehicles were set on fire by the attackers," said Capital City Police Officer (CCPO) Mohammad Ali Gandapur, adding that NATO reported no casualties.
"We have upgraded security overall and for the NATO supplies, as police are alert and will not let anyone destabilise peace," Gandapur said.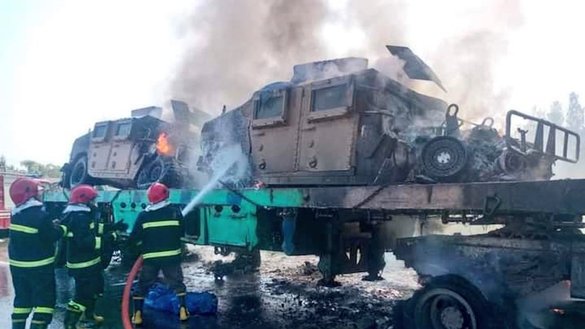 The last attack on a truck carrying NATO supplies in KP took place in July 2019 in Khyber.
Prior to that, supplies for US-led NATO forces in Afghanistan came under attack on many occasions in Peshawar, Khyber and parts of Balochistan between 2009 and 2014. Such attacks deceased after security improved.
KP Inspector General of Police (IGP) Sanaullah Abbasi, along with CCPO Gandapur and senior police and army officials, visited various parts of Khyber District including the Tirah Valley on October 17 to inspect security arrangements.
"The army and police have rendered exemplary sacrifices for peace in the past and together they will ensure continued efforts for complete peace in Khyber and other parts of KP," said Abbasi.
As part of upgraded security measures, police on October 17 foiled a major bid to smuggle weapons and ammunition to other cities in a truck in Peshawar.
"A truck was intercepted during heightened security in Peshawar, and 34 automatic weapons, 68 rifles, 14 pistols, 300 magazines and about 30,000 rounds of different weapons were recovered," said Assistant Superintendent of Police Faqirabad Haider Ali.
One suspect was arrested by the police.
Deadly assaults
Police stepped up security in other parts of the country following incidents of terrorism.
On October 15, an army captain and five soldiers were killed in a bombing near Razmak, North Waziristan.
The same day, terrorists equipped with heavy weapons attacked a convoy carrying Oil and Gas Development Co. Ltd. officials from Gwadar to Karachi near Ormara on Coastal Highway in Balochistan, killing 14 security personnel.
"The loss of precious lives of law enforcement personnel on Balochistan Coastal Highway is a clear sign the enemy does not want Balochistan and its people to prosper," said Balochistan Chief Minister Jam Kamal Khan.
The cowardly act cannot demoralise the public, and Pakistan as a nation is in high spirits to eradicate the menace of terrorism, he said.
"The country salutes the brave soldiers who sacrificed their lives for peace in the country. The entire nation stands with the army and police in the fight against terrorists," said KP Chief Minister Mahmood Khan.
Many on social media and news media condemned the recent terror attacks in the strongest words.
"Heart bleeds for the martyrs of Waziristan and Ormara terror attacks. Also proves that battle is not over yet," Karachi-based journalist Mubashir Zaidi said on Twitter.