PESHAWAR -- Pakistan has increased security measures across the country for the final two days of processions carried out for Ashura Muharram, which falls on Sunday (August 30).
"Security has been enhanced across Khyber Pakhtunkhwa (KP) for the peaceful observance of Ashura," said KP Inspector General of Police Sanaullah Abbasi.
More than 35,000 regular police officers, along with an additional 11,000 reserve officers, have been deployed to guard 583 mourning processions and over 6,000 gatherings across KP, said officials.
In KP, police have declared Peshawar, Kohat, Hangu, Kurram, Orakzai, Dera Ismail Khan, Tank and Haripur sensitive areas.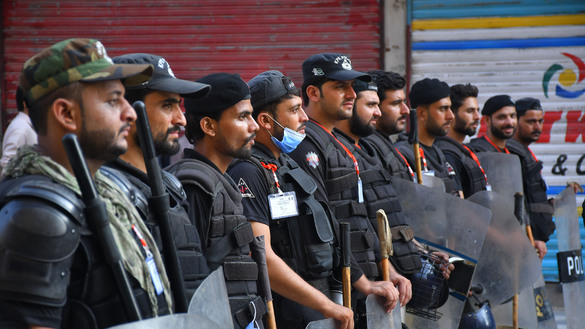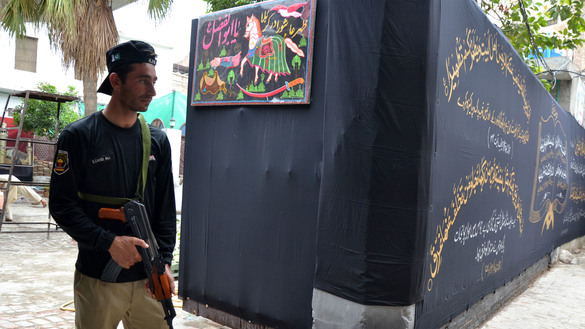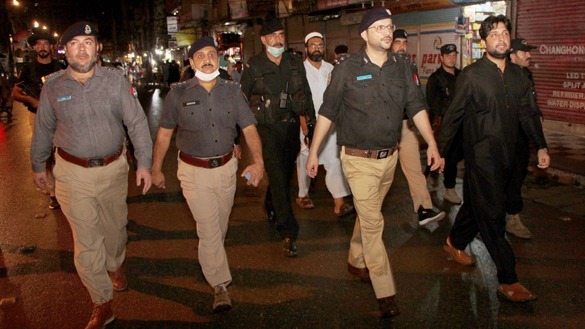 Police have sealed many parts of inner Peshawar since Wednesday (August 26) as part of security for the 9th and 10th Muharram. They blocked roads and streets leading to these places.
Capital City Police Officer Peshawar Mohammad Ali Gandapur said cellular phone signals will remain suspended in Peshawar as part of upgraded security for the 9th and 10th of Muharram.
"We are further increasing the police deployment in inner Peshawar, Saddar, Hayatabad and other areas for the next two days," he said.
Checkpoints established
Police officers from other districts of KP, Frontier Constabulary and other forces have been deployed in Peshawar to keep the law and order situation under control.
"Officers have orders remain alert to counter any untoward incident during Ashura," said Gandapur.
An additional 26 checkpoints are functioning across the district, while additional security personnel will serve during the last two days of Ashura, said District Police Officer Orakzai Nisar Ahmad Khan.
"Around 1,923 district police personnel, along with 27 bomb disposal units, six wings of Orakzai Scouts, five platoons of Frontier Constabulary and 4,000 soldiers are deployed to protect about 80 imambargahs," he said.
Regular police and personnel from the KP Police Counter Terrorism Department during an action in Matani on Friday (August 28) arrested three terrorists who were planning attacks in Peshawar during and after Ashura, Senior Superintendent of Police Operations Mansoor Aman said the same day.
The detainees belonged to the "Islamic State of Iraq and Syria" (ISIS), he said.
"About 4kg of explosives, detonators, Primacord and pistols were recovered from the terrorists during an action in Matani," said Aman. Two of the men were from Khyber and another from Mohmand District, he added.
Another group was arrested in Charsadda August 26, said police. It allegedly was planning to attack police during Muharram.
Special units on stand-by
"In Islamabad, more than 15,000 policemen as well as Rangers and Frontier Constabulary have been deployed during Muharram," said Deputy Inspector General of Police Operations Islamabad Waqar Uddin Syed.
Authorities are taking extraordinary measures to ensure the security of processions and religious gatherings during Muharram, he added.
In Karachi, police installed more than 1,000 closed-circuit television cameras at about 250 points along the procession route.
More than 15,000 police officers are deployed during Muharram in Lahore, said Deputy Inspector General of Police Operations Lahore Ashfaq Khan.
The police officers deployed are working under 12 superintendents of police, 34 deputy superintendents and 83 inspectors.
"Special units of police including the Anti-Riot Force, Dolphin Force, Elite Force and others are active during Muharram," Khan said.
Police upgraded security as well in Balochistan, Gilgit-Baltistan and Kashmir for the last two days of Ashura.
"Apart from police, the [emergency responders] of Rescue 1122 remain on high alert in KP during Muharram to help save lives in case of any untoward incident," said Rescue 1122 spokesperson Bilal Ahmad Faizi.