TEHRAN -- A sour public mood permeated the Iranian regime's commemoration Tuesday (February 11) of the 41st anniversary of the establishment of Islamic Republic.
A few thousand Iranians gathered at Tehran's Azadi Square, where Iranian President Hassan Rouhani and other officials spoke to mark the occasion.
But the defiant speeches and flag waving were overshadowed by a mood that is as heavy as the pall of pollution that often shrouds Iran's capital.
In a country weighed down by sanctions, shaken by protests and stressed by military tensions, many Tehranis struggle to hide their pessimism.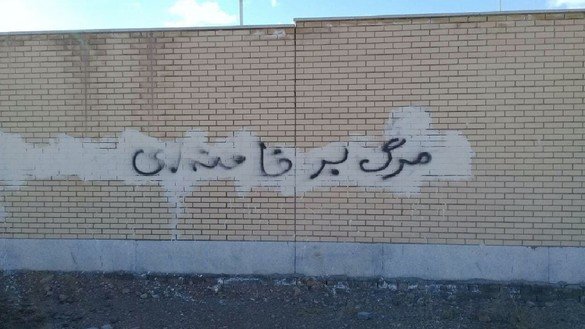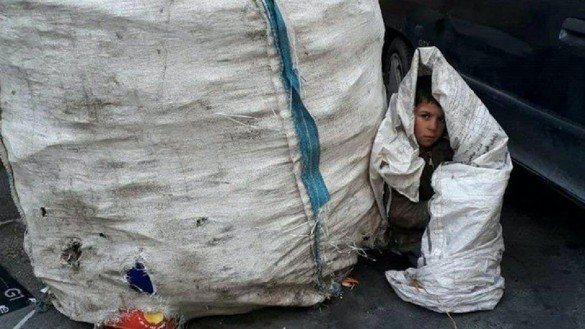 "Life is really hard right now. The situation here is unpredictable," said Rana, a 20-year-old biology student walking in the upmarket district of Tajrish.
It is a part of the city where young women subtly thwart the Islamic republic's conservative dress codes, opting for short coats, stylish make-up and scarves revealing ever more hair.
But, despite such relative liberties, Rana said she feels trapped.
"The quality of life isn't good at all -- we have pollution, angry people, high prices," she said, pointing also to a "huge class gap" and Iran's deepening "isolation".
Series of uprisings, mishaps
Iran's economy has steadily gotten worse over the past two years.
When the government hiked petrol prices in November, nationwide protests erupted and turned violent before security forces put them down amid a near-total internet blackout.
Between 120,000 and 200,000 people took part in the protests, say Iranian officials, but other sources put the totals much higher.
At least 7,000 people were arrested during the uprising, according to the United Nations, which expressed alarm at the Iranian regime's continuing lack of transparency about casualties and the treatment of detainees.
Tensions with the United States escalated in early January when a US drone strike killed Iranian Maj. Gen. Qasem Soleimani in Baghdad.
Soleimani headed the Islamic Revolutionary Guard Corps (IRGC)'s Quds Force, which specialises in foreign missions, providing training, funding and weapons to extremist groups.
In its quest to expand its regional influence and establish dominance, the Quds Force has been recruiting Afghan, Pakistani, Iraqi and Yemeni youth to fight for its interests in Syria.
Tehran retaliated to Soleimani's killing by targeting US forces but then accidentally shot down a Ukrainian airliner, killing all 176 people on board.
Despite video and circumstantial evidence pointing to a surface-to-air missile hitting the airliner, Tehran continued for days to deny a missile strike took down Ukraine International Airlines Flight PS752.
But Rouhani finally admitted the truth -- that the Iranian military shot down the plane in a "catastrophic mistake".
That admission -- and the appearance of an attempted cover-up -- sparked days of anti-government protests in Iran.
Tens of thousands of Iranians took to the streets shouting, "Death to the dictator" -- a reference to Supreme Leader Ayatollah Ali Khamenei -- "Death to liars" and other anti-regime slogans.
Some student protesters called the IRGC "incompetent" and "the people's shame".
Difficult to find work
One young Iranian who has chosen to stay in her country is Pegah Golami, a 25-year-old engineer who was shopping three days ahead of her wedding.
"The country's economic condition is now really difficult, especially for youths," she said, dressed in a chic coat and suede boots.
"I feel very bad... my friends have decided to leave. But I, as an Iranian, decided to stay and build my country."
The strains of a violin filled the air as a busker tried to make himself heard above the noise of the heavy traffic.
It is increasingly difficult to make a living, said Bahram Sobhani, a 47-year-old electrician who was unshaven, nervous and almost completely toothless.
"It's a little difficult to find work these days, but it is out there," he said.
"The sanctions have of course affected us, but we have to tolerate it because we can't do anything else. We live in Iran, not somewhere else."
The announcements that came Sunday (February 9) will no doubt add to the growing dismay.
Iranian forces announced the failure of a satellite launch, and the IRGC unveiled new developments to the country's short-range ballistic missile systems -- both exorbitantly expensive endeavours.
There is an undercurrent of rage directed at Iran's persistent economic woes, and news of the IRGC squandering vast sums on missile technology rather than helping the teetering economy undoubtedly will sour public sentiment toward the Iranian leadership.
The economic situation is hurting Mohammadreza Khademi, vice-president of the Delham Tabesh company, which sells smart technology devices from Italy for luxury homes.
"The end of 2018 was awful, and all of 2019 was not good at all," said Mohammadreza.
"I will continue to run my business. I will try to have that line of production in Iran locally, but it is super difficult to change," he said.
'We feel hopeless'
If the mood is glum in Tehran's middle and upper class districts, it's even worse in the poorer areas of the sprawling city of eight million people.
In the southern district of Molavi, a melange of architectural styles gives way to a maze of alleyways and shops where craftsmen practice time-honoured trades.
Only a few women are seen on the streets, most of them dressed in chadors and many carrying freshly baked flatbread.
Mehdi Golzadeh, a businessman who imports goods from Asia, looked exhausted as he walked out of a grocery store.
"Living in Iran has become very hard. With this economic situation, one can't import anything, and Iran doesn't have the materials" needed to make such products, he said.
"I am single... One can't start a family on this meagre income. We feel hopeless."