NANGARHAR -- When "Islamic State of Iraq and Syria" (ISIS) first emerged in Achin District, Nangarhar Province, in 2015, the militant group tried to deceive residents into thinking they would not be in harm's way.
Months later, the militants began a barbaric campaign of torturing and murdering civilians.
One of their first brutal acts occurred in mid-2015, when ISIS members arrested 12 tribal elders in Achin and then killed them by making the elders sit on land mines before militants detonated the explosives.
"When ISIS blew up the tribal elders in Achin, we realised that these Kharijites are the worst people," said Malak Kamin, a tribal elder from Achin District, referring to an ancient extremist sect.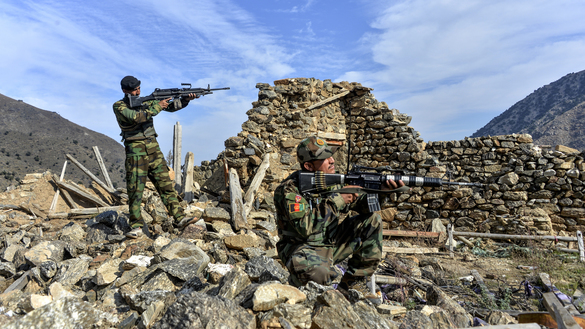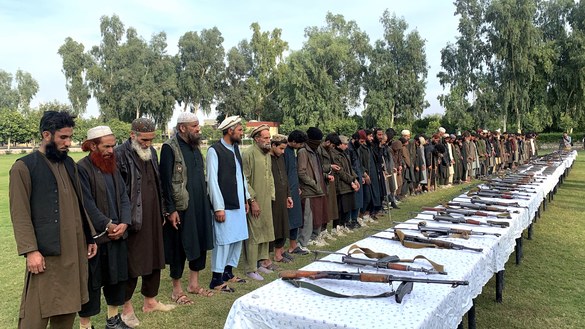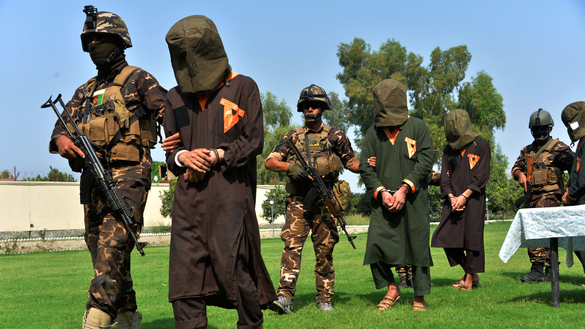 "From that day on, ISIS began beheading locals and perpetrated the worst of atrocities," he said.
"Among the ISIS fighters were many residents of the Tirah Valley and Orakzai in Pakistan," he said. "Some families had come to the area earlier, and locals provided them shelter in Achin and other districts.
"At that time, these Pakistani families said that they had seen atrocities [on that side of the border in Pakistan] and asked for shelter. We didn't know that these guests would one day kill us and oust us from our homes," Kamin said.
ISIS's violent campaign in the area stirred up anger among local residents, who along with security forces, eventually began their own efforts to chase the militants from the region.
"In the beginning, ISIS fighters were telling us that we were all apostates and that killing us was legitimate," said Muhammad Rafiq, a member of the public uprising force in the Paikha area of Achin District. "Once they started committing killings, we became fed up and we rose up against them."
"When we first started fighting against the Taliban, civilians thought they were too strong and fierce [to defeat] too," he said, recalling a past foe whom the uprising force overcame. "Once we made up our minds, we were able to destroy ISIS."
At the same time, Afghan security forces stepped up efforts to eliminate ISIS from Achin and the country as a whole.
About one and half years ago, government forces captured the Shadal Bazaar area of Achin District, where ISIS had been in control. Now, local residents have resumed their normal lives and the bazaar is once again thriving.
"When ISIS fighters came here five years ago, they captured these areas and ruined this bazaar," said a shopkeeper in Shadal Bazaar, who spoke on condition of anonymity. "We had moved to Jalalabad to flee from ISIS, but now we have come back, and Shadal Bazaar is prospering. We are living a normal life."
Clearing out ISIS
Nangarhar Governor Shah Mahmood Miakhil recounted how the government and local residents recently ousted the militants from the region.
"All these areas were in ISIS's control," Miakhil told reporters on December 5.
He made his remarks at the Nangarhar National Directorate of Security facility during a ceremony held for the surrender of dozens of ISIS fighters.
"They had occupied [civilians'] houses, and when they were on the brink of collapse, they planted land mines in those houses to inflict casualties on civilians and the security forces," he said. "But we managed everything really well. We defused all the mines."
"We defeated ISIS in Nangarhar, and now there are no ISIS fighters in Achin District," Miakhil said. "We were able to defeat ISIS because the public uprising forces and security forces jointly launched attacks on the bases of ISIS. Our operations ended up killing ISIS fighters and forcing the remaining ones to surrender."
In addition, forces from the NATO-led Resolute Support Mission "provided us assistance, and thanks to our joint efforts, around 400 ISIS fighters surrendered along with hundreds of their women and children to the government in the past two months", said Miakhil. "They didn't have any other option."
"We destroyed ISIS in the Momand Valley as well," Brig. Gen. Mohammad Karim Niazi, commander of the Afghan National Army's 4th Brigade in Nangarhar, told reporters on November 30 in Achin District.
"This valley was a crucial stronghold where ISIS had training centres," he said. "We destroyed everything there. We brought the entire valley under our control and established checkpoints for the public uprising forces there."
"Residents have started returning to their normal lives in upper areas as well, and they're happy," he said.
Civilians have been enjoying a peaceful life for the past three months since troops drove ISIS out of the region, said Ghulam Farooq, a resident of the Asad Khil area in the district.
"ISIS had occupied all of our houses," he said. "They had their bases here. They destroyed our houses, but we are happy that the group has been destroyed. We have returned home. We rebuilt the damaged walls [of our houses] and started living here again."
Government helping affected locals
"We are thankful to the government for recapturing these areas and providing us an opportunity to live here again," Farooq said.
The local government is working on a plan to provide assistance to residents who lost everything, including their houses, during the four-year-long conflict with ISIS, said Ataullah Khogyani, Nangarhar governor's spokesman.
"ISIS has been destroyed, but it ruined thousands of houses in Achin, Haska Mina, Kot, Nazian, Pacheragam and Khogyani districts," he said.
"We are working on a plan to rehabilitate their houses, canals, dams and schools. Many families have returned to their villages. We're trying to help these families to rehabilitate their houses and resume their lives," said Khogyani.
"We have done a lot of work," he added. "We have provided facilities to local residents after ISIS left their areas."
"Checkpoints of local and national police as well as of public uprising forces have been established [throughout the district] so that ISIS can't emerge again in those areas, and we'll continue these efforts."