KABUL -- The recent expulsion by Afghan forces of "Islamic State of Iraq and Syria" (ISIS) militants from Tora Bora and other parts of of Nangarhar Province has foiled the plans of the terrorist group.
ISIS planned to build the headquarters of its Khorasan (Afghanistan and Pakistan) branch in Nangarhar Province near the border with Pakistan, but operations in the past month have put an end to those ambitions.
The expulsion of ISIS from Tora Bora reportedly happened on June 17 and 18, according to the Ministry of Defence (MoD), days after ISIS militants fought and defeated the Taliban for strategic caves in Tora Bora.
In turn, Afghan troops fought ISIS and drove it out of Tora Bora and the two other districts. Troops earlier drove ISIS out of Kot and Achin districts.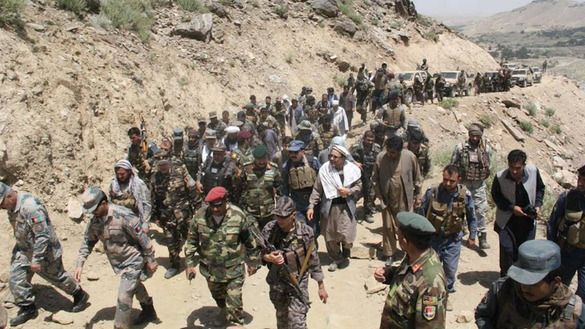 "All areas of Tora Bora, Pacheragam and Chaparhar have been cleared of ISIS," MoD deputy spokesman Mohammad Radmanesh told Salaam Times. "Troops are busy clearing land mines that the Taliban and ISIS planted."
To prevent ISIS from returning to Tora Bora, authorities are working with local communities, MoD spokesman Gen. Dawlat Waziri told Radio Free Afghanistan.
"Local volunteers and local forces are ready to protect their region against future ISIS incursions," he said. "The Defence Ministry is ready to support them in whatever way possible."
Anti-ISIS operations continue closer to the Pakistani border.
ISIS 'demoralised'
After suffering a number of defeats in Nangarhar, and after the US military dropped its largest conventional bomb on militant networks in April, ISIS has been reduced to scattered, demoralised groups in the province, MoD officials say.
"We have launched 12 major operations and several smaller ones to destroy ISIS [since 2015]," said Radmanesh. "As a result ... more than 2,500 ISIS militants have been killed, including [local] ISIS leader Hafiz Saeed Khan [in Nangarhar last July] and his successor, Abdul Hasib [in Nangarhar in April]".
The slain militants represented a motley crew of nationalities, said provincial governor spokesman Ataullah Khogyani.
"The majority of ISIS members killed by Afghan security forces in Tora Bora were foreign fighters from Uzbekistan, Chechnya and Pakistan," he told Salaam Times.
"Sixty-six ISIS members were killed in the three-day-long Tora Bora operation," Gen. Mohammad Nasim Sangin, a brigade commander in the 201st Selab Corps of the Afghan National Army (ANA), told Salaam Times. "We will continue our operations in all parts of Nangarhar until we have destroyed ISIS."
ANA commandos, Afghan National Police and the 201st Selab Corps conducted the entire operation to destroy ISIS in Tora Bora, Pacheragam and Chaparhar, he said.
"No civilian casualties occurred during the operation to take back Tora Bora, Pacheragam and Chaparhar," said Khogyani. "Once we finish clearing land mines, local residents can go home."
"The government will provide those displaced residents with all necessary help," he said. "Moreover, schools, health centres and other facilities will be built in all areas which have been cleared of ISIS."
Grateful residents
Officials and other residents of Nangarhar Province say they are thrilled to see the defeat of the ISIS insurgency.
The anti-ISIS operation was "indeed jihad", Mullah Abdul Zahir Haqqani, chief of the Nangarhar office of the Hajj and Religious Affairs Ministry, told Salaam Times.
"I call on the people to participate in this jihad ... and to support our security forces against ISIS," he said.
The operation was "praiseworthy and admirable", Provincial Council member Zabihullah Zemarai told Salaam Times.
"Dozens of residents in our area helped the troops defeat ISIS," Pacheragam District resident Jamshid Razqiyar told Salaam Times.
"We promise to stand alongside our security forces," he said. "Residents can secure their areas if the government provides the necessary equipment."