PARIS -- The Taliban became the world's deadliest terror group in 2018, according to the 2019 Global Terrorism Index published by the Sydney-based Institute for Economics & Peace (IEP).
The militant group in Afghanistan carried out 1,443 attacks, killing 7,379 people, said the report released Wednesday (November 20).
"The Taliban is now the deadliest terrorist group in the world," it said. "This is an increase of 71%."
"Seeking to strengthen its position in future peace negotiations, the Taliban have embarked on a deadly campaign to seize more territory in 2018," it said.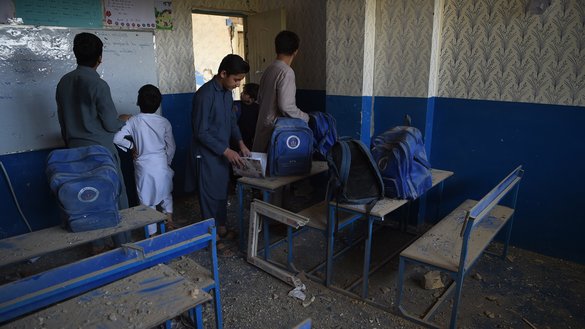 Upsurge in Afghanistan, reduction in Pakistan
As the Taliban perpetuated a particularly deadly year in Afghanistan, the group's Pakistani affiliate -- Tehreek-e-Taliban Pakistan (TTP) -- recorded a decline in terrorism-related deaths, said the report. The TTP was responsible for 57 attacks and 102 fatalities, a 56% decline in killings since 2017.
The Taliban committed the deadliest terror attack of the year when assailants stormed Ghazni city, Afghanistan, killing 466, added the report.
Most civilian deaths occurred when the group launched large-scale attacks on villages and cities, such as in Ghazni and Farah provinces.
Overall, the number of global deaths from terrorism fell 15.2% in 2018, according to the report.
From a high of 33,555 deaths in 2014, when "Islamic State of Iraq and Syria" (ISIS) lured tens of thousands of militants to the Middle East, the number of terrorism deaths plunged by more than half to 15,952 in 2018.
In Iraq, 1,131 attacks left 1,054 dead, and in Nigeria, 562 attacks killed 2,040 people, putting both after the Taliban.
The Taliban in a statement on Thursday (November 21) claimed their fighters "have never targeted civilians".
Doubling emergency aid
The European Union (EU) has more than doubled its annual emergency aid for Afghanistan to €77 million ($85 million) this year because of "the worsening humanitarian situation," a European Commission (EC) spokeswoman said Thursday.
The extra €40 million ($44 million) allocated will go to emergency health care, shelter, water and protection for children and women, a Commission statement said.
About 80% of the total aid goes directly to Afghanistan, with the rest split between neighbouring Iran and Pakistan, which together host six million Afghan refugees.
"Not only has the conflict between the government and non-state armed groups intensified since the beginning of the year, but devastating floods have also hit this war-torn country," said the EC commissioner for humanitarian aid, Christos Stylianides.