PESHAWAR -- Teachers in Afghan refugee schools in Pakistan are receiving training in the modern Pakistani curriculum as a way to both improve teachers' capacity and open avenues of higher education for Afghan refugee children.
The teachers at Afghan refugee schools in Khyber Pakhtunkhwa (KP) say they are optimistic about the new curriculum and the improvement in education standards.
So far, at least 720 teachers have undergone curriculum training provided by the United Nations High Commissioner for Refugees (UNHCR). The training covers modern Pakistani curriculum subjects in English and Pashtu.
In one recent programme, 635 Afghan refugee teachers participated in a 10-day training from October 5 to 15.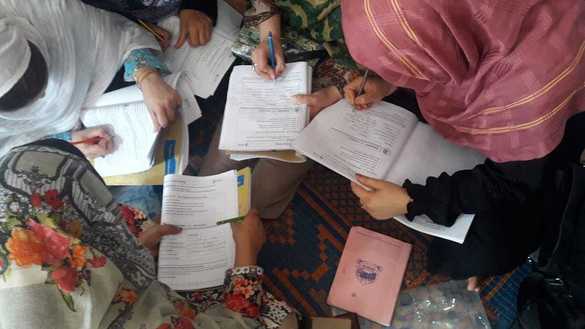 Separately, on October 15, the KP Directorate of Curriculum and Teacher Education marked the end of a three-month training programme with 91 Afghan refugee teachers.
Both programmes provided by UNHCR fell under the auspices of the KP Elementary and Secondary Education Department and were aimed at enabling Afghan teachers to teach the Pakistani school curriculum in the next school year, according to a UNHCR press release issued October 15.
Education a 'top priority'
"The KP government in its education emergency plan has already prioritised the education sector in the province, and Afghan children's education is always our top priority too," said Ziaullah Bangash, adviser on Elementary and Secondary Education to the KP chief minister.
Teacher training and introduction of the Pakistani curriculum in Afghan refugee schools will have a far reaching impact, he said. Not only will it promote modern education among refugee children but it will help improve educational standards and enhance teachers' capability, he added.
This type of training was badly needed, said Munir Ali Shah, a senior instructor at the KP Provincial Institute for Teachers Education and the lead trainer in the programme.
"Teachers for grades 1 through 4 were trained on the curriculum," he said, adding that many Afghan refugee teachers had difficulty teaching English-language subjects such as mathematics and sciences.
"It was much needed for the refugee school teachers as it had been planned properly after assessing the needs of the teachers and students as well," Shah said.
The Afghan children will benefit immensely from the trained teachers, as the curriculum they are now studying is the same as in Pakistani schools, Shah added. This reform will help them obtain admission in higher level Pakistani schools, colleges and universities and even in foreign schools.
"It is also of great benefit for the Pakistani students living in the peripheries and far off areas where schools are unavailable or non-functional," he said.
Satisfied teachers
The Afghan teachers who underwent training expressed satisfaction with the new curriculum and their new skills.
"The training was excellent, as it was much needed to build our skills," said Touheed Ullah, an Afghan teacher at School No. 174 in Naguman. "I am happy we learned modern techniques to educate children."
"Change in the conventional curriculum taught in these refugee schools were imperative, as the new curriculum conforms with modern day needs," he said, adding that the training in science, mathematics and spoken English was "very good".
"The training is good," but additional training would be beneficial, said Irfanullah, a grade-2 teacher at a refugee school in Naguman.
"A monthly refresher course or a quarterly or biannual training on multiple dimensions of the course would have far reaching impact both for teachers and students," he said.
"Well trained teachers can pass on their knowledge in an effective manner, and the students will be the ultimate beneficiaries of the well advanced curriculum," said Salahuddin, a teacher at Shamshato Camp School No. 279.
"The old curriculum was very odd and could not meet modern day needs," he said.
"The Afghan teachers direly needed this training as they had not been conversant with the curriculum," said Sajjida, the head teacher at an Afghan girls' school in Naguman.
"It will go a long way in their own capacity building and when they pass the techniques on to their students, as well as to their peers, once they go back to Afghanistan," she said.