PESHAWAR -- Children in Khyber Pakhtunkhwa (KP) are learning key critical-thinking skills via an information technology (IT) curriculum that could help them avoid extremism and violent activities.
The primary education system in Pakistan often ignores key factors for innovation, including basic information and communication technology (ICT) and other areas that help develop critical thinking and creativity, officials say.
The KP government in 2017 launched the "Early Age Programming (EAP) and IT Essentials for the Children of Government Schools" to foster peace through creative thinking and innovation for students in grades 6-8.
"In the first phase of EAP from January 2017 to December 2017, 3,000 students and concerned IT teachers of 57 government schools in 13 districts were trained on the EAP curriculum," said EAP project manager Zeeshan Mazhar.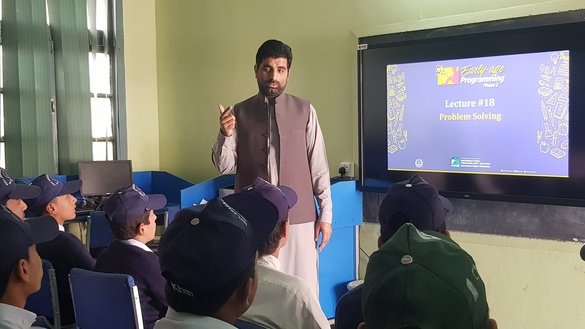 In the second phase of the project, 2018-2019, the initiative was extended to 300 government schools of 14 districts, wherein 17,000 students and IT teachers of the respective schools received training on the EAP curriculum, he said.
Advanced skills for youth
"In order to resolve the widespread extremism and maintain peace in a developing country like Pakistan, the younger generation needs to be trained on key advanced and highly demanded skills of the market such as computer programming," said Mazhar.
The curriculum for EAP was developed with the consultation of IT specialists and academia, said EAP project co-ordinator Muhammad Yousaf.
The advanced curriculum has enabled students to develop mobile-phone applications, animation and games.
"Students of EAP made history by grabbing the top three positions in early age programming category all over Pakistan in the Computer Project Exhibition and Competition (COMPPEC) 2019, an annual event hosted by the Department of Computer Engineering NUST [National University of Sciences of Technology], Islamabad," Yousaf said.
EAP students also won first and second places in the junior student category at the [email protected] [Pakistan Software Houses Association for IT and ITES] ICT Awards 2019, which recognises top ICT performers, he noted.