KARACHI -- Police in Sindh Province are working with women's rights and civil society activists on measures to crack down on so-called "honour killings", which are on the rise in the region.
In Pakistan, the term refers to a murder committed in the belief that the victim has brought dishonour and shame upon the family or community. Close family members are often the perpetrators.
"The killing of the victims is viewed as a way to restore the reputation and honour of the family and tribe," said Mahnaz Rehman, the resident head of the Karachi-based Aurat Foundation (AF), an independent women's rights body.
In a meeting held at the Sindh Police headquarters in Karachi on August 30, Chief Dr. Kaleem Imam and senior police officials met with a delegation of activists to discuss the issue. Anis Haroon, a prominent women's rights activist, led the delegation.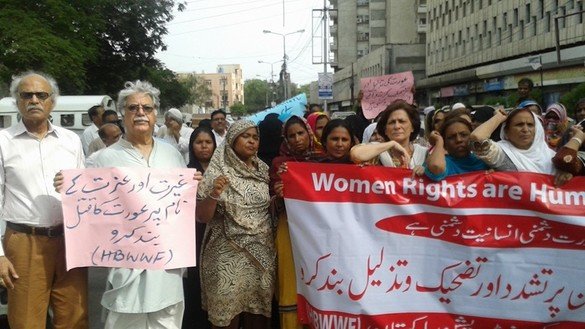 Imam has asked investigators to prepare detailed reports on all "honour killings" in the province, regardless of whether the case was dismissed or prosecuted. Sindh Police have also set up a unit within the department that will focus on issues of human rights, particularly women's rights.
Haroon, who was also a member of the National Commission for Human Rights, a government-mandated rights body, said that the number of people -- mainly women -- killed in the name of "honour" is rising at a disturbing rate in Pakistan.
Reporting taboo
In the first six months of the year, 78 people, 50 of which were women, were victims of honour killings in various parts of Sindh Province, leading to the registration of 65 cases, Dawn reported September 30, citing Sindh Police figures.
On August 15, Javed, a resident of Karachi's Gulberg neighbourhood, killed his wife, Khalida Bibi, and fled. Rafay Tanoli, a local police officer, said that the slaying was an honour killing and police are still searching for the perpetrator.
In one particularly horrific case, relatives electrocuted to death 15-year-old Bakht Taj and 17-year-old Ghani Rehman, a couple who wished to arrange a free-will marriage, in August 2017 in Karachi's Lal Abad neighbourhood.
Independent agencies, such as AF and the Human Rights Commission of Pakistan, which also document cases of honour killings, warn that such figures do not reflect the complete picture because most cases go unreported.
"In most cases, families -- even survivors -- avoid going to the police because of the social taboo [around the subject]. Also, many families do not report it because they believe that they will never get justice," AF's Rahman said.
At the same time, investigations into the majority of such cases remain inconclusive, leading to the acquittal of suspects.
"It is a big challenge," said Haroon, the women's rights activist.
More than 90% of cases are awaiting trial due to different reasons, and in most cases the police investigation has not reached a conclusion, Dawn reported, citing police sources.
Hanif Ahmed, a Karachi-based lawyer, said that conviction rates in cases of violence against women remain abysmally low.
"It is because of the genuine challenge of a legal loophole that allows perpetrators -- in most cases close relatives of the victims -- to be freed as the victim's families can pardon them," Ahmed said.
Efforts against honour killings
While civil society and women's rights groups have been running a campaign against honour killings for the past two decades, recent legislation and court judgments have also strengthened efforts to prevent perpetrators from evading justice.
Pakistan's parliament in October 2016 unanimously passed legislation against "honour killings", mandating life imprisonment -- equivalent to 25 years in prison -- for convicted murderers even if the victim's relatives forgive them.
In April this year, a model court -- a special court set up to expedite murder cases -- in Karachi sentenced a man to life imprisonment for killing a friend in 2012 in the Taimuria neighbourhood whom he suspected was having relations with his wife.
In 2016, Pakistani religious scholars associated with the Sunni Ittehad Council (SIC) issued a fatwa declaring that killing women in the name of honour violates the basic teachings of Islam after a series of honour killings of women in various parts of the country.
The SIC is an alliance of religious parties that also issued fatwas against the Taliban and suicide bombings in the past.
"Killing anyone in the name of honour is completely un-Islamic," said Allama Rashid Noorani, a SIC leader in Karachi. He said that the number of cases of women being killed by electrocution in the name of "honour" is alarming.
"It is high time that government, judiciary, civil society, media, and clergy jointly work against the barbaric and un-Islamic menace of 'honour killing'," Noorani said.