KARACHI -- Residents of Ali Brohi Goth neighbourhood on the outskirts of Karachi are still talking about the gruesome murder of a teenage couple who were electrocuted in mid-August, allegedly by their parents on the orders of a tribal jirga.
On August 15, a jirga of Mohmand tribesmen ordered the deaths of 15-year-old Bakht Taj and 17-year-old Ghani Rehman, after the couple wished to contract a free-will marriage, according to police.
Family members killed Taj and Rehman August 16 and 17, respectively, by tying them to a rope bed (charpai) and shocking them, said Rao Anwar, a senior police officer in Malir region.
"After killing them, jirga members secretly buried them in a local graveyard without performing [Islamic] rituals," Anwar told Pakistan Forward.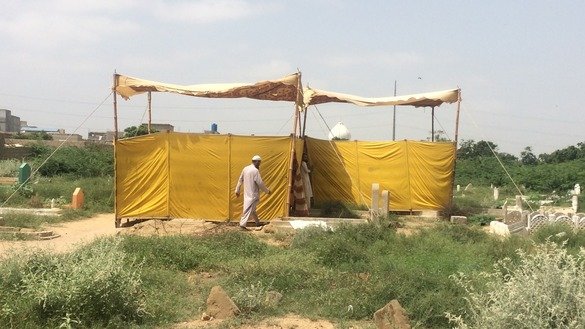 Five days later, police learnt about the shocking alleged "honour killing" and arrested the couple's two fathers and two uncles.
Police have been pursuing about 30 members of the jirga, especially its chief Sartaj Khan, who has gone into hiding after police started the crackdown, Anwar said.
Medico-legal officers, who exhumed the bodies for autopsy September 13, confirmed that the cause of death was electrocution. The bodies had marks of torture, they said.
"I have not seen such a brutal murder at the hands of parents in a so-called 'honour killing' in my career," Dr. Qarar Ali Abbasi, a senior medico-legal officer, told Pakistan Forward.
Killings in name of 'honour' continue
Recent brutal murders demonstrate the role jirgas play in "honour killing", despite a fatwa and federal laws against the practice.
"It seems that we are moving towards an age of barbarism," the Sunni Ittehad Council said in its fatwa in June 2016. "Burning women alive for marrying by their choice is against the teachings of Islam."
Nonetheless, "honour killing" continues at alarming rates.
In Sehwan town, Jamshoro District, Sindh Province, influential landlord (wadera) Khan Noohani and his armed associates allegedly killed 19-year-old Tania Khaskheli on September 9 after her family turned down his marriage proposal.
Police arrested Noohani September 16 in Darejo, Balochistan. Another 15 suspects, including two women, from Nigawal, Jamshoro, were arrested, ARY News reported.
Also on September 16 in the Achar Kalay neighbourhood of Peshawar, Abdul Ghani reportedly killed his two teenage daughters in the name of family honour. Police are pursuing Ghani, according to media reports.
In Nazimabad locality, Karachi, 22-year-old Sajid Bahadur and 20-year-old Kalsoom on July 21 were stabbed to death, allegedly by Kalsoom's father and brother in the name of honour.
In another "honour killing", a tribal jirga in Khyber Agency in late June reportedly ordered relatives to kill a 13-year-old girl, Naghma, accused of trying to run away with two boys.
The boys abandoned her "out of fear", local media reported.
Upon Naghma's return home, she was taken into custody by security forces. They released her on bail after relatives gave assurances that they would not kill her, Landi Kotal Assistant Political Agent Niaz Mohammad told reporters.
Three days later Naghma's relatives shot her and buried her in a local graveyard, say police.
The two boys allegedly involved were reportedly taken into custody by the same jirga. Their fate is unknown, Dawn reported June 30.
'Honour killing' under-reported
Incidents of "honour killing" are under-reported and many killings are covered up or made to look like suicide, say activists.
Mahnaz Rahman, resident director of the Karachi chapter of Aurat Foundation, a women's rights organisation based in Islamabad, recently visited Ali Brohi Goth on a fact-finding mission.
Even the hint of an illegitimate or premarital relationship can lead to the murder of the woman, man or both, she said.
"The killings are usually carried out by family members who believe the relationship has brought shame to their community," Rahman told Pakistan Forward. "The existence of such crimes is a dreadful brutalisation of the entire society."
Cracking down on jirga system of justice
While civil society and women's rights groups have been running a campaign against "honour killing" for the past two decades, recent legislation and court judgments have strengthened the campaign to prevent perpetrators from evading justice.
Last October, parliament unanimously passed the Anti-Honour Killing Laws and Anti-Rape Laws, which introduced strict punishment for those convicted, even if the accused perpetrator is pardoned by another family member.
In April 2004, the Sindh High Court banned all trials conducted under the jirga system.
In its judgement, spurred by the case of a married couple seeking protection from the court against tribal elders, the court said police are duty bound to prevent jirgas from taking place in their jurisdictions.
In June 2016, Pakistan's Ministry of Human Rights established a helpline -- 1099 -- to provide legal and psychological support to victims of human rights violations, including "honour killing" and violence against women.
Human Rights Minister Mumtaz Ahmed Tarar condemned the recent incidents of "honour killing", especially the "brutal and barbaric act" perpetrated against the teenage couple in Karachi.
The electrocution of the couple "is not only against human rights but brings into question the collective human conscience across the nation and society", he told Pakistan Forward.
"The federal government has asked authorities concerned to take action against the perpetrators involved in this illegal and inhumane act of killing and to bring them to a court of law," Tarar said.